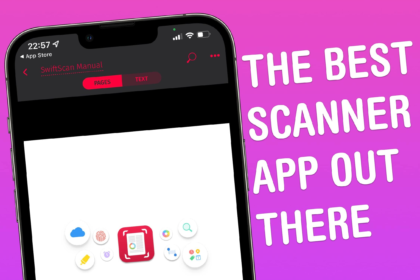 By Joe White • 6:00 am, June 9, 2022

Gone are the days where folks needed a document scanner sitting atop their desks. Instead, we have our trusty iPhones! When friends ask me which app they should be using to turn paper documents into PDFs, I point them in the direction of SwiftScan. Let me tell you why.

SwiftScan (née Scanbot) is the perfect app for your paperless workflow. It makes capturing images of printed documents — like letters, contracts or reports — as simple as ABC. I've been using SwiftScan for years because of its ease-of-use and powerful feature set. Chief among these features is SwiftScan's auto-capture.
Point SwiftScan at a piece of paper and it'll automatically recognize the edges, focus the image, and capture a scan. Wait a second or two, and that scan will be transformed into a PDF. And if you're a VIP member (more on this later), your PDF will also be searchable. Capturing multiple pages is incredibly easy. The whole process, from start to finish, is lightning-fast.
You might use SwiftScan to capture quick scans of receipts and bills, or – like me – digitize physical, printed letters as they land in your mailbox. We're currently in the process of moving house, and SwiftScan has been invaluable for scanning forms and contracts to send to the legal team.
While scanning is incredibly easy, this isn't even my favorite feature. Instead, what I love most about SwiftScan is how easy it is to process PDFs once you've captured them. This is made possible by a handful of buttons that appear along the bottom of the app's interface.
First, Actions scours the scanned document for action-able text – like emails, phone numbers or URLs – and presents them in a menu for you to interact with. Second, Send lets you easily share your document or save it to the Photos app, iCloud Drive or Google Drive. And third, Edit lets you annotate, redact or add a note to your scanned document.
There's also the ability to encrypt the PDF – a feature I really appreciate – or to have SwiftScan automatically upload your scans to a cloud service.


Next, let's talk color optimization. After completing a scan, you have the option of choosing a filter – presets include grayscale, black and white, and magic color (a personal favorite). There are also the usual crop, rotate and page-delete options to deploy if needed.
We mentioned SwiftScan VIP earlier. Although this sets you back $7 each month, it adds support for a selection of power features that I find indispensable. The main one for me is text recognition – SwiftScan VIP will convert your PDFs into fully searchable documents. Electronic signatures, widgets and an ad-free experience also ship with the pro-level subscription.
While SwiftScan VIP is available for power users, the app is perfectly usable free of charge. Like we said, SwiftScan is available for iOS and iPadOS and won't cost you a dime.
Price: Free
Available from: iOS and iPadOS App Store
Awesome Apps is a Cult of Mac series highlighting the best apps around. We will feature our favorite apps as well as new and notable ones. Apps are transformative, and these are the best.