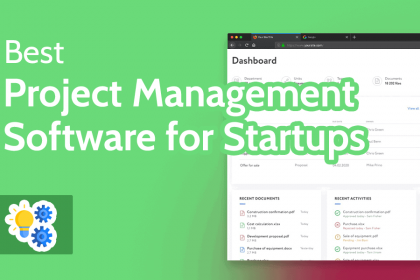 If you're looking for the best project management software for startups, rest assured there are several options designed to help you keep track of your team and company growth. Here's our list of the most popular apps to help small businesses succeed.
Startups involve a lot of trial and error. Things can get chaotic, and managing the mess can be challenging. Finding the best project management software for startups is essential for building a streamlined structure that enables smoother operations and collaborations.
This article is for people trying to find the best project management software for their needs. It breaks down the crucial features that must be present in any project management solution and offers you the insights you need to make a smart decision. If you're low on time, monday.com is our top choice, but there are plenty of good options included here.
Project managers are essential to the growth of startups. They help ensure that the business embarks on projects that align with its goals, timelines are on schedule and there is effective communication within the teams.
Project planning involves identifying stakeholder needs, outlining goals, defining the responsibilities of teammates and scheduling milestones for its effective implementation. Project management software can help achieve this.
The most popular project management software types are resource management software, timeline management software, scheduling software and team collaboration software.
Depending on your needs, the right project management tools for your organization may vary. Most startup companies will have to consider how much money they're willing to spend.
If you're running a bootstrapped business, project management software may be a significant expense that has to be justified in terms of future benefits. On the other hand, if your business is well-funded, you can invest in tools with more advanced features.
The next thing to consider is communication and collaboration features. These may include group chat to keep everyone in touch when working remotely, or the ability to create multiple tasks for colleagues at once. Other features include integrations with popular third-party apps, like Gmail and Google Drive.
It's also important to consider whether the software is scalable enough to grow with your business. A non-scalable software wouldn't accommodate more features to keep up with multi-project management or provide collaboration tools for larger teams. A good idea is to think about whether you'll use the program for just one campaign, or if it will become the backbone of all of your future project management needs.
monday.com tops our list for startups due to its varied feature set and flexibility, making it adaptable to any purpose. ClickUp is a close second, but its interface sometimes suffers glitches.
Asana, Freedcamp, Trello, Wrike, TeamGantt, Basecamp and Jira offer their own specific advantages with their unique methodologies ranging from kanban and Gantt charts to a communication-first approach. nTask comes in last, offering affordable plans with limited views on the free plan.
Now that you know what to look for in project management software for startups, here are our top recommendations that you can start using today.
More details about monday.com:
Pros:
Cons:
monday.com is a collaborative platform for startups that focuses on business operations, team management and project visibility. It can be used by businesses of any kind and size, from small startups to large enterprises, making it a very scalable solution.
The platform comes packed with features that make it a more holistic solution, including task management, document collaboration, automations and shared timelines. Despite being feature-packed, monday.com is still an easy-to-use project management software.
Running a successful startup requires a lot of planning and visualizing of future processes. monday.com makes it easy to map your company's workflow from ideation to delivery, so every team member has a clear vision of where they fit. With all these features on one platform, you don't need another system for communication or project management.
Smaller startups, as well as larger ones with a distributed workforce, can use monday.com to streamline workflow, increase transparency and collaboration and improve productivity. It's easy to see why.
The monday.com platform allows projects to be organized around tasks, documentation and conversations, rather than siloing them into separate groups, allowing for more fluid communication between departments. It goes beyond project management to provide a unified workspace across functions.
With monday.com's free plan, you get just two seats, a limit of 1,000 tasks and access to the list view and kanban board. This won't be sufficient for most startups, so it's best to opt for the paid plans. These provide more project views, access to automation features and unlimited tasks.
You can give the 14-day trial a chance before committing to the paid plans. Check out our monday.com review.
More details about ClickUp:
Pros:
Cons:
ClickUp is a feature-rich, reasonably priced project management tool. Startups can make good use of its task management views, which include Gantt charts, calendars and a space for notes.
There is also a mind map integration, a feature not found in many other project management solutions. You can produce mind maps, then transform them into tasks and give the tasks to the team as kanban boards. This helps visualize work and maximize efficiency.
Typically, project management services provide a limited number of views and features in their free edition, hiding the rest behind a paywall. ClickUp provides a complete task-tracking suite, only restricting how often you may use it, with a cap of 100 uses on the free plan.
You can set up recurring tasks, create an unlimited number of projects and use all of its reporting tools, enabling better supervision of weekly and monthly targets.
The only distinction of the paid plans is users get extra storage space and sophisticated security features. While the free plan has a lot to offer, the paid and advanced plans are also highly affordable. If you're still feeling skeptical, you can try a 30-day free trial to test ClickUp's advanced features or read our ClickUp review.
More details about Asana:
Pros:
Cons:
If you are looking for a free plan that allows you to manage projects for a small team, Asana might be the right choice for you. Even small teams can take advantage of the functionalities Asana provides, which include unlimited tasks, projects and messages; list, board and calendar views; and 100 free integrations with apps of your choice.
It offers features for long-term and short-term tasks. The workload view has a self-generating progress meter that lets you quickly identify who is doing what and determine whether employees are working too much or too little.
The software also offers dashboards for a simplified overview, project reports and customizable charts, as well as more user management and timeline options.
Task automation allows you to set rules for your tasks, so actions are automatically taken when something happens (such as a team member commenting on a post). When your automations work, you can get updates through email or mobile notifications. The third-party integrations are useful, too.
With just one click, you can connect your project management tool to Gmail, Salesforce, Dropbox and more.
While Asana provides a solid set of project management features in the free plan, some of its more useful features are locked behind its paid plans. However, the free plan does provide up to 15 users with a calendar view and unlimited tasks and projects. You can start with a 30-day free trial to test the paid plans.
Check out our Asana review to learn more.
More details about Freedcamp:
Pros:
Cons:
Freedcamp is another great, affordable option, offering a range of plans focusing on workflow automation. It is user-friendly and lets you view and manage multiple projects easily through its "projects" tab.
Freedcamp also makes sure you can access your data at any time with its sync feature, which means you can work on projects across multiple devices. Freedcamp offers a free plan with no user cap, making it an ideal choice for startups with large teams.
However, if you want features like Gantt charts, you need to opt for a Business plan. While this plan provides top project management features, it's still just good. Competitors like TeamGantt take a way better approach.
Freedcamp's calendar integrates a timeline feature with the standard calendar that most project management applications offer. You may get an excellent overview of how your week or month is going with this handy tool. If you want to opt for the paid plans and use Google Workspace extensively, you can also leverage the Google Calendar Sync.
In addition to these, Freedcamp provides a number of free integrations and add-ons, like basic password managers, time-tracking tools for projects, milestone setting tools and tools for integrating communications.
Freedcamp offers free and cheap paid plans. One huge plus in the free plan is unlimited users, projects and storage. The more advanced paid plans add features like the wiki, issue tracker and reports. The 14-day free trial lets you try them. You can sneak a peek at our Freedcamp review to get a deeper insight.
More details about Trello:
Pros:
Cons:
Trello offers you the best kanban tool you can get from a project management software with a free plan. The platform lets you manage simple and complex tasks and acts as a hub for project management strategies. It offers a clean visual overview of projects, organized through a board and card-based approach that can help you monitor their progress at a glance.
Each card on Trello's kanban board represents a job and may be customized with a variety of items. You can add as many columns as you like. That combined with a seamless user experience makes this a tool any startup can pick up immediately.
Trello is user-friendly and straightforward, and the free plan is sufficient for tiny teams that can get by with kanban-based graphic styles. It allows for unlimited integrations and power-ups, allowing you to use it as the central hub for all of your project management techniques.
However, without any of these power-ups enabled, Trello's usefulness is limited to personal to-do lists and collaborating on projects within an organization. Its core strengths lie in its integrations.
Trello's free plan is a good option for startups to kick off with, as it offers unlimited users and integrations. However, there's a limit of 10 boards per workspace and a 10MB file size upload limit, so those who want to scale should opt for the paid plans.
Read more in this Trello review.
More details about Wrike:
Pros:
Cons:
Wrike is an easy-to-use, reasonably priced project management solution that does a fantastic job of combining several essential skills, making it a solid choice for both small- and large-scale teams. It accomplishes this using built-in integrations and its own add-ons (which other applications, like Trello, don't offer).
The add-ons for Wrike may be added one at a time, but there are also bundles aimed at specific user categories, like marketing teams and professional services (it's one of the best project management tools for marketing). While it offers a good free plan, features like two-factor authentication are hidden behind its highest-tier paywall.
Other features like calendar and Gantt charts — which are even in the free plans offered by its competitors — are a paid feature with Wrike.
Wrike is a full-suite project management software for a range of use cases, like task management, file management and reporting. If you're willing to pay, you can even make use of resource scheduling and time tracking.
The way it works is simple: The user inputs data in the preferred format and Wrike takes care of organizing everything. Custom-made templates are also available to account admins on the paid plans for creating workflows or setting up automation features.
You get access to the interactive board, spreadsheet views and live activity feeds with Wrike's free plan. You'll need to subscribe to one of its paid plans if you want to use the interactive Gantt charts. To find out more, read our Wrike review.
More details about TeamGantt:
Pros:
Cons:
As the name suggests, TeamGantt focuses on Gantt charts and is one of the best Gantt tools in the market. If Gantt charts are your go-to tool for project management, you can use this software to create them for free.
Due to its niche focus, TeamGantt offers few other features compared to competitors. It only offers kanban boards as an alternative view, available on the paid plan. Its limited views means it might lack the scope some startup teams might be looking for.
However, TeamGantt does integrate with Trello, Dropbox and Slack, expanding its functionality to some extent through these third-party apps.
TeamGantt has an intuitive system that lets you reorganize your projects with the click of a button, so you can adapt to new or unexpected changes when they happen. Its drag-and-drop function gives you the power to reorder tasks, view task dependencies and change milestones within your Gantt charts.
With other project management tools, it's not as easy and subtask creation is required. Hence, the user-friendly interface makes TeamGantt optimal for first-time Gantt chart users.
You must choose one of the subscription plans if you want to use more than one Gantt chart. With the free plan, you are only allowed one project manager and two collaborators, and your project can only have up to 60 tasks at a given time.
Read our TeamGantt review to learn more.
More details about Basecamp:
Pros:
Cons:
Basecamp is more of a communication app than a project management tool. This means it helps improve collaboration, and in turn, keeps project management in check for managers. As a communication-focused tool, Basecamp lets you manage and track each team member's day with exceptional two-way communication.
However, it lacks project management-specific features, like the kanban boards and Gantt charts Asana and monday.com offer. Basecamp scales communication effectively and makes it simple to monitor daily tasks and schedules.
It offers communication tools, such as message boards and to-dos, that teams can use to discuss issues and track progress.
Basecamp can segment your work into projects and break down project elements into facets like participants, conversations, documents, files, tasks, crucial dates and more. Each element can integrate with features like "schedule" (a calendar similar to any other) and "campfire" (a message board for casual conversation available on Basecamp 3).
Basecamp offers an "automatic check-ins" feature. This automates the stand-up meetings used in agile workplaces or the brief emails a manager might send to check in with their team. Basecamp also enables you to run a fast poll rather than calling the team together for a few brief updates on the status of their work.
Basecamp offers two simple plans: one free and one paid. The free plan offers up to three projects, 20 users, and 1GB of storage space. The business plan is a one-time paid version with unlimited access to projects, users and clients. Check out our Basecamp review for more details.
More details about Jira:
Pros:
Cons:
Jira, Atlassian's issue-management tool, has a lot to offer a tech startup or software development team. Small teams can use it to track progress on their projects and communicate with each other. Jira is most effective for software development teams who actively use Agile methodology. However, it has limited flexibility beyond this.
You can add fields to your "issues" (tasks) to capture everything from the status of your projects (in progress, waiting for someone else's input, etc.) to what information you need for certain tasks (file attachments, notes from meetings and more).
Thanks to the vast number of paid integrations that it supports on the Atlassian Marketplace — such as Slack, Gantt charts, extra views, a bug-tracking tool and other useful task management apps — Jira can still be adopted for startups outside the tech space that also use agile practices.
It's worth noting, though, that some of these integrations require payment.
Jira is easy to navigate, with a simple user interface and an extensive knowledgebase that has tutorials for new users. You can move quickly between screens thanks to its uncomplicated layout. Admittedly, it comes with a learning curve due to the unique technical jargon it uses.
You can check out Jira's glossary to familiarize yourself. Once you get the hang of it, it's one of the simplest tools out there.
Jira is free if all you want to do is keep track of your most recent project tasks. However, paid plans offer some useful bonuses, such as advanced dependency management, global and multi-project automations and unlimited storage.
For small software development teams looking for an Agile-focused solution, Jira is a fantastic option, but be aware that the number of users you can have on this plan is capped at 10. Read our Jira review for more.
More details about nTask:
Pros:
Cons:
nTask is one of the cheapest project management software solutions and offers the most value for money. It focuses on the main features of task management and delivers a user-friendly experience. You can assign tasks, track your task status and more.
Due to its solid foundation and flexible pricing, nTask is a solid choice for startups. It also offers project management views like Gantt charts, time tracking, kanban boards and more. It's also worth noting that except for the time tracking feature, the others are not available in the free plan.
nTask combines the main elements of project management software with task management features. You can visualize tasks in relation to one another using the Gantt chart, which also has special capabilities like critical path analysis and risk assessment.
nTask also makes it easier to assign urgent tasks to users and manage task history, all in one place.
nTask offers a free plan called the Basic Plan which is free forever for up to 5 users, offering unlimited tasks and access to meetings. The difference between the paid plans is their storage limits, with Premium offering 5GB and Business at 10GB. You can give the seven-day free trial a shot before signing up for a paid plan.
Read more about nTask in our nTask review.
Most startups have stricter budgets and a finance-conscious approach. This makes free project management software like monday.com, ClickUp, Asana and Freedcamp a good match. Read our ClickUp vs Asana comparison guide to learn how the project management tools compare.
However, the other options in this post are also worth considering. It's important you first define your needs and determine what you expect. The best software for you must fit within your budget and cover all the essentials for your startup's day-to-day needs.
What is your favorite project management software for small business? Are you using one that isn't covered in this list, but you feel deserves a shout-out? Let us know in the comments. As always, thank you for reading.
document.getElementById( "ak_js_1" ).setAttribute( "value", ( new Date() ).getTime() );
Also interesting
Most popular on Cloudwards
© 2007-2022 Cloudwards.net – We are a professional review site that receives compensation from the companies whose products we review. We test each product thoroughly and give high marks to only the very best. We are independently owned and the opinions expressed here are our own.
Because the Cloudwards.net team is committed to delivering accurate content, we implemented an additional fact-checking step to our editorial process. Each article that we fact check is analyzed for inaccuracies so that the published content is as accurate as possible.
You can tell that an article is fact checked with the Facts checked by symbol, and you can also see which Cloudwards.net team member personally verified the facts within the article. However, providers frequently change aspects of their services, so if you see an inaccuracy in a fact-checked article, please email us at feedback[at]cloudwards[dot]net. We strive to eventually have every article on the site fact checked. Thank you.