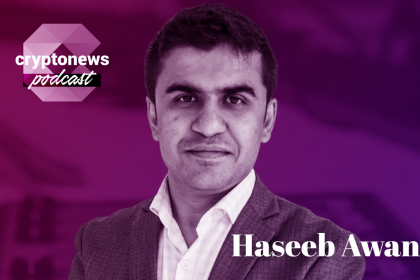 In an exclusive interview with cryptonews.com, Haseeb Awan, CEO of Efani Secure Mobile, talks about the importance of mobile security, SIM Swapping, Decentralized wireless systems, and gives advice for start-up founders.
Haseeb Awan is the CEO & Founder of Efani Secure Mobile. Efani Secure Mobile works with ultra-high net worth individuals on their mobile Security and guarantees protection against SIM Swap, Eevasdropping & location tracking. Haseeb is a Telecom engineer & Y-Combinator Alumni. Previously he co-founded one of the largest Bitcoin ATM networks. He has been featured on NYT, Techcrunch, WSJ, Hulu, and several international media outlets.
Haseeb Awan gave a wide-ranging exclusive interview which you can see below, and we are happy for you to use it for publication provided there is a credit to www.cryptonews.com.

Matt Zahab
Ladies and gentlemen, welcome back to the Cryptonews Podcast. We're buzzing as always, and today we have Haseeb Awan on the show. He is the CEO and founder of Efani Secure Mobile. Efani works with ultra-high net worth individuals on their mobile security and guarantees protection against sim swapping, eavesdropping and location tracking. Haseeb is a telecom engineer and Y-Combinator alumni. Previously, he co-founded one of the largest Bitcoin ATM networks called Bitaccess. He's also been featured on The New York Times TechCrunch, Wall Street Journal, Hulu and several international media outlets. Without further ado, I'm very pleased to welcome Haseeb Awan to the Cryptonews Podcast. Haseeb, welcome to the show my friend.
Haseeb Awan
Thank you Matt for having me on the show.
Matt Zahab
Haseeb, pumped to have you on brother you spent some time in Canada yourself. You and I were shooting the shit about that beforehand. Present day you are in beautiful, sunny, tax-free Puerto Rico. Perhaps I just gave it away. But my friend why the moved from beautiful Toronto, down to San Juan, Puerto Rico.
Haseeb Awan
Um, so I moved here from California. So it's a bit of the reason why I moved to California is purely because of weather. You know, we will not have to, we don't have to like talk more about why weather of California is better than weather in Toronto. Otherwise, Toronto is a lovely city. I enjoy I miss Toronto. But just the weather. I couldn't take it anymore. And also I work in tech. So California's obvious place for me to live. Why Puerto Rico been in crypto for a long time I wanted to change we had COVID For the past two years. I said okay, let me just check make a change. I don't want to go in remote. So I said Why don't try Puerto Rico. I came here fell in love with the place and yeah, this made the switch.
Matt Zahab
I love that. Yeah, I know. We said we wouldn't beat that. That weather horse to death year but my goodness, it's I'm coming from someone who's in Toronto right now, this time of year every day. It just gets a little worse and a little worse. And it is so not fun once early November rolls around literally for the next six months. People are depressed the sun is not existent. The wind tunnels are absurd. Frostbite is a parent. It is no bueno. No bueno. No bueno. But again, that is it for the weather. You have a very interesting background Haseeb, you were a Y-Combinator alum, which we will get into very shortly. But I want to get right into the bread and butter of the show and that is Efani when I was doing research for the show and shout out Kumar who helped hook this up as well. However, Efani does something that not a lot of people are fully aware of. And it's important when I first heard about this from Kumar and when I started watching your YouTube videos and started reading your articles, I was very baffled in regards to Sim swapping, eavesdropping location tracking how absurd and how bad it really is. And how clueless myself and 99% of the population are, can you just give me a quick elevator pitch on what you guys do and the big problem that you're trying to solve?
Haseeb Awan
Let's make it simple, right? Like our cell phones are now 99% alternative the link to telephone number? Wherever you go, you say, Hey, can I get a telephone number? And that's how they'll pull up your account. The challenge with that is if the numbers of the identity like social security number or sim in Canada, give it to every person in the world. And the challenge that we face right now is that those numbers can be hackable. So either word, someone walks into AT&T store or Rogers store in Canada. And if they I am Haseeb, I'm Matt. And can you I lost my phone. Can you transfer this? Personally, I'll help you out. And without taking a lot of security question you will just transfer the number to someone else. The hacker just use that to get into your account because you will do a password reset, can your account, create your finances, steal all your information and boom, now he blackmails you. So that's pretty much what happened with, you know, in cell phones all the time. How bad it is, people lose their entire money, entire life savings or entire, you know, the assets just hacks how often that happens. It's not an attack that happened everyday to everyone. But the shocking starts out if it has to happen. And if someone like wants to come after Matt, there's an 80% chance we'll be successful. And this was an independent report where they did like research on multiple carriers and at 80% times, they were able to hack someone. So it's like you don't get shot every day. But if you get shot in the head, what are the chances of survival. You know, I know does everyone gets shot in the day? I don't know, I don't think so. Right. But the point is, we protect ultra-high net worth individual important people like C-level executives. And the reason why I say that is because we are not for everyone, I guess we are only for the top 1%. Because not just they're able to afford it. But also we are able to serve them better. It's like a subclass on a plane or like having a bulletproof car. You know, everyone has wants it. But not everyone can afford or can be protected to that.
Matt Zahab
So it's really just that extra layer of security for the 1%. And that layer of security specializes and relates to their mobile device, whether it's sim swapping, location tracking, or eavesdropping any of those big three.
Haseeb Awan
That's correct. There are other types too. But these are the main three data types that happens on your cell phone.
Matt Zahab
You must have some crazy stories on the Cryptonews pod. We love stories storytime, city population us we absolutely love that shit. Haseeb, you gotta give me a couple of good stories about potential hacks that have happened. You don't have to name drop, if you can name drop, you know, it's frowned upon, we'd love it even more. But give us some good stories about crazy high net worth individuals phones being hacked.
Haseeb Awan
Obviously, I can't take the name for a lot of people. But I'll tell you one guy like Charlie Shrem, right, Charlie Shrem. If you guys know he was the founder of bit instant, and also started Bitcoin Foundation. So he had got hacked last, I think two, three years ago around midnight. And he called me like, maybe 3am or 2am some crazy time, very, super late night, says, Man, I got hacked, what can I do? And that's how technically our company started. The company will already there. But I said can you give me allow me to hack into your account again. So what I did was I actually hacked into his account. And I was able to get it back from his from his hacker. So that was one of the most interesting parts that happened with industry because where I was able to take it back. The most other interesting part of what we did not similar linked to cell phones, but because I'm an industry get to get feedbacks. And we keep an eye on what how the attack vector is changing. So one day, I got a text message from someone that I have contact and he says, Twitter is going to be fun today. So what is the mean, I thought there'll be some accounts that get hacked. Like that's pretty common. And that was the day almost like two years ago, when if you remember President Biden account got hacked, you know, like Coinbase CEO, like finance CEOs, like everyone's account, get hacked.
Matt Zahab
And this and this guy gives you a heads up, it's gonna go down.
Haseeb Awan
And I tweeted about it, and Twitter blocked my account. Well, so I gave him a heads up that you like, you know, this is going down, and they blocked my account. And instead, those tweets got removed. Right? And I thought, okay, man, this is this is stupid, like what's happening? Anyways, long story short, this is this is like, you know, this happened, they made a documentary on Hulu about it a big article, because also created a mistress recognize like, can anyone get into president's account and look at his private information. And because a lot of social media and forms that we use are not designed for special people. Arguably simple example. Like, if you have to go into your ATT store, and if President phone, they essentially use the same, same systems. And, and that becomes a very big vulnerability, like if you're using Facebook Messenger. Now, any high-profile individual, an ordinary person has the same, you know, kind of security. And that puts you in a very high-risk profile, because political people use it, you know, like, celebrities use and there could be potential confidential or national level of national security breach that can happen through these messages.
Matt Zahab
As an average Joe like myself, and someone who's not in the 1%. What could we do? Just very basic, low level low hanging fruit tips to sort of revamp and level up in our mobile security.
Haseeb Awan
Yes, Matt. If you look at the security rules, like pretty simple to do, right, a lot of people get into like, you know, rabbit hole of finding the best solution, but you can frankly, go with every solution to begin with, and then level up from so I'll give you a simple example. I use a password manager, literally, you can look into like maybe Google for like 30, 40 like top five passwords, they're all the same. You know, I if you have if someone asked for recommendation, I'll recommend keyboard security, they're fairly good. And that's what it is like, you know, go for it. Use it. I think like I think it's like $10 per year or something super cheap. Like you know, I don't know like 50 I don't know to be honest. But simple product right. Now you a hardware key. And like if you Google they have something called advanced protection. where you can connect your hardware key to that too, which means that so add that these are two things that you can do, you know, Password Manager and two FA, at the hardware key, super simple use apps. If you can't afford it use app like Authy, Google Authenticator, there are multiple apps that you can use, which will basically give you a same level of security as well. So the point being is that these couple of things, like I'm not saying, like you should be using, like, you know, ultra-modern, Efani, but still, if you like, our plans are not super crazy expensive. But I, you can add that too. But if you still cannot afford it, then you just get a second number that no one knows. And you just use it for two or three, right? And, you know, like, keep your number to a fair number, those number separately, it's not a good practice, then because you always forget about which number to give which number not to give, but that's one of the things that you can do. And again, use hardware keys and password managers. You know, these two will basically save you from 99 personal attacks.
Matt Zahab
And if I wanted to use Efani what does Efani do that the password manager hardware keys, two FA, getting a second phone. Which is Efani do that those do not.
Haseeb Awan
So you should do the pattern manager and hardware key regardless if you use Efani or not with either two different attack vectors. If I needed, like, you know, we are like a firewall version of AT&T. Like with the challenges like every time, the AT&T store or like any store, that employees can access your accounts. And now, not every account employees like you know, very good, you know can be can be a bad person, right? And what they do is they take bribes and they will be able to get into your account and transfer your information and modify your account. In Efani case, we make sure that doesn't happen. And not just like if your regular account get breached, you may email Verizon and they say Oh, I'm so sorry for them to me, you lost your entire money. You lost your bank account you like Oh, I'm so sorry. For any inconvenience caused dude, I lost my entire life saving you saying I'm so sorry for inconvenience cost, right? And, you know, and that's what happened to me four times with the captain apology like apology email like dude, like, again, you know, like, this is my life, right? It's like you murder so I'm apologize for killing you. Right? Or the car like, like, think about your car did not break and you get a letter or so sorry, the brakes didn't work. Right? We say that not just for our solution works perfectly. If something goes wrong, we cover up to $5 million insurance. You lose your money or have any kind of losses, we cover up to $500. That's the difference between our products in the traditional product. Now, obviously, you don't have a lot of features that other companies they offer Netflix, they offer Hulu, they offer devices, we don't do that, we just offered you one thing that security.
Matt Zahab
Now, a lot of to my knowledge, Haseeb, a lot of the security comes from sort of decentralized wireless aspect of Efani now that I love when guests coin terms, and you and the team have sort of coined a new term called the DeWi, instead of d Fi swap the W with an F or swap the F with the W excuse me, and you have D.E.W.I, DeWi got a new trendy term. And you've had a tweet on this a couple of days ago about sort of distributed versus decentralized wireless systems where it's decentralized means that the network can operate without any single entity slash node. Like Bitcoin, you gave a good example Bitcoin mining will continue as long as there's one miner running, where in decentralized, sort of wireless every radio reports to a single core server, and if that core is gone, the network goes down, it's over. How can we create some type of new decentralized wireless system to allow maximum security for people on the planet.
Haseeb Awan
Can challenge with the matters that, you know we have, we live in a society where everything is digital. And that gives a lot of power to single entities like Facebook, Twitter, and all those companies. Like my wish is that people should be able to host their own towers, and people should be able to build their own coverages. And I'm a huge fan of, um, you know, people should own their own data, like, why should Efani have access to data? You know, why should Efani even exist in the first place? To be honest, you know, why shouldn't that matter, we'll be able to build our own setup. And the challenge with that is not everyone can be as the may spend as much time as Matt does, you know, not just that they may not be able to have the same intellectual capital to deploy systems. So people like Matt can deploy it for other people and give them same level of security. The challenge that I face is like in San Juan, is that we had a Power failure maybe like three weeks ago, I don't know, we had a hurricane for one day. And the next thing you know, its power is gone. For like almost two weeks, there's some areas in Puerto Rico within those two power. The last time it happened, it was gone for six months. And so there's like, you know, disaster that happened, and people don't have cell phone coverage. You go to like Coachella, or like burning man or a lot of editing, no coverage. So what my wish is that people should be educated to build their own networks. But challenge that is very complex system to bet. And with my thinking is like, you know, in crypto, I'm a huge fan of web 3.0. For the challenges that narrative I person projects are ponzis. And the five person other people just lie about it. Like, you know, like, if you ask someone, what this project is upon you to say, oh, yeah, this is Ponzi. Because technically, there's a very famous thing in crypto that shit coin, right. And I came up with a very simple definition of shit coin, whatever I own is basically going to change the world and whatever you own is shit coin. Right. So taking whatever my bags are, they are the best thing in the world and whatever I don't want irregardless of whatever coin it is, you know, we maximalist and everything and the challenge with all the crypto and DeFi is that people have ambitious goals without any kind of understanding about how system works. Now I prefer ambitions. I love ambitions. But same time, I can't say, Hey, Matt, I have a car that will run a water a decentralized gas pump right? Now. You know, it's ambitious, right? It's really cool, but not practical, because cars have some thermodynamic rules that you follow. And that's how the car run. Just putting a car on a blockchain does not make that more efficient. You know, because there's not a single evidence of any system that's more efficient than a centralized system, because the central system will always be a slower. And that's how, and now we look to current distribution system distributions that some better? Would you like AWS have servers all across America. So if I'm in San Juan, I'll be connected to a server that's closer to me. You know, rather than and, rather content delivery management system, I don't want to go into that detail. But ideally, we should have the ability to own our own data. That's the premise. And the challenge that I hate about, you know, I dislike about the industry, it's like, you know, people, if you talk sense about them, they will dismiss it. Because it's not a Ponzi. But if I say, Man, you built a system, you've set up something in your house, and then it will just change the world, like, you know, you'll make $10,000 per month. You know, people do not realize that, Oh, who's where the money's coming from? Like, what's the fundamental I'm changing in this industry right now. And that basically, has a theory about it, because people are buying hardware, hardware, a lot of marketers and they will end up in like, you know, dumps. Like, again, I personally believe that. This is how it should work. But everyone's trying to be supplier. So everyone is building for someone else. So Matt will say, you know, I built it and Haseeb should use it Haseeb was building because Matt should use as it should, but I don't want to move myself. It's like, I still go to Chase Bank. For my own use per hour, I'm built a bank for Mac to use because banks are criminal evil. If I have to change the world, I have to be my own customer first. It's not that I built every everything for like, you know, I use Dropbox, but I people I want people to use File coin that I'm hosting, you know, unless I might not make like Efani. I'm my own client. I have all the time number one. And we all use Efani in our work. Everyone has to have this phone because if you don't use that do not understand the pain points around the product. So DeFi, world decentralized world. There are like dozens of projects. And we have different wrong KPIs. Again, it's not about bashing the product and the KPIs. How many people are installing the nodes right now? And yes, as long as you pay people, people will do stupid stuff. You ask people to put random t shirt, they'll put a random t shirt as long as they're getting paid for it. It doesn't mean the product is flying out. So to summarize, the product has to be better. Because I personally do not believe that people will switch to a different product because it's a privacy focused product. And privacy is a very hard sell.
Matt Zahab
It's not sexy, it's not sexy, until you see you said it within the first like five minutes until you get hacked yourself. You don't understand the importance of it. And most people haven't been hacked or they have an interest. They don't have enough assets for them to give a shit. You know what I mean?
Haseeb Awan
Yeah and also like everything is about comes down to like, simplicity right? Is the product better or not? You know, people search to like internet because email was better. A simple cheap, right? Right. And privacy is a very difficult sell. It's like Made in America, I think this example all the time everyone wants Made in America until as long as cheaper than made in China. So the moment it becomes expensive, they're made in China, people go for oil. Like it's like, oh, people should buy made in the US. But it has to be cheaper than made in China. It's not possible. Yeah. Same with the privacy. Oh, you know, I want it not to track me, but you tell me, where should I go? Now, if it doesn't track you, it will not tell you where to go, you know, and all those products that are built, and with telecom or price is taken away in, like in Canada, I believe that during COVID time 97% of the phones were tracked or something because their traffic locations are the person where they're meeting for COVID reasons. And a lot of these things come up with oh, you know, it's a good thing. Let's track the hell out of it. Right, let's track where Matt goes, where are these meats? But that's what the example of surveillance is. Right. And, and the common method of all, you know, people should not if I'm not doing anything wrong, why should I be worried about tracking? You know, there's a common, it's a taboo if I talk about privacy, because if I simply document privacy, it means to be doing stuff, but you know, you don't want a camera in your living room all the time someone watching over it, you know, so privacy means that you should be able to do stuff without being judged by anyone you know, and all those things. So again, these are validation is a dream, but the way we are approaching is purely from Ponte anomic point of view. And the private the biggest pawns in omics are winning, and that hurt the space in long run?
Matt Zahab
How can you incentivize consumers to try to build this you know, distributed and decentralized, secure mobile network? Because right now, again, you have just like you talked about you have AT&T and then Rogers up in Canada and insert whatever blue chip telecom provider name around the world who's giving you really good, perhaps not prices, but you know, a shitload of data, unlimited data, you get your mobile number, you get cheaper iPhones, you get discounts on Netflix, Hulu, whatever, like, it is a decent package. At the end of the day, the service is absolute dogshit. Don't get me wrong, the service I mean, the customer support, but otherwise, it's a pretty darn good product, and service, in my opinion. So how do you how do you incentivize the users to take on something new? That's I feel like that's the question at the end of the day?
Haseeb Awan
That's a question about entire internet, right? It's a question regarding like, you know, okay, why we have PayPal? Why do we need a stable coin to begin with, I can send like Zell in the Canada interact in Canada than in the US, right? Like, why do I need to switch to a stable coin, which has this machine? The challenge with all of this, this is this is a very long debate about like how crypto can Okay, and we can talk about that I had an experience of Bitcoin ATMs today, we can talk about why they're better than other system. And because crypto came up with a promise of lower fees, decentralization, and immutability, like, you know, transaction cannot be resolved. And now we're talking about stable coins that can be blocked, and tornado happens again, it's all about like, philosophy, little thing. Because it the crypto experience better or not, you know, and I just say a simple example. If you're not paid to use a product, you're not a user, you're just an employee of the product. I should tweet about it. Right? So I'm sure a lot of crypto projects, you're using them because you're getting paid to use them. Right? Yeah, that's why people use it. And so they will do like if there was a shoe company that will pay you to run, it's a good incentive. But technically you should run because it's good for health, not because someone is paying you for that. If someone is paying you, you're not a user, you just pick employee who's running around. And that's about it. Now, some sucker will basically buy the token, and but ultimately, if we have to make a better service, we, like you know, what should be the end goal. And I think privacy is, that's why we don't like we don't sell data, Efani doesn't sell data, but we don't evidence privacy at all, as our value proposition because people do not care about privacy. It's one of those cool things that people talk about, but people don't want to pay for it. You know, like, Google will track you and steal they have 997 98% Share, right? And there'll be like a dozen, like maybe, maybe it's not more competent of Google, who said they don't track you, but no one uses them. Because the product has been it's not bad. Now ideally, Google should have a product that doesn't track you but would it have the same experience or not? So, ultimately a better experience will when so for crypto to move forward we have to have a better experience. Otherwise, we will be playing upon these things here and there and there will be like another cycle in like two years and Bitcoin will go to maybe 100k or something And then we will crash because there'll be another point enormous going on, because human greed is, you know, is the constant. It will it existed like 1000 years ago, with 1000 years from now, people will be greedy. And they would like to make money.
Matt Zahab
Yeah, you're in greed makes the world go round baby.
Haseeb Awan
Right? The only thing why Efani has been moderately successful is because people lose money if they have regular cell phone service, but I don't think so like even 1% people. Use Efani because we are a privacy focused company, they love to talk about it. But they would like to use Google product
Matt Zahab
100%
Haseeb Awan
Because as you said, it's a done product, a good product.
Matt Zahab
I'm well aware of every of our all the terrible things my iPhone does, yeah, but it's incredible. I love this thing. You know, like, same as my Mac, it's just how it works. The product is so good. The service is so good. I don't do I care that it tracks my every move a little bit, but like, what am I going to do about? It's just the way she goes? It's, you know, it is what it is? It's such a cliche bullshit term, but it is what it is, what am I going to do about it? Am I going to use a dogshit piece of hardware and piece of software that's slower? Not as quick doesn't have everything I want memorize, memorize? No, I'm not gonna do that. I'm gonna let it track my every move so I can get the best experience possible.
Haseeb Awan
I just can't think like, if you're gonna hire me for a 401, right? I think it's like 100 100 kilometer, right? speed that you can go on. So the challenge is, okay, what was the other option? So I believe this will become part of the immune system that we are being tracked. And this become a normal system. Which I don't disagree with a lot. Like, you know, like, again, I am privacy focused, but I'm not like, I just think that when whenever your digital, there is some level of privacy will be giving up right there somewhere. Because how can you think that someone can give you something for free? without cracking you? It's like going to a restaurant and bring your own food, like you walk into like, a Chateau Laurier and you say, man, you know, I'll bring food from McDonald's. I'll eat I'll eat for free here. Right?
Matt Zahab
Always something. No such thing. No such thing as a free lunch.
Haseeb Awan
Yeah. So either they will make money by selling you where they will track your How does Matt eat? Right? How long? Are they make money by selling you food? You know? So, so to live? Basically, if you cover up entirely system in crypto, we have to go beyond ponzinomics. And we have to find a better experience, right? Like, is it faster is the same, like, you know, we have been selling this notion of all cheaper, it is expensive to do money transfer across the world. It's not, I transfer money across the world all the time. It's super, super cheap. You know, you don't go to chase bank or you don't go to RBC for that. But there are third party theories will do a very good job. So we have to move that past that. And, you know, like, the better parts getting built, I'm I think we can build like an API for IT systems. But ultimately, as long as people start keeping their bank accounts in Chase, and RBC, this thing is not going away. You know, they can they trust, like, you know what happened with the current drop in whatever happened. And people say, Oh, I wish your government will step in and take us give it the money back. But uh, you were the first who said that government should not intervene. Now that you lost the money, you want it to be gone. You can't be half pregnant, you can't be half pregnant. So ultimately, what I'm saying is that better product will win. And can we build a better product using privacy as a focus? Better experience, right? It's very easy to do it in a physical world. Like you go to like a condo and physical, right? You have your own space and everything. How do we recreate that in a digital world where you get a better thirst and I don't know whatever it is, but again, companies have to make money somehow. And if you're not paying for it, you're the product but it's very people are used to that right. But if you're not used to like walking into some restaurant and bring your own food because it's not the how the world work. To be will have to be changed and again, product experience has improved, or frankly at Efani we were unable to find a good use case for privacy in a way that people search for it. Again, it's very hard to do. So we just we said we'll keep it will not sell the data that's part of value, but at the same time we just focus on one thing that security and I think if you asked for a free iPhone and you have a booth where people have to give their DNA against iPhone 14 I think 95% People will opt for it. They take my DNA and you know and an iPhone
Matt Zahab
Here's my hair here's my skin here's my pee here's my semen look cuz you got to take a quick break give a massive shout out to our sponsor the show that is PrimeXBT I love PrimeXBT been using for a hot minute as they offer a robust trading system for both beginners and professional traders, doesn't matter if you're a rookie or a vet, you can easily design and customize your layouts and widgets to best fit your trading style. PrimeXBT is also running exclusive promo for listeners of the pod. Use the promo code CRYPTONEWS50 that is CRYPTONEWS50 all one word to receive 50% of your deposit credited to your trading account again, that is CRYPTONEWS50 to receive 50% of your deposit credited to your trading account. Now back to the show with Haseeb. Haseeb, you are a trendsetter, you've spotted many of them. I would love to take a step back in the time machine. Let's zip it back five, six years back to 2017. I believe it was 2017 You and I believe it was more founded Bitaccess one of the largest networks of Bitcoin ATMs in the world. First, I have a couple of questions in regards to this. First, I want you to talk about why you fell in love with Bitcoin and why the need to create Bitcoin ATMs. And in case I forget, I love to ask you about lessons learned from building that company. You guys had an incredible growth metric, it was very hockey sticky. And I'd love to ask you about some of the lessons you learn from that. But to begin, talk to me about your time creating Bitaccess, and why you know, you had a hard on per se for Bitcoin.
Haseeb Awan
Yeah, it was it was not until 18 Actually, that we founded a company. And the reason for that is it's very hard to find. And we went to Y-Combinator. So built what people want. People want to buy bitcoin, it was just easy for them to go to a coffee machine and buy it right now you can connect your bank account and you can have a lot of changes. At that time, the exchanges were like BTC and Mark Gox. They were literally two exchanges two at that time, which were famous. I know, like anything in Canada was actually Canadian one Bitcoin, they will only one exchange and people sending envelopes of money to exchanges to deposit money, they will go to a mailbox. And literally like, you know, take like $1,000 $10,000 putting them in an envelope, wrap it up and just ship it to exchange. Right. So that happens, we said, why don't we keep a simple machine for that and pretty simple one. So we have code for four co-founders. And one of the co-founders will actually bring a kiosk. So you start a kiosk where you can buy stuff, like regular traditional, like, you know, you want to buy coffee or something you can just scan and just go. So this is a good, easy way for us to do that. Move the I can build wallets and hardware integrations. And we another former co-founder called Vignesh SUNDARESAN which the world now know that medical one, and then Ryan and then so we said okay, you know, why don't we and he was running an exchange at that time. We said okay, we combine all of this and I'm pretty good and commercialization and I said okay, I'll be able to sell it. And our first customer was Anthony Diorio and he says you know, why don't you you know see you he took a train hailing bought the machine we launched on first of January. And around that time I met with he says we had some networking issues so he said I have a friend who can actually help you out and that's how I met metallic metallic was able to help us out with the networking and everything he said you know, I'm working on this project called Ethereum and you know like and he told me about smart contract and then I flew to Miami they were having a house in Miami you know, we had Bitcoin machine Charles from Aida consensus Joseph you know like Charlie Lee one of the cooler guys was there you know Polkadot I think given Polkadot guy forgot his name Catchings gallon right.
Matt Zahab
So literally the founding fathers of crypto we're all.
Haseeb Awan
We were all in same house. Right? So we were all in the same house we spent like a week there Ethereum was announced and then we got back got into YC and our group partnered with Gary tan and Justin can just didn't can push Twitch for billion dollar around that time. Right? So think about like how life is changing right? So everything came along and so my life just you know again, I can do like prod I just gave you like 60 seconds. But you know, there was so much learn what what I've learned in the industry is that you have to stay focused and solve a single problem. Like, let's say find a lawyer who dabbles in crypto use Bitcoin, we allow you to buy and sell Bitcoin within 60 seconds. simple proposition. Efani, we have secure mobile service. That's all we do. You don't you don't it's not like oh, we use AI to and machine learning to interrupt your data and do this and do this. No. Simple is difficult.
Matt Zahab
That seems sorry. interrupt you That sounds very Paul Graham has that sounds so Y-Combinator that quote you just said staying focused and solving a simple problem. Seems like every company that comes out of YC literally has like a one-line pitch that's just like boom.
Haseeb Awan
Right? Like, that's it. I think I read somewhere that I didn't have time. So I wrote your long letter.
Matt Zahab
Wow, you're just a quote machine today. I love it.
Haseeb Awan
I don't know. Like, I just think that these are things that Wi Fi is like, very good. And like, you know, making things simple. And like, despite like, No, we lost, like, we come with one price. We don't offer any discounts or something like maybe like, there will be a you don't have like, you know, Black Friday or you don't get this thing. Just keep it simple. Buy one product for one customer they want and offer one thing and be very good at it. It's like Monopoly. If you read the book of zero to one really good book by Peter Thiel, which I had a chance to take in person so he I was able to get in person for him. And those things changed my life. Right? Like I personally, if you ask me, I was born in Pakistan, moved to Canada. I was I just graduated from school at that time, I went to all over you. And it changed my life in a way that how many times like you know, your life basically will take it's like a movie, you know how things change. And now I look at all those things and how the world evolved around us. A lot of companies got acquired, some went public. And we all started together, if we got acquired as well, so it's, you learn about that focus is the king. And if you stay in the industry for long enough in a specific industry and do some really good stuff, you know, you get rewarded, or money just a byproduct. And luckily, like outside of crypto, like you know, I learned a lot like telephone security, I learned a lot and everything you're learning, but staying focus is super, super, super critical.
Matt Zahab
It's a really good point there any other really good one-liners for me Haseeb regarding YC are just things you've learned sort of that founders can really take and distill down.
Haseeb Awan
Actually, one thing Matt about personally, like I said, I came from Pakistan, right? A lot of immigrants who come to US and Canada, they normally end up in like Tom Hortons, or like driving like in the Seminole damage, right. And that was a typical job. You get there and us trying to work for IBM, or like, you know, Cisco, or that's like a job that the career path that we normally are asked to do. So always using, like, what people who actually build companies, right? That's a very different question. But who are the people who go to Stanford? Like, you know, like, what breed of people who study at Harvard? Like, what do you need to do to get there? What I've learned is they're all on people with very good habits. It's like, you walk into a gym and you see someone very well toned, very good shape, and you're out of shape. And you say, man, what did this person has to do? To get to shape.
Matt Zahab
Consistency, baby consistency.
Haseeb Awan
Consistency. and I see this thing. If I go to a gym, and I spent like, 10 hours, single day, doesn't matter, I have to do one hour per day for 10 days. And that was worth showing showing up every day. Even though there's no audience. It's like Twitter accounts, a lot of people have built really good for their audience. And they keep on tweeting like, look at like, people, right? If you look at his first video, I think it had like 1000 views or something, I don't know, like religious views. But he is the SEO the life it like an SEO, you have to produce content, you have to do stuff every day. And I think that's life too, right? You have to keep us a better version of yourself every day. And as long as it's not easy to do so. Because we're always changing like 10% for like, per month. 100x. You know, we're always changing that. And I think there was another quote that I read somewhere that people overestimate what they can do it one year, but they underestimate what they can do in 10 years. Yeah, another great one, just stay consistent. And frankly, life is flight will be easy. And that's all I think.
Matt Zahab
When you were at YC, did you incorporate the famous, you know, what did you do this week, sort of report card that every founder had to fill out? And on top of that, how did we scale 7% this week? And a follow up to that, you know, why 7% was the number I've always been intrigued by that.
Haseeb Awan
So it's unfortunate, basically, it's the rule of 12. Right? So our rule of 7%. So if you do 7% per week, you basically, if not this week, you effectively double your growth within three months. So if you grow 7% per month, you grow. Like, you know, in 12 months, you compound to like 100% growth. So I see three months. So effectively, if we have like 200 users, by the end of the we don't know, the three months, you'll have like 200 users. So unfortunately, it was that easier. If you want to like you know, say that. Like whatever you're like whatever your target is just divided by like, you know, percentage and whatever. Like if you say I'm going 5% Just divide 100 by five and it will take 20 months for you To get to wherever you are double it. Right? So that's the rule behind 1%. But also, it's a good metrics to, like we grow slightly lower than that right now. But we focus on month or month because not easy to sustain 5% percent month over a week or week or even six months, on a percent, you know, it's very early. But yc is basically Okay, can you do that or not. And it gives you a bit of a self belief in you. Because now that we run a company, which is like multi, you know, billion dollars, it's very difficult to envision that someday, some people will be paying a millions of dollars to use a product that you're thinking about today. It's crazy. Like, I remember, in YC, we have something called YC camps. It doesn't happen anymore, but we have a different format, but we go for camping for three days without cell phones and everything. And pretty much every founder of that, and the left 1000 founders and you'll see like Brian Armstrong someone caught or like, you know, Patrick from, you know, from stripe on other corner you playing together, and then you get a chance to learn about it. And that's weird when you eat. When you're on a dining table. You say, Okay, man, these people are eating the same food I'm eating, like, he hasn't done anything crazy. Like you sit down with them. And you say, okay, man, it's not like they have a genius kind of mind where they will read everything. And within few minutes, they will remember everything is the normal person, just a normal person, but focused and like status and a couple of rules. And I think that gives you a better perspective about how life works. And it's all about how you look at life. You know, and just be consistent. Again, this is a simple thing to say, a lot of people will have regression on First off, first off, like January, but we are like literally like 80 days from this year. So why don't we do that right now, and make this our first semester and see what we achieve in the next three months. I love that in my personal life. Like I just think about like, I don't think so I'm like super successful, I'm damned, okay, but at the same time, we could have done much better, and never overpromise. In my life. You know, a lot of time we try to like push the top and bottom in trading as well. And it's okay just have entered and just make money and just leave. I love that. And the people who win and the one who leaves the poker table along with your poker table. You still in the game.
Matt Zahab
Yep. Haseeb what an episode man you brought the noise. I really appreciate you. We do have to wrap up here but man incredible love the advice. Love the takes on mobile security, very pumped to see what you and the team Efani have in store for the future. Until next time, and you will definitely be on for round two. I can't wait for that to happen, hopefully in person. But until next time, can you please let our listeners know where they can find you and Efani online and on socials.
Haseeb Awan
Ah, sure. Our username is pretty simple, Efani. E.F.A.N.I Twitter, Facebook, Instagram, everywhere YouTube, same Efani. If you'd like secure mobile service, you will find us like number one, number two, or efani.com. For your listeners, we actually have a tool that I send you a link to where they can put their telephone number and it will tell their telephone numbers go to them for free. So it's like Curt code, but for telephone number where we basically will tell you how easy it is to hack your phone and can you be able to do that?
Matt Zahab
Love that. Great. Haseeb. Thank you so much, man. Really appreciate it and looking forward to round two.
Haseeb Awan
Thank you Matt for having me on the show. And again, if you're we're going to check out there. Check your score.
Matt Zahab
Amazing, folks. What an episode with Haseen Awan, founder of Efani drop an absolute knowledge bombs. We'd love to see a tons of advice for founders some great stories of Vitalik and some of the other founding fathers of crypto back in the day credit score for telephone numbers and some security best practices hope you enjoyed this one. If you did, please do subscribe. It would mean the world to my team and I the team love you guys appreciate you Justas you were the best appreciate you man and to the listeners love you guys. Keep on growing those bags and keep on staying healthy, wealthy and happy bye for now and we'll talk soon.
A quick 3min read about today's crypto news!