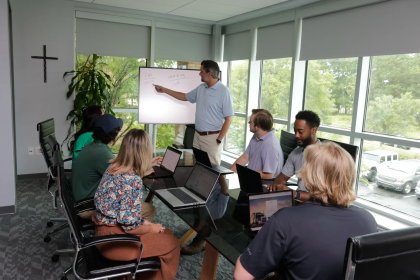 BOSS Magazine
Embracing technology helped MegaCorp Logistics thrive as other 3PLs struggled to survive
by BOSS Editorial | Published: November 1, 2022 | Updated: November 1, 2022 11:13 am
View This Article in BOSS Magazine


Bold decisions and a touch of prescience advanced MegaCorp Logistics into an industry leadership role at a time when others in the space were struggling to respond to the sudden changes wrought by the pandemic.
Based in Wilmington, N.C., MegaCorp is one of the country's most lauded logistics firms. Not only have they moved $11.6 billion of goods in their 13-year lifetime, but their commitment to exceptional service through technology and collaboration also keeps them atop a number of "best of" lists, and at top of mind for shippers large and small.
A passionate innovator with a mission to be America's premier logistics provider, MegaCorp specializes in meeting the needs of customers seeking comprehensive full truckload and LTL services throughout North America. The company leverages a blend of technology, service, and collaboration that goes beyond meeting service level requirements, introducing their clients to new and innovative technology resources.
John Carter Gillespie
"We've found the key balance in providing exceptional service and finding areas where our technology can improve or enhance our clients' or carriers' experience with us," said John Carter Gillespie, the company's Chief Technology Officer. "We are heavily into anything that helps us differentiate and innovate in our offerings for our carriers and our customers."
Gillespie credits company CEO Ryan Legg's comfort with radical change as the driver for their sweeping technology modernization effort; that mindset launched MegaCorp into an enviable leadership position in the 3PL space. "He recognized where the industry is going, and where we needed to optimize so we could scale appropriately," he said.
When Gillespie joined the company in March 2020, he set out to build out a proprietary transport management software (TMS) system inside the cloud. The TMS enhances day-to-day operational efficiencies, allowing users to access multiple system resources including CRM capabilities, carrier profile information, carrier document storage, and processing, as well as the ability to post loads to external platforms and research market capacity and truck pricing.
The modernization plan also included updating their major operational business processes, and a push to become more cloud scalable and mobile- and web browser-friendly.
Prior to the pandemic's onset, the company had moved their telephone and email contact systems to the cloud to create an operating expense (OpEx) subscription model for hardware. "We knew that as we scaled and grew, we could just consume versus having to buy servers and build out data centers in colocation spaces," he said.
Working with the industry's biggest cloud providers opened a plethora of regional data center opportunities, making it easy for their third-party integrators to get on board. Moving systems let them avoid technology roadblocks, including the consequences of the supply chain chip shortage that made it difficult to acquire servers and networking equipment – issues that many similar firms had to face.


The creation of a hybrid, remote-friendly work model allowed their employees to work from home; by doing so, they retained 100% of their existing workforce and even hired an additional 50 workers at a time when other 3PLs were enduring layoffs. "We had about 325 employees when I came to the company. Today we have 670 employees," Gillespie noted. At the same time, MegaCorp's revenue grew from roughly $350 million to approximately $900 million in revenue.
The company's technology resources also include real-time tracking updates that can easily be integrated with industry tracking platforms including MacroPoint and FourKites. Automated over-the-road reports provide tracking and load status updates, as well as access to the company's free interactive client portal, HeroConnect.
The cloud-based client portal that allows customers to view their active and historical freight information in real-time is directly linked to their TMS. MegaCorp clients can view appointment information, and appointment confirmation numbers, as well as real-time location check calls, location maps, and satellite views through their tracking integration with the Trucker Tools Smart Capacity system.
Smart Capacity makes it fast and easy to locate specific types of capacity in certain lanes and on specific dates. In addition to making loads digitally available to owner-operators and carriers, the system enables them to transfer load documents for payment on MegaCorp's carrier portal.


The system stores historic load data, giving clients continuous visibility even after their load is delivered. "HeroConnect provides consistent visibility so our clients can continue day-to-day operations without having to stop and find out additional information," Gillespie explained. "We want to provide transparency to our clients — what we see, they see."
Several key partners, including Presidio and AppSmart, helped to make the transformation a success. Virginia's More Better Technology (MBT) provided architecture, cloud, DevOps, app modernization, and delivery advancement tech to modernize their TMS architecture to be adaptable to MegaCorp's rapidly growing business.
"MBT has been a great partner, helping us reach our scalability needs by maturing our cloud architecture and management along with the necessary application changes to realize unlimited scale," Gillespie said. MBT leveraged their expertise and proprietary tooling to rapidly adapt and correct legacy application code across MegaCorp's multi-million line application platforms, which was hindering them from achieving their desired scale, stability, and implementation of new functionality.
"They partnered with our IT and business communities to build roadmaps and strategic plans to realize the right business value at the right time with the right architecture," he added.
When it comes to fostering a highly productive and healthy workforce, the award-winning enterprise goes above and beyond, creating what Gillespie calls "life-changing" opportunities for their employees. In fact, Inc. named MegaCorp one of the top workplaces in America for 2022.


At the local level, the company partners with several organizations to create a robust talent pipeline, not just for themselves, but for their community. They are developing university-level talent intern partnerships and working with the Wilmington Chamber of Commerce to create technology career paths for high-schoolers.
They're also collaborating with SparkNC, supporting an inventive outreach to elementary and high schools throughout North Carolina in which students learn about the tech industry, solving real problems for real businesses or organizations with the support of a certified coach. We're certain that MegaCorp's approach to introducing students to technology will highlight the need for what makes the company stand apart – customer service.
"We understand the workload that can inhibit our clients daily, and we do everything possible to make their experience with MegaCorp seamless and a breath of fresh air."
MegaCorp is an award-winning logistics company with remarkable growth. MegaCorp is headquartered in Wilmington, NC with offices in Cincinnati, OH; Elkins, WV; Morgantown, WV and Jacksonville, FL. MegaCorp services the continental US and Canada.
MegaCorp is named as one of the top places to work by Inc Magazine and the turnover rate is less than 8% because when you work for the best, why would you leave? With our fun, vibrant, corporate culture and unlimited earning potential, we want to bring out the best in people, so we offer the Mega-best. Our pay is well above industry standard, and we have a lengthy list of Mega Perks because we have our employees' best interest at heart and know you are not just a number. At MegaCorp, we want you to thrive in a positive work environment, so we give you the tools you need to succeed without being suffocated by micromanagement.
Want to join our team? View openings and apply at www.MegaCorpLogistics.com/careers or reach out to our recruiter, Carolyn Aubitz: [email protected] or 910.332.0820 x1410.
We recognize that MegaCorp is an extension of our clients'​ logistics operations, and we have strict policies in place to ensure that their goods are delivered safely and on time. At MegaCorp, we also understand that our clients are trusting us with the core of their business, and we do not take that job lightly. Our staff is highly trained and takes great pride in their work along with the relationship they have with their clients. We are people helping people, offering the best to our customers, transportation partners and employees — it's the Mega way.
We specialize in full truckloads, are asset-based, have an owner-operator program and a national carrier database of trucks that have been thoroughly screened and vetted to meet our above-industry standards. MegaCorp can also handle your LTL and rail freight as well. For references or a lane quote email [email protected] or call us at 877.241.1649.
Corporate Office
1011 Ashes Dr.
Wilmington, NC 28405
Phone Number: 910.332.0820
Email: [email protected]
Homepage Link: http://www.megacorplogistics.com/
Facebook: https://www.facebook.com/MegaCorpLogistics/
Twitter: https://twitter.com/megacorp3pl
LinkedIn: https://www.linkedin.com/company/megacorp-logistics/

Category: Innovation, Supply Chain


Embracing technology helped MegaCorp Logistics thrive as other 3PLs struggled to survive
The "ridiculously helpful" people of SHI International, a group of diverse teammates proving that a global solutions provider can give the focus, agility, scale, and expertise required to meet the unique business and IT needs of its customers as they move into the hybrid world.
Investing in their employees and local communities translates into success for Lumber Traders.
Fusion Logistics blends cutting-edge technology and a customer-centric focus to make inroads in the LTL space
If you ask Randy Marchany about Virginia Tech's most important technology investment, you won't hear a syllable about software or hardware – but you'll hear plenty about the brightest, most creative minds.
"Every year, we see more and more breakthrough, nature-inspired companies apply to the Ray of Hope Prize — indicating that this field is growing to meet the climate and biodiversity challenges facing our planet," Biomimicry Institute innovation director Jared Yarnall-Schane said.
The Scots have turned whisky into fuel. The best part is they still get to drink the whisky, since the fuel is made from the whisky waste byproduct of the fermentation process.
Creating circular supply chains requires buy-in from all participants along the chain, most importantly the end consumer.
Embracing technology helped MegaCorp Logistics thrive as other 3PLs struggled to survive Bold decisions and a touch of prescience advanced MegaCorp Logistics into an industry…
Car subscription services charge for amenities such as heated seats. Will drivers pay?
Drone delivery is taking off through a maze of challenges
Agora is the leading video, voice and live interactive streaming platform, helping developers deliver rich in-app experiences—including embedded voice and video chat, real-time recording, interactive live streaming, and real-time messaging.


CORPORATE HEADQUARTERS
Digital Ink
5050 Avenida Encinas
Carlsbad
California
92008
: 1 (760) 848-0609
Copyright 2022 © BOSS Magazine ( a Digital Ink brand ) All rights reserved. Privacy Policy | Terms of Use