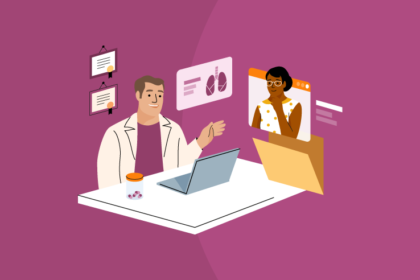 Electronic medical records (EMR) software reduces the administrative burden that healthcare practitioners face so they can focus on patient care. These tools keep tabs on patient history, schedule appointments, and generate invoices after patient visits.
But if you're a small or private practitioner, investing in an EMR system usually means going over budget. In this case, choosing an affordable EMR software tool can help you provide quality care to your patients without burning a hole in your pocket.
This article highlights the five most affordable EMR software systems. These products (listed alphabetically) have been selected from our EMR software FrontRunners report, according to our methodology specified here.

4.44/5 (Read user reviews)
View Product Details
75Health is a cloud-based electronic health record (EMR) solution that helps medical professionals working in small and midsize medical clinics manage patient information and digital records.
The EMR system features a built-in scheduler that helps you schedule patient appointments and keep tabs on electronic patient charts to track their recovery progress. You can also safely store patients' medical records and practice documents, such as consent forms and lab reports.
E-prescribing is available so you can send prescriptions to patients digitally and update them whenever required. With built-in reminders, you can send reminders to patients about upcoming visits.
75Health offers email, phone, and chat support. The tool is only web-based.

Patient information in 75Health (Source)

4.29/5 (Read user reviews)
View Product Details
CharmHealth EHR is a cloud-based practice management and medical billing solution for small practices that helps healthcare organizations manage administrative tasks such as patient document management, invoice generation, and patient scheduling.
Charm HR also lets you manage the access privileges of your practitioners. All users get role-based access and get audited from time to time to spot access violations.
Patients can pay for services directly from the software using their debit or credit card, making the billing process more efficient. Additionally, the software generates invoices automatically based on chart note entries.
The system offers email, chat, and phone support and is web-based with a mobile app for both Android and iOS devices.

Custom add-ons in charm EHR (Source)

3.68/5 (Read user reviews)
View Product Details
EHR 24/7 is a web-based electronic health record solution for small and private practices. The tool takes care of paperwork tasks, such as creating patient charts and maintaining their medical records.
The software helps order and receive lab results online and can also help you with e-prescribing medication to patients. Additionally, you can create real-time diagnostic reports and patient medical history.
You can send reminders to patients for upcoming visits along with alerts to take medication.
EHR 24/7 offers email and phone support, and the software is cloud-based.

Patient information in EHR 24/7 (Source)

4.85/5 (Read user reviews)
View Product Details
Jane is a practice management system for therapists, private practitioners, and small practices that helps with appointment booking, billing, and patient charting. The EHR software allows patients to view and choose services, treatments, and practitioners as per specific requirements.
Jane enables patients and healthcare professionals to receive notifications for bookings, confirmations, and appointment reminders automatically. It lets you create a patient database, and add photos and videos to track progress on a centralized platform.
Patients can use the EHR system to store their billing and payment information for faster payment and then receive invoices. The software also lets you set up access permissions, restricting users from viewing, editing, or deleting information.
Jane offers email, phone, and chat support and is web-based.

Patient charts in Jane (Source)

4.48/5 (Read user reviews)
View Product Details
RXNT is a feature-laden integrated suite of EHR, medical billing, and practice management software for small clinics and private practitioners. The software helps track patient data and automatically updates patient information by assessing diagnostics and lab reports.
You can use the software to check patients in digitally and share patient records with them. Additionally, you can schedule patient visits and send automated emails regarding appointment changes and prescription renewals.
The software also offers a patient portal for updating health information, uploading documents, and paying bills online.
RXNT offers email, phone, and chat support. The software is web-based and also has a desktop application. Additionally, it also has a mobile app for both Android and iOS.

Medical billing dashboard in RXNT (Source)
The tools mentioned above can get you started on your software search, but to find the best EMR software that fits your requirements, we recommend following these steps.
Here are some questions to ask EMR software providers before making a final purchase:

How did we select these products? Based on your reviews
At Software Advice, we consider and verify all our user reviews to recommend the most efficient tools for your business.
Our software recommendations reflect the views and experiences given by your peers. These recommendations are never bought or sold, nor based on the opinion of a single individual.
To be included in this list, products must:
What You Don't Know About Medical Wearable Devices and Remote Patient Monitoring—But Should
Physician Burnout in the Pandemic Age
Understanding The Telemental Health Care Access Act of 2021
© 2006-2022 Software Advice, Inc.  TermsPrivacy PolicyCommunity GuidelinesGeneral Vendor TermsGDM Content PolicyGDM Content Policy FAQs