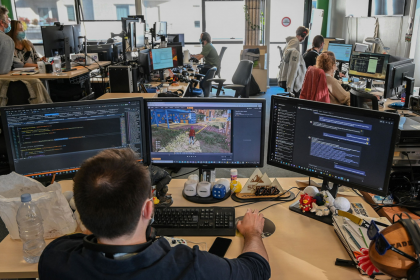 We use
From developing user-friendly legal tools for colleagues across the business, to facilitating an initiative to support Ukrainian refugees, these case studies of the most innovative legal teams highlight examples of lawyers' work in the following areas:
People management
Operational efficiency
Risk management
Commercial and strategic partners
Sustainable and responsible business
Digital innovation
Researched, compiled and ranked by RSGI. 'Winner' indicates the organisation won an FT Innovative Lawyers 2022 award.
Originality: 9 Leadership: 8 Impact: 8 — Total 25
The French video game company's legal team sets out to deploy resources flexibly so that it can align its professionals with the product development teams. The legal team includes product designers, user interface experts and software developers, along with lawyers, to help ensure that it can develop user-friendly legal tools for the business. The team designed a legal "front door" that allows the business to access legal services, many of which — such as the drafting of non-disclosure agreements and release forms — have been fully automated. Suitably, the team have introduced gamification techniques for training all Ubisoft staff on legal topics, such as data privacy.
Bayer
O: 8 L: 8 I: 8 — Total 24
Employees can learn more about a company by spending time in other departments, so the legal team at the Germany-based pharmaceuticals and biotechnology business runs a virtual secondment programme that is open to all employees. Anyone can gain legal department experience, while legal team members benefit from others' skills in IT, finance and more. The virtual programme is easier to administer than physical secondments and is being rolled out to other departments.
Diageo
O: 8 L: 8 I: 6 — Total 22
Tom Shropshire, general counsel at the multinational drinks company, has created four "centres of excellence" in the legal team to align with the strategy of the business. The core legal function has been organised according to business topics, such as brands or innovation, rather than legal practice areas. The legal department's development programme builds on four principles: leading; enabling; accelerating; and protecting. Each focuses on behaviours, such as relationship building or intelligent risk taking, which are honed through training sessions.
Anheuser-Busch InBev
O: 6 L: 7 I: 8 — Total 21
The digital ethics team at global drinks company AB InBev uses gamification to make training in data privacy and cyber security more memorable for the company's staff. So far, 6,500 staff have been trained via the scheme, in which techniques include real-life scenarios and role-playing. Training is delivered via a digital platform, which allows the team to track completion and gather feedback. Some 95 per cent of senior leadership and all employees have taken the course.
Government Legal Department (UK)
O: 6 L: 8 I: 7 — Total 21
The UK government's legal department introduced a programme to improve the skills of its 2,000-plus lawyers. For example: participants in an annual hackathon called Innovation Challenge develop ideas to improve efficiency; the department also has an innovation manager who ensures money for improving operations is spent wisely; and an upskilling programme recently involved lawyers going on a course to learn more about artificial intelligence and its public law implications.
Laing O'Rourke
O: 7 L: 7 I: 7 — Total 21
Madeleina Loughrey-Grant, group director of legal at Laing O'Rourke, the UK construction company, is encouraging staff to think more strategically and to feel more engaged. Senior team members were trained on working collaboratively and increasing efficiency. New job roles were created to align with the structure of the business rather than legal practice areas.
Coca-Cola HBC
O: 6 L: 7 I: 6 — Total 19
The bottling company's legal team led the establishment of "cross-practice groups", which are networks that bridge legal teams across various countries and Coca-Cola companies. The groups provide opportunities to share knowledge on topics such as legal operations, engage with a broad network of peers, and have helped lawyers from Coca-Cola HBC to develop their careers across other departments.
Originality: 7 Leadership: 9 Impact: 9 — Total 25
The outside counsel management team at UBS overhauled the bank's approach to buying legal services to gain greater oversight and control. The changes led to an estimated 15-20 per cent saving on costs. A concierge service handles case admin while a "smart framework" helps to decide whether to engage legal advisers. Persuit, a specialist IT platform, helps law firms bid for work and gathers data to assess their performance. The team has a database of historical law firm rates and an AI tool to estimate future fees.
Britvic
O: 7 L: 8 I: 8 — Total 23
At drinks company Britvic, the legal team found it was losing significant value each year, because manual processes meant lawyers were failing to catch lapsed counterparty obligations, such as payments and late fees. So the team worked with procurement and IT colleagues to develop automated systems for contract drafting and approval, with technology-friendly contract templates. The legal team expects the moves will save up to £12mn over the next few years.
Iberdrola
O: 7 L: 8 I: 6 — Total 21
The Spanish utility company's new operations unit has modernised the legal department, making it a leader in Spain's utilities sector. Contract management and spending on outside counsel have been automated and the legal operations team has experimented with the use of new technologies — such as blockchain — for signing documents.
The team has also developed ways to measure the legal department's performance. A new knowledge management team has implemented learning programmes centred on leadership and agile working.
Commended
Eon UK
O: 6 L: 6 I: 6 — Total 18
The legal team used its existing tech to develop a new way to triage legal work, which has standardised how anyone in the business requests legal support. The team uses Microsoft Planner to assign work and oversee priorities, providing a simple, easy way to view the workload. A new matter management tool has centralised interactions and document sharing with the business and external counsel.
Scotia Gas Networks
O: 6 L: 6 I: 6 — Total 18
Processes across the legal department at the UK gas distribution company have been divided into different areas of work.
The legal tech platform HighQ automates lower value work, such as the drafting of non-disclosure agreements using templates, while assigning medium level work to lawyers, with the rest being sent via HighQ to outside counsel. Automatic triage of legal queries from the business has speeded up the department's response time. Using HighQ as a matter management tool allows the general counsel to oversee and reassign workloads easily.
Originality: 8 Leadership: 9 Impact: 8 — Total 25
The digital ethics team, which is responsible for compliance at the global drinks company, has developed a platform called Lighthouse to analyse the risks associated with data processing. Issues such as the quality of an asset's underlying code can raise concerns over cyber security or data privacy.
The Lighthouse dashboard uses a risk matrix to calculate whether the risk from a digital asset in different regions and business areas is high, medium or low.
The platform shows which regions need more resources to mitigate risk, and where greater adoption of Lighthouse is needed.
Carlyle
O: 8 L: 8 I: 8 — Total 24
When sanctions were imposed on Russia after its invasion of Ukraine, the global legal team for investments at the private equity group had to assess possible knock-on effects on the 360-plus companies in its portfolio.
Fortunately, the team was already working on a platform that brought together data regarding Ukraine, Russia and Belarus — such as deal due diligence and antitrust responses — and mapped out any potentially risky exposures.
It automatically monitored possible disruptions in the region, which helped Carlyle lawyers co-ordinate mitigation strategies ranging from heightened cyber security to external communications. The risk exposure of Carlyle and its investments was ultimately found to be limited.
The legal team's platform became a central information hub that was used by the entire organisation.
Bayer
O: 7 L: 8 I: 8 — Total 23
The legal team worked with colleagues in compliance, data privacy, IT and procurement on a new risk assessment platform for the 100,000-plus external parties with which the pharmaceuticals company does business.
The tool combines due diligence assessments from all these departments and systematically requests data from suppliers. It also links to third-party databases that flag up any company on sanctions lists or receive adverse media coverage.
Assessments are now faster, more thorough and easier to oversee.
Colt Technology Services
O: 7 L: 6 I: 7 — Total 20
Colt was the first telecoms company globally to implement "binding corporate rules" approved by the European Data Protection Board — a move that ensures a high standard of protection. The legal department helped Colt achieve the certification.
The policies implemented had to be embedded in the business, which required cross-company working to change core processes.
Fujitsu
O: 7 L: 7 I: 6 — Total 20
A new tool launched by the legal team uses statistical modelling to analyse the risk of potential deals and provides useful information for negotiations and helping the IT business decide on strategy. It has generated more than 300 reports providing initial insights and extending the legal team's market data.
The team also uses dashboards to track workflows and performance across the legal department.
Originality: 7 Leadership: 8 Impact: 8 — Total 23
Lawyers helped develop Aviva Zero, a programme that matches customers' use of petrol and diesel cars with carbon offsetting projects — enabling the insurer to advertise "carbon-neutral insurance". They worked on calculating motorists' emissions based on annual mileage and matching them with contributions towards buying carbon credits. By working closely with the rest of the business, the lawyers helped Aviva launch the product after four months of development, in February 2022. They also made improvements based on customer feedback.
Anheuser-Busch InBev
O: 8 L: 7 I: 6 — Total 21
The digital ethics team at drinks company AB InBev developed a "fairness toolkit" to assess risk in new technology projects where the regulatory implications are unpredictable. The toolkit is based on core values decided by the team. It then draws on consumer surveys and the team's knowledge of best practice to anticipate compliance risks, such as data or diversity considerations, even if they are not yet solid legal risks.
Diageo
O: 7 L: 8 I: 6 — Total 21
The legal team at Diageo, the distiller, sees its mission as "clearing the path" for the business, with lawyers providing clarity when regulatory regimes are ambiguous. One example was the lawyers' work with the innovation team on the launch of a new alcohol-free spirit. They talked with the European Commission about the best way to market the product responsibly, taking into account its trace alcohol content. This work has set a standard not just for Diageo but for the broader industry.
Vodafone
O: 7 L: 7 I: 7 — Total 21
Lawyers helped to create a digital process to replace manual contract negotiation with the UK telecoms group's smaller-company customers. They looked at how they could separate product lines to let clients choose which services they want via a user-friendly online interface. The automated process works out the best deal for the customer and builds a bespoke contract using a rules-based algorithm that draws on precedent. The time taken to contract has been cut from about four days to one hour.
European Investment Fund
O: 6 L: 7 I: 7 — Total 20
The European Investment Fund, a subsidiary of the European Investment Bank, has created a "venture centre of excellence" to channel more funding into life sciences, especially those that support recovery from the Covid pandemic. The system uses an artificial intelligence tool to process new investments. The legal team resolved complex questions about data privacy and intellectual property for ideas developed on the platform. They also helped collaboration between a wide range of parties.
International Fund for Agricultural Development
O: 6 L: 6 I: 7 — Total 19
The legal team helped the fund to secure a credit rating, making it the only UN entity to have a credit rating — apart from the World Bank.
The fund can now use its rating to borrow at lower costs and lend directly to the private sector, increasing the ways it can provide funding to farmers.
Originality: 8 Leadership: 8 Impact: 8 — Total 24
When Airbnb.org, the not-for-profit arm of the home-sharing platform, pledged to accommodate 100,000 Ukrainian refugees internationally, Airbnb's legal team helped facilitate the initiative. The lawyers designed legal protections for hosts and guests and used their network of law firms to connect with non-governmental organisations that could provide vetting. The legal team realised they could not expand fast enough if relying solely on NGOs and so implemented faster processes, such as self-verification. Some 48,000 Airbnb hosts offered temporary accommodation, which enabled the business to achieve its goal.
Vodafone
O: 7 L: 8 I: 8 — Total 23
The UK telecoms company is giving free internet connections to 1mn people in 2022. Vodafone's legal team led the initiative, working with charities that seek to end digital exclusion. Lawyers designed bespoke contractual agreements so that connections could be set up as quickly as possible, and the company had made 500,000 by July. The lawyers also helped to provide 200,000 free Sim cards to Ukrainian refugees.
NatWest
O: 6 L: 8 I: 8 — Total 22
Lawyers at NatWest, the UK banking group, have made its legal documents more accessible. Terms and conditions are now shorter and easier to read, as well as gender-neutral and easier for dyslexic readers to navigate. The lawyers also worked with the Chancery Lane Project, a collaborative legal initiative, on introducing requirements into its supplier agreements around energy use — the first UK bank to do so.
Laing O'Rourke
O: 6 L: 9 I: 6 — Total 21
Keen to tackle both the construction sector's harmful impact on the environment and its lack of employee diversity, the legal team at the UK-based building and engineering group drove the introduction of a sustainability policy, which won approval from the board. This policy includes goals to achieve operational net zero carbon emissions by 2030 and total net zero by 2050. The business is also aiming for a 50/50 gender balance among global staff by 2033.
Colt Technology Services
O: 6 L: 7 I: 6 — Total 19
The legal department has helped the company in its strategy to cut its carbon emissions, including work on the procurement process for making three-quarters of transportation electric by 2030. The lawyers set up an environmental, social and governmental criteria team to help create a Q&A and a "sustainability bot", to inform customers about Colt's ESG strategy.
Diageo
O: 6 L: 7 I: 6 — Total 19
The legal team has facilitated projects to help the drinks business improve its corporate social responsibility efforts. These include the promotion of Diageo's ESG credentials in a way that avoids accusations of greenwashing and the creation of sustainable packaging.
European Investment Fund
O: 6 L: 7 I: 6 — Total 19
The UN agency's lawyers helped Médicins du Monde, a French non-governmental organisation, to design a pioneering social-impact investor product. Its payout is linked to goals being met, such as whether the NGO has cut reconviction rates among offenders through its work in communities.
Coca-Cola HBC
O: 6 L: 6 I: 6 — Total 18
Several sustainability initiatives have been handled by the legal team. These include gaining EU approval for a new type of recycled packaging, introducing contract terms that require suppliers to have external sustainability assessments, and negotiating the contracts for a programme to fund postgraduate research on recycling.
Originality: 8 Leadership: 8 Impact: 8 — Total 24
Since April 2021, the legal department's digital services team has taken significant steps to increase efficiency at the Japan-based IT specialist, starting in Europe. For example, it has standardised more documentation to enable automation. In addition, the team has automated more than 1,500 workflows using digital platform ServiceNow, with data presented through dashboards. More than half of the day-to-day work has been automated. The team launched an automated chatbot for legal queries from the business that can handle the most common topics. It also established a round-the-clock service desk so that questions needing a human response can be answered promptly.
Bayer
O: 7 L: 8 I: 8 — Total 23
The chemicals group built a system last year that collects legal and compliance data centrally, which is helping the legal team to improve its operations. It now has real-time information on the number and type of requests coming from across the business, how long tasks take, satisfaction with legal services, and more. The team shares progress reports and performance metrics with the business through a user-friendly dashboard.
Coca-Cola HBC
O: 6 L: 6 I: 7 — Total 19
The bottling company's legal team introduced tools to automate approval processes for marketing materials and the management of the business's relationships with law firms. It has also introduced contract management software SAP Ariba for the company's procurement team and developed a separate tool in-house to handle more than 20,000 commercial contracts. The sales team can now access "preapproved" contracts that do not need input from a lawyer.
Vodafone
O: 6 L: 6 I: 6 — Total 18
The telecoms group's legal team has developed a resource that allows staff across the business to access up-to-date contractual terms that they can offer to customers. This has nearly halved the number of bespoke mobile phone contracts that are issued to business customers requiring a lawyer's sign-off.
The lawyers have also rolled out a tool that flags any time-sensitive matters — from reminders about forthcoming payments to failure to meet minimum spending levels.
International Edition
and other data for a number of reasons, such as keeping FT Sites reliable and secure, personalising content and ads, providing social media features and to analyse how our Sites are used.