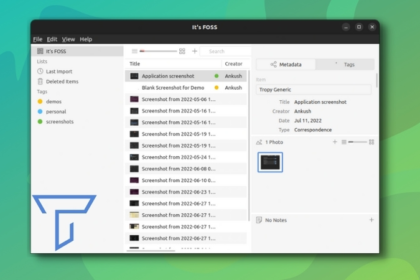 Brief: An app to help you explore research photos, and documents without losing out on important contextual information about them.
Organizing photos is a big deal for individuals and researchers. Managing a large photo collection is not easy, whether it is just for a passion project or professional work.
What if you want photos for research or a detailed archive?
Tropy can help you out with that.
Tropy is an impressive open-source software that lets you organize all your research photos, add essential details to them, and have them ready for research purposes as well.
Primarily, it is built for researchers, where you get the superpower to add several properties of metadata to describe the content of your photo.
The photo can be of a document, old book pages, and anything you'd like to keep for exploration.
It saves your research data using SQLite, which is a suitable format for data preservation.
It is not just limited to Linux but is also available for Windows and macOS (Intel/ARM).
While it is particularly targeted toward researchers, I believe anyone can use it. It is user-friendly and easy to use.
You can also use it coupled with Zotero, which is an open-source application to help you collect and share your research.
Let me highlight some key features.
Tropy is not exactly a photo organizer. You can always use some photo management software available for Linux for that purpose.
But, if you want features to keep your photos or images of documents organized for research purposes, Tropy should be a likable option.
The features include:
In a nutshell, you get several features with Tropy. With all the options, you get a wide range of possibilities to organize, sort, seek information, and organize the photos for research and archive purposes.
You also get to add plugins, overwrite photo metadata while importing, add existing timestamps using a local timezone, and a couple of other features.
If this sounds like something you could use, you might want to check out its official introductory video to learn more about it:
You can download the package for Linux from its official website. It downloads a .tar file which you can extract, and then run the executable inside it to launch the application.
If you want to use the AppImage file on Linux, you can download it from its GitHub releases section.
Tropy is a powerful tool for researchers and an interesting option for others. Even if you are not a researcher, having meticulous data for your photos/documents can be incredibly useful at times.
While the features can be overwhelming to replace a photo organizer, I would suggest you try it out for a while to see if you start liking it.
Have you tried it already? What do you think about it? Is there something similar you would recommend for our readers?
A passionate technophile who also happens to be a Computer Science graduate. You will usually see cats dancing to the beautiful tunes sung by him.
This quick tutorial shows you how to check CPU temperature in Ubuntu and other Linux distributions with a help of a tool called Psensor.
Read More How To Check CPU Temperature in Ubuntu Linux
ElectronMail is a desktop client that allows you to use encrypted email services like Tutanota and ProtonMail simultaneously from the same interface.
Read More ElectronMail – a Desktop Client for ProtonMail and Tutanota
Looking for Microsoft Paint alternative on Linux? Here are some open source paint applications for Linux users.
Read More 7 Open Source Paint Applications for Linux Users
Mumble is a free and open source, low latency, high quality voice chat application. A new release has arrived after 10 years and brings much needed improvements to this already awesome application.
Read More Open Source Voice Chat Mumble Makes a Big Release After 10 Years
Want to create online course and e-learning websites? Here are open source Learning Management Systems you can choose and use.
Read More Best Open Source LMS for Creating Online Course and e-Learning Websites
Save your eyes when you work with computers at night by filtering the blue light. Here's how to enable the Night Light feature in Ubuntu & other Linux distros.
Read More Using the Night Light Feature in Ubuntu and Other Linux
Thanks for this overview! I'm a member of the Tropy education and outreach team and it's gratifying to see this positive review. Tropy has an extensive documentation and an active forum where users can ask questions, get help with issues, and request features. I encourage anyone interested to stop by and sign up!
https://forums.tropy.org/
How do I install this on Mac and where is the Repo for the code?
Not hard to find:
==> https://www.tropy.org/ -> dropdown -> select Mac
==> https://github.com/tropy/tropy
It's exactly what I need. I have been looking for this kind of app for years!
Thank you for sharing. Seems like a very useful tool for my research!
Glad you like it!
Your sharp observation skill and intellect have identified a potential issue with this article.
Is it a grammatical mistake or a simple typo? That happens from time to time.
Is there some incorrect technical information? It's possible that we were not clear on the topic.
Part of the article contains outdated steps or commands? We have over 1500 articles in the last ten years. It's possible that some articles that worked well five years ago won't work today.
Is there an issue with the UI and UX of the website? Some button not working? Link leading to a dead page? Or any other issue with the website elements?
Dear Holmes, help your Watson (that's us) by explaining the details.
© CC-by-SA | It's FOSS is part of CHMOD777 Media Tech Pvt Ltd
Session expired
Please log in again. The login page will open in a new tab. After logging in you can close it and return to this page.