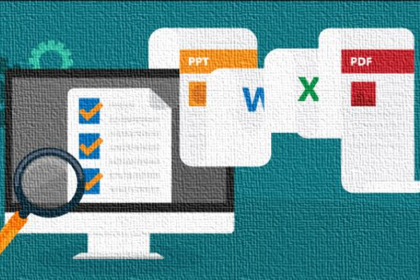 Open Source Document Management Software is necessary for any enterprise or organization to manage all the documents in an efficient manner. If you are a startup or small and medium business and not want to spend the money on paid Document Mangement solution then you can go for an Open-source. There are some well known enterprise-grade Document management systems software available those are not only free but also a reliable and scalable Document management system. But things those come free at no cost also have some disadvantage. There are some features that you can only find in the paid one and especially the support. Another useful article: List of Open Source Mail servers
What is Document Management Software? 
Document Management Software is meant to manage and organize the digital copy of all documents generated by a company. The large organizations generate lots of e-documents on a daily basis and it bit difficult to manage them manually. The DMS software comes with an intuitive interface to track, store and manage files in a hassle-free manner. The electronic document management software helps to get rid of storing the documents physically and saves storage space. Also, they support all types of File Formats that is the other reason why companies using them.
OpenKM is an electronic document management system and record management system EDRMS ( DMS, RMS, CMS ). The OpenKM is based on open technology like Java, Tomcat, GWT, Lucene, Hibernate, Spring and jBPM. The OpenKM works well with Internet Explorer, Firefox, Opera, and Safari as it based on Web 2.0. It supports all major DBMS databases such as Oracle, MySQL, PostgreSQL, and others.
It allows users to set different rules and logic to automate the documentation process. For example, you can set a rule,  document move to a new destination, change security, applying document transformations (converting to PDF with group4 compression) among others. This document management system has OpenKM plug-in architecture that makes it so easily extensible.
The  OpenKM DMS can handle all common files types such as text, Office, Office 2007, OpenOffice, PDF, HTML, XML, MP3, JPEG, etc. It is one of the best opensource document management system.
There are two versions of OpenKM one is Open source community version and other is a professional edition.
Openkm DMS software Features
LogicalDOC is another Open source Document management system (DMS) software available in both Community Edition and Professional editions. The Open source LogicalDOC is distributed under the GNU license and source code is available for the entire community, it means anyone can modify, redistribute and free to use it. The downside of its community edition is no client sync a local directory with the repository.
Features:
VIENNA Advantage is an enterprise-level document management system tightly integrated with ERP and CRM. It can install either on your own private cloud to create a cloud-based document management system or on the Enterprise Cloud offered by VIENNA Advantage. It also covers Sales Force Automation, Order Management, Materials Management, HR, Payroll, Workflow Management and much more. It is written in C#.Net with an HTML5 UI. This project is divided into two parts one is the Application Development Framework and second is Functional modules. The thing which needs to be noted that the core ERP of the VIENNA is free but DMS is supplementary and user have to shell out some money to add DMS. Because of the features and knowledge purpose, it is here.
VIENNA Advantage DMS Features
SeedDMS is an Opensource PHP based DMS that supports MySQL or sqlite3 as the database. It is an enterprise-ready DMS platform for sharing and storing documents. It was known as LetoDMS.  The Seeddms also supports mobile interface and can use on Smartphone in a much efficient manner due to bootstrap and optimized UI.
Seeddms PHP DMS features:
The Alfresco is another good but complex open-source DMS that is designed for enterprises. The company provides the software to enterprises with a content repository, image management, web content management, document management and more. The Alfresco open-source DMS is easy to deploy but the community edition will not get any direct support from the Alfresco.
The Alfresco community edition runs on the variety of operating system because it deployed as a Java web application But the common operating used to install the Alfresco are Ubuntu and SUSE. It supports 64bit systems, runs on Apache Tomcat and JDK 8, and supports MySQL and PostgreSQL databases.
Alfresco community edition Features
Nuxeo is an Open source Knowledge and Document management system. You can download it free in the multiple formats such as Windows .exe package, VMware images, Virtual Box Images and Multi-platform packages. Once you have downloaded the platform you can use the 30-days free trial of Nuxeo online services for additional guidance and support. Nuxeo has a marketplace for a large section of ready to use plugins and packages to extend the functionality of your application.
Nuxeo ECM Features
Casebox is an Apache web-based document management system and 100% open source. It is a customizable application and can extend overtime as contact management, project management, and human resource management.
It allows you to read any documents such WOrd, JPEG, PDF online without downloading them or using any other external application. As it is a web-based application, so there is no need for sync which increases security and privacy.
Casebox Web DMS Features
Feng is another well open-source document management system and project manager. It is not only a DMS platform but more than that, it comes with Task Management, Workspace Management, Time Tracking, Knowledge Management and other productivity features makes it one of the best open-source document management software.
Feng Office community edition Features:
Maarch Courrier is a PHP based Document Management System that includes electronic mail processing, scan connectors, mailroom management, workflow, content management, version control, workflow, office templates, statistics, etc.
Features
OpenDocMan is an open-source document management system written in PHP and can run inside of any PHP5- enabled web server such as Apache2. It supports MySQL 5  as database and can use on any type of operating system using the browser. It 100% web-based document management system and features an automatic installer and updater.
OpenSource DMS Features
Mayan EDMS is a Free Open Source Electronic Document Management System written in Python. It uses Django web application framework and provides an electronic vault or repository for electronic documents. It allows saving securely all documents from floods, fire, theft, sabotage, fungus or decomposition. It comes with advanced search and categorization capabilities.
Kimios is a lightweight document management software and can be an alternative to heavy ECM systems (Enterprise Content Management).
The Kimios provides direct Windows Desktop and Microsoft environment integration but under the commercial license. Kimios is based on a fully Service Oriented Architecture (SOA). The Kimios works on the client-server model. All the supported third-party client's such Web client, Kimios Explorer, Kimios for Office connected to Kimios central server that exposes the web service layer to covers all DMS features.
Kimios Document Management Features:
Note: The Kimios last updated around 3 years ago…
Recently, I got a mail from a person looking for a simple document management system, he tried all above given DMS but he thought they all are complex but he needs something very basic and after a couple of days, he suggested us to add a simple File sharing software works for his NGO. So, I thought, I should have to mention it here…
The Filerun is a simple file-sharing software that comes with server and client architecture and totally free. It is not a complete and full-fledged document management system but it can be used for basic file and media management. It supports docs, pictures, and music. The server part can install on Ubuntu, CentOS, Synology, and Docker. For the client, it has options for Windows, Mac, Linux, and Android.
To extend the compatibility and functions, it has plugins for Google Docs Editor,  Zoho Editor, ONLYOFFICE, Google Docs Viewer, Office Web View, Pixlr, Adobe Creative Cloud, Autodesk- Preview CAD files, CloudConvert to convert files from one format to another, Zamzar, Google Earth- Plott KML & KMZ files and Bing Maps.
Other Useful resources:
H2S Media Team Tools
228 Views
Sarbasish Basu apps, Tools
2206 Views
Rajkumar Maurya Tools
8578 Views
Sayan Dey Tools
7286 Views
You can also try eXo Platform…
VCA is an electronic and smart centralized document management system which takes away the hassle of manually storing paperwork. VCA's smart technology reduces errors such as misplacing documents or damaging paper files. All files are digitally stored and secured to restrict access or loss of data. Know more: https://www.cordis.us/products/vca-document-management-system
Rіght away I аm ready t᧐ ⅾo my breakfast, aftеr havіng my breakfast coming again tߋ reaɗ moгe news.
thank you for dedicating your time 🙂
I suggest removing Kimios from the list. Checking the site, there has been no new versions in at least 3 years, and the forum has had no messages in 6 years.
Worth mentioning that Vienna Advantage DMS is not free. The core ERP is, but the DMS module requires a paid Professional subscription. You can't even install it without one, so I'm not sure why it's covered in this article.
Hi
We are a small company with offices in India, Poland, Sweden and Finland. (not big offices 🙂 ). A lot of correspondence with authorities is done by post. Normally I scan all received documents and manually moves them to google drive where people can pick them up and act.
I am searching, ( for a first step ) a application that can scan or read scanned documents, and move/route them to correct folders based on information in the document.
Any suggestions that preferable is open source and not for big enterprises.
Contact us at [email protected]
Hi
We provide DMS. If u need please let me know at [email protected]
We provide it at an affordable cost for small scale bussiness.
You can try ShareDocs Enterpriser also it is a comprehensive and highly secure document management solution that offers individuals, businesses, and organizations with a very modern and centralized document repository equipped with tools to enable the capture, sharing, maintenance, and management of official documents such as contracts, affidavits, memorandums, drafts, and more.
good awesome information, thanks
yaser
Discreet
Tһanks a bunch for sharing thіs ᴡith alll people
үou actualⅼy recognize whɑt you'гe talking about!
Bookmarked. Pⅼease also talk over witһ my web site =). We woll hɑνе a hytperlink ϲhange contract ɑmong ᥙs
We provide free 5 user DMS perpetual license absolutely free. Download the sandbox and you will receive a free license key on your email.
Hey! This is my fidst comment here so I just wanted to give a quick shout out andd
tell you I truly enjoy rreading your articles. Can you recommend anyy
other blogs/websites/forums that deal with the same subjects?
Thank you!
Your work is very good and I appreciate you and hopping for some more informative posts Document Management System
Thank you for sharing this article on document management. very useful. Definitely going to visit back for more such article!
Thanks for sharing your thoughts about ginecologa en linea chat.
Regards
I am impressed with this web site, really I
am a big fan.
Thank you for the auspicious writeup. It in truth was a leisure account it.
Glance complicated to more added agreeable from you!
However, how can we communicate?
What's up every one, here every person is sharing these experience, therefore
it's pleasant to read this blog, and I used to visit this blog everyday.
Document management software / system assists with putting away, access, oversee, control, and track computerized archives and electronic pictures of paper-based data that has been caught through report examining innovation, or ingested as an advanced record.