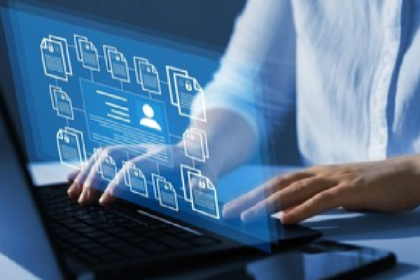 An intranet is a private network of endpoints, servers, content, and frontend UI for productive employee experiences.
An intranet is defined as a network of endpoint devices and servers with a content engine and frontend systems that allow users to access company information in one place, talk to each other, collaborate on files, and enjoy a social media-like experience – operating within a private, secure perimeter. This article provides an overview of the intranet. It explains what an intranet is, how it works, and how it is accessed. It also discusses the critical components of an intranet system.
An intranet is a network of endpoint devices and servers with a content engine and frontend systems that allow users to access company information in one place, talk to each other, collaborate on files, and enjoy a social media-like experience – operating within a private, secure perimeter. 


An Example of a Desktop Intranet Built Using Microsoft SharePoint | Source
The intranet is a restricted network used to securely communicate corporate information and computer resources among workers inside an organization. It improves communication inside a business and facilitates team member access to vital information, connections, applications, forms, and corporate record databases. A database containing the usernames of all workers with network access privileges is frequently employed to manage intranet security.
Intranet software emerged alongside the web in the 1990s, with the primary distinction being that intranets are private (and hence safe), while the net is an open, accessible network.
Owing to the security it provides, an intranet is used chiefly for information interchange, updates, data storage, and workflow management. Users may also be aware of an extranet, which is an intranet that is available to anyone outside the company, such as your clients or business partners.
Intranet security and functioning require a web server that controls requests for data stored on the server. The web server finds and delivers specified files to the appropriate user. Additionally, One must create a content management system to oversee intranet content creation, publication, and upkeep.
In addition to local area networks (LANs) and lease lines linked to wide area network resources, an intranet may also comprise many connected LANs. The intranet web server utilizes transmission control protocol (TCP/IP), HTTP, and additional internet protocols. An intranet often connects to the web and other resources outside the organization through one or more gateway computers.
To access the workplace intranet, employees must have an individual network password and be connected to the business's local area network (LAN). Using only a virtual private network (VPN) or another secure connection, remote workers access the intranet. The VPN enables users who aren't linked to the required LAN to access the intranet and receive the same services and data as users who are registered on the LAN.
Intranets are also made available via hosted software packages. Instead of a private server, a company obtains intranet software that performs the same functions as conventional intranets. Some modern intranets link to various corporate applications akin to social networking services.
See More: What Is FPGA (Field-Programmable Gate Array)? Meaning, Working, and Uses
To develop an intranet system (rather than choosing a hosted solution), a business would require the following components:
The intranet software's primary aim is to link workers throughout the organization. For enterprises adopting remote and flexible work, this involves working with team members on work-related tasks, providing easy accessibility to team documentation and workspaces, and ensuring that all team members are always linked to vital business information. Intranets are virtual workplaces where workers congregate, collaborate on projects, provide feedback on new initiatives, store objectives, and communicate across the organization.
See More: Wifi 5 vs. Wifi 6: Understanding the 10 Key Differences
The primary characteristics you need in an enterprise-grade intranet are:
The critical aspect of an intranet is the centralized storage of an organization's vital data. Employees need to be able to locate the information they want without becoming lost in a labyrinth of hyperlinks. Intranet search engines must be robust and capable of indexing all intranet material. In search, organizations should increasingly seek to use metadata and artificial intelligence (AI).
Modern intranets are designed for worker mobility. Many workers want flexibility in their jobs, and the vast majority require a secure network wherever they are. A cloud-based intranet enables employees to work from anywhere and provides them access to necessary tools and widgets, whether at the office or on the move.
The bulk of company documentation resides digitally nowadays on a server, a hard drive, or an email inbox. An intranet may centralize them, making them readily discoverable and available to end users. With a centralized repository, you can be confident that everybody has the most up-to-date version. And you may cease filling the inboxes of others. In addition, the intranet should facilitate the organization of your content into distinct libraries.
Communication hubs promote the sharing, socialization, and collaboration of workers. Whether you need to send out content organization-wide, share the newest user interface concepts with a small group, or want a location to discuss the upcoming social event, hubs enable workers to engage rapidly and target the appropriate individuals. Additionally, users need to be able to broadcast instant messages to a single recipient or an entire group.
When appropriately utilized, org charts may be instructive and foster cooperation and innovation. The intranet must give workers an easily accessible organizational chart that presents competencies, resources, and contact details in a simple manner. Users must be able to search by individual, department, geographic area, and talent. Administrators should maintain authority over the material displayed to particular workers. One may accomplish this by establishing a hierarchy.
It is unavoidable that any intranet will necessitate regular maintenance and updates to guarantee that the material offered is correct and valuable. Adding a picture or modifying material shouldn't be complicated or time-consuming. Surprisingly, many systems need the assistance of technically competent individuals to perform these duties. But the intranet should ideally have a simple edit function to make changes and updates.
Most companies utilize an intranet to provide internal information, such as news articles. The intranet should include content creation tools as user-friendly as top content management systems. Key features must include text editing, picture uploading, audience, launch date selection, social sharing, commenting, and "like" capabilities.
The mobile-centric culture of today has simplified intranet accessibility for workers. Responsive design implementation offers quick intranet accessibility on smartphones and other mobile devices, culminating in an excellent user experience. With such a mobile intranet, workers can check in from anywhere, allowing quicker responses. It provides workers with a more comfortable method to communicate and consume information.
Effective file management may not seem as exciting as other features, but it is essential for workers. It simplifies administrative tasks, such as locating paperwork and important information. Outdated documents are frequently one of the significant difficulties with intranets. Ensure that your file management functionality enables you to allocate ownership rights to specific users to prevent this.
See More: GSM vs. CDMA: Understanding the 10 Key Differences
Intranet homepages serve a crucial function since they are often the entry point to intranet material and, occasionally, the digital workplace as a whole. To maintain traction, a homepage must thus aggregate messages, provide connections and navigation to the information and systems workers need, and be compelling and aesthetically pleasing.
Some duties, despite being commonplace, slow employees down. Consequently, you should seek out a business intranet site that can streamline — and automate —  many of these monotonous tasks. Things such as documentation approval, task creation, and duty assignment may not require much time individually, but they can accumulate over time. The greater the degree to which you can automate workflows, the more effort your users can devote to other crucial aspects of their tasks.
One must be able to tailor your intranet to the brand and requirements of your company. There may also be organizational variations from one department area to the next. Intranet technology may also be capable of learning from its consumers and allowing them to design the sites they want. This is due to features such as personalized accounts, labels for projects and abilities, authored or liked material, etc.
A non-integrated network becomes isolating and challenging to utilize. An intranet connected with other apps, like Google Workspace, SharePoint, and Teams, may provide users with a variety of information and capabilities. Complete integration with existing business suites facilitates access and fosters a unified work environment. One should also search for third-party connections through application programming interfaces (APIS), such as HR planning, communications, survey tools, etc., that enrich your organization.
Businesses store critical and confidential information on their internal communication platforms that they must safeguard against hackers, malware, data breaches, and hostile assaults. Additionally, organizations seeking a more secure internal network may consider migrating to cloud-based systems, which offer additional protection of cloud security.
On unique intranet sites and pages, one may structure company strategy, regulations, service contracts, HR data, and anything else. Distributing information in this manner may break down departmental silos and provide everyone with a central location from which to access resources. Company pages must be adaptable and user-friendly and permit workers to receive updates.
On an intranet, a learning center is an excellent approach to facilitating team member education. It offers workers a single area to acquire training content, guides, and other resources. HR may also utilize your intranet for new employee orientation, including the safe exchange of corporate information before a team member's official start date.
Organizations on a global scale require solutions that can service them in different locations. A multilingual intranet guarantees that all workers, regardless of their native language, get access to the same data and capabilities. Users can use built-in translation tools to localize material or professional translators for more precise translations.
Blogs are the cornerstone of team member participation in your intranet initiative. They allow the team member to share views, opinions, anecdotes, and recommendations, and they also help colleagues better understand one another. Although top-down data is crucial to internal communications, an intranet that offers employees a voice is what fosters team member participation. This platform's democratization reveals itself through forums, social commentary, and, most notably, blogging.
See More: Modem vs. Router: Understanding the Key Differences
To maximize the investment in intranet software (whether self-owned or hosted), it is essential to adhere to the following best practices:
The intranet should be where both formal and informal private communications are posted and discussed. The first stage is discouraging and eliminating alternative internal communication channels, such as newsletters, lengthy email threads, obsolete chat applications, etc. Otherwise, your employees will be inundated with irrelevant content to them or their teams, and they will cease frequently monitoring the intranet.
Early intranets mainly consisted of lists of links. In the modern day, however, intranets have expanded to incorporate file management and corporate newsletters. The most effective intranets are designed with a recognizable social experience to accommodate an ever-younger workforce.
An intranet SWOT assessment helps determine what your network must do. This is a lengthy procedure, but the initial step is to record as much information as possible about the communication platforms your staff is now using. If you currently have an intranet, examine its statistics to see how your workers utilize it and what features should be enhanced.
The messages posted on your intranet cannot consist only of HR-written corporate news. To keep your users interested and active on the platform, you must push postings that speak to their interests and acknowledge their contributions to the organization. You will continue to broadcast vital developments, but the news feed should focus on the individuals who make your organization what it is.
Intranets assist various organizational processes, such as HR self-service, information management, internal comms, leadership comms, and collaboration. Due to the intranet's extensive usage and influence throughout the company, businesses need sustained participation from various stakeholders, including HR, IT, internal communications, senior leadership, and others. Typically, organizations should represent this engagement in continuous governance.
Typically, businesses gather statistics on adoption and use, reach, engagement, user happiness, search outcomes, the individual success of various content types, and more. However, measuring is most effective if there is a consistent approach to continuous development. When measuring, ensure you examine and comprehend what the results imply, make modifications or adjustments, remeasure to determine the effect, and then make more modifications.
See More: What Is Network Topology? Definition, Types With Diagrams, and Selection Best Practices for 2022
In recent years, the usefulness of the intranet has come under question. As companies shift to employee experience platforms, is a purpose-built intranet necessary? The answer is YES. It provides a highly customizable and secure space for collaboration, engagement, and productivity, which also serves to strengthen company culture. That is why research firm Technavio estimates that the intranet software market will grow by over $15 billion by 2026, aided by the rise of cloud computing. 
Did this article fully explain what an intranet is, and what it does? Tell us on Facebook, Twitter, and LinkedIn. We'd love to hear from you!  
Technical Writer
Popular Articles