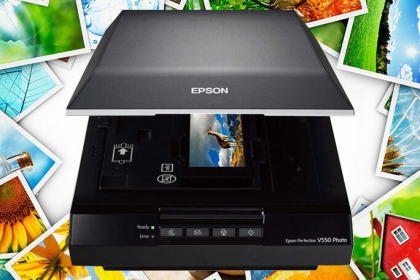 Both photo buffs and family archivists often turn to photo scanners to digitize their prints and film. Photo scanners are set apart by features such as a high sensor resolution and the ability to scan transparencies (slides and negatives) in addition to photo prints. Many include software to help retouch scans and remove scratches.
Though built to handle photos, most photo scanners can also be used for general-purpose scanning, and some include optical character recognition (OCR) software for digitizing the occasional document. This is a niche segment of the hardware market; you'll see relatively few dedicated photo scanners on the market, and they tend to have very long shelf lives. (As you peruse and click on our models summed up above and below, you'll note that many were reviewed years ago. Yes, they're still the current models.) Check out summaries of our still-current favorites below, followed by a guide to choosing the right model for you, and then a detailed spec table of all our recommended models.
Why We Picked It
The Canon CanoScan LiDE 400 is an under-$100, entry-level flatbed photo scanner. But it fills a nifty niche for nonprofessional photographers who need to scan both photos and, from time to time, documents. Since it doesn't have an automatic document feeder (ADF), it's not your best choice for frequent multipage jobs, but it combines document management and optical character recognition (OCR) with impressive photo scanning and touch-up software. It also saves desk space with a vertical kickstand and can stitch together multiple scans of plus-size photos.
Who It's For
The LiDE 400 lacks Wi-Fi or wired networking, but it capably serves a personal or small-office PC connected via USB. Its vibrant color and crisp detail make it a great pick for light-duty photo-quality scanning.
Why We Picked It
Got a shoebox full of snapshots? You need Epson's FastFoto FF-680W, whose automatic document feeder (ADF) is specially designed to handle stacks of prints. (It has plastic guides with marks for 5-by-7- and 4-by-6-inch originals, and it can adjust to other sizes.) It feeds through stacks of pics without tearing or creasing them as a text-oriented scanner's feeder might. It's much quicker than manually placing photos on a flatbed scanner's glass, one after the other, and it does a decent job of turning document pages into searchable PDF or Word files when you've emptied the shoebox.
Who It's For
Home archivists who want to digitize stacks and scrapbooks full of photo prints will think the FastFoto FF-680W is heaven-sent. It's smart about scanning both sides of postcards and other items (ignoring flip sides if they're blank). And it can help you rotate, crop, or restore images or upload them to Dropbox or Google Drive.
Why We Picked It
Want higher-quality scans of photo prints than your typical multifunction printer/copier/scanner can provide, but don't need to scan film? Do not pass Go, but head straight to the Epson Perfection V39, an affordable flatbed photo scanner that also scans to editable text and searchable PDF formats. Its 2,400ppi resolution is fine-grained enough to let you crop in on and enlarge a small section of a photo. And it gives you a choice of an easy automatic mode, or granular settings such as a Color Restore mode that boosts the color of faded photos.
Who It's For
With a single USB cable for both power and data and a semi-vertical kickstand that saves desk space, the Perfection V39 is simple to operate, and it outshines its competitors at also handling the occasional short document. Both casual and serious photographers will find it a good deal.
Why We Picked It
Sometimes every cent counts. Canon's CanoScan LiDE 300 has only half the resolution and is a tad slower than the LiDE 400 that earned a PCMag Editors' Choice award, and it lacks that flatbed's ability to stand upright to save desk space. But it costs $20 less and combines good photo scanning quality with a helpful software bundle. Its adjustable lid accommodates thicker items such as books and magazines as well as prints, too.
Who It's For
We wouldn't call the CanoScan LiDE 300 better than its model 400 sibling or Epson's abovementioned Perfection V39, but it does a great job of digitizing photos on a budget. Its Fading Correction and Auto Dust & Scratch Reduction filters pep up aging prints, and it's a solid choice for dorm rooms and other low-volume scanning environments.
Why We Picked It
As flatbed scanners go, the Epson Expression 12000XL-PH is decidedly expensive, not to mention bulky and heavy. But professional photographers will appreciate this wide-format, high-resolution device's double-size scanning area (it handles pages up to 12.2 by 17.2 inches) and bundled transparency unit for scanning slides, transparencies, and negatives. Too big for a desktop, it's designed to take bench space next to your wide-format professional photo printer, where it pairs 2,400-by-4,800dpi resolution with Epson's ColorTrue II imaging system. The latter combines MatrixCCD scan technology with a zero-warmup-time LED light source.
Who It's For
Imaging pros will revel in this unit. Thanks to LaserSoft Imaging's SilverFast Ai IT8 software, the 12000XL-PH provides deep, versatile controls for setting up and enhancing the quality of your scans. Whether you're scanning slides, 35mm negatives, or oversize artwork and photos, its terrific results make the Epson a prize addition to a professional design or photography studio.
Why We Picked It
The Epson FastFoto FF-680W's automatic feeder can scan up to 36 prints in one gulp. The ClearClick QuickConvert 2.0 scans only one photo at a time, but on the other hand it's portable and can scan slides and negatives as well as prints. This four-pound, battery-powered gadget has a 2.4-inch color LCD for viewing images or making setup changes, and it comes with an assortment of bases and holders for everything from 4-by-6-inch snapshot prints to 126 or 110 negatives. It offers resolution up to 14 megapixels, and it supports Wi-Fi as well as USB connectivity. (Plus. you can scan to SD memory cards.)
Who It's For
Casual archivists will be satisfied with this model, though the ClearClick requires a little patience to use. It's more for casual or everyday snapshots than prized wedding or prom photos. But it's a simple device for consumers who don't need professional imaging quality. For short stacks rather than shoeboxes or scrapbooks full of pics, it does the trick.
Why We Picked It
Plustek's ePhoto Z300 is a sheetfed rather than flatbed photo scanner, which makes it snappy at processing a stack of prints even though, with no automatic document feeder (ADF), you must insert items one at a time. It's also affordable—one-third the price of Epson's FastFoto FF-680W—and scans up to letter-size prints, with a gentle feed mechanism that won't damage old or fragile photos. Its document-scanning abilities are limited, and its photo quality is no match for fancier scanners, but it's fine for household tasks such as archiving snapshots.
Who It's For
If you have a bunch of family photos that need digital preservation, and you don't have the patience to place them one or two at a time on a flatbed scanner, the ePhoto Z300 and its bundled software are a handy solution. The Epson FastFoto offers both higher volume and better quality, but it costs a lot more.
One feature shared by most "true" photo scanners is a flatbed design. In these scanner designs, you lift a lid to expose a glass platen, onto which you place the image to be scanned. A key differentiator between models is the platen size; most are letter-size (8.5 by 11 inches) or legal-size (8.5 by 14 inches). You'll want to be cognizant of that spec depending on the size of what originals you will tend to scan.
We strongly urge you to avoid making a habit of scanning photos (or any delicate originals, for that matter) through a sheetfed document scanner, whether it's a standalone model or one built into a multifunction or all-in-one printer (more on that in a moment). This works in a pinch, but it risks damaging your originals, even if they're enclosed in a protective sleeve. A notable exception is the Epson FastFoto line of sheetfed photo printers, the latest of which is the FastFoto FF-680W. The FastFoto models are built specifically for scanning shoeboxes full of photo prints and are engineered to treat the prints gently.
Photo scanners are available in a wide range of prices and capabilities. As a rule, low-cost photo models are limited to scanning photo prints. Many do a very good job of this, generally for less than $100. Starting in the $200 range are scanners that can handle slides and/or film negatives. Such models come with plastic frames or holders that fit multiple slides or negatives and secure them in place on the platen during scanning. This helps with alignment and spacing during the scan and reduces the need to handle the transparencies directly off the platen.
Most scanners offer basic and advanced modes, accessible through their driver or scanning software. Typically, a scanner utility's basic mode will select the scan settings for you, while the advanced mode will let you customize the settings.
Many scanner drivers also have dust- and scratch-removal capabilities. The dust feature sometimes works well, but effective scratch removal really requires a hardware-based solution. To pinpoint this, look for something called Digital ICE technology, which is generally built into some higher-end photo scanners.
Though most people who scan a lot of photos will want a single-function scanner, nearly all multifunction printers (MFPs), also known as all-in-ones (AIOs), include a flatbed that can scan photo prints and other material. The quality of their photo scanning varies widely, depending on the hardware and software involved. Most fall well short of single-function photo scanners in terms of scan quality and/or photo-centric features. (See our picks for the best AIO printers.)
A few models, which we call home photo labs, can scan slides and negatives in addition to prints, providing a variety of photo-centric features as well as the normal MFP functions (printing, copying, and—in some cases—faxing). They're worth considering if you're a scrapbooker or a photo buff in need of a versatile photo scanner that can print and make copies, as well. Look at a printer vendor's specifically photo-minded AIOs to identify these models. There's no denying that an AIO can save a lot of desk space versus a separate printer and flatbed scanner.
The models we highlight here run the gamut from inexpensive consumer units to scanners aimed at serious photographers, be they professionals or advanced amateurs. What all these products have in common is that they're the best photo scanners in their respective categories on the market today. The models we discussed above are detailed in our spec table below.
For more on what to look for in a scanner, check out our top overall scanner picks. Also, before you start that big digitizing project, you'll want to check out our top tips for preserving your photos.
PCMag is obsessed with culture and tech, offering smart, spirited coverage of the products and innovations that shape our connected lives and the digital trends that keep us talking.