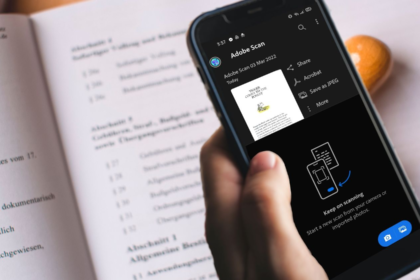 If you are looking for an alternative to CamScanner for quick document scanning, here are some options to consider.
CamScanner is a pretty popular mobile app that lets you turn any device into a mobile image scanner. Yet, CamScanner isn't without its problems.
In 2019, CamScanner was found to contain a malicious module within its advertising library that has been classified as malware. CamScanner was briefly removed from the App Store as a result.
Allegedly, all traces of malware are now gone from the program, though you'll be forgiven for still having some misgivings about the app.
So, if you're looking for an alternative that is a little more reputable, or just don't find CamScanner particularly effective, here are the six best CamScanner alternatives.
First on this list comes Adobe Scan, one of the many lesser-known Adobe apps that you can download on your phone. This app requires an account to use, but is entirely free despite the signup.
Using the app itself is easy. Adobe Scan comes with an in-built boundary detection feature, which allows it to automatically detect the edges of what you're scanning without any hassle. You can clean this up yourself on the rare occasions that the app gets this wrong.
You can also select a range of different modes such as "whiteboard" and "book" which make it easier to get what you want. Once you've taken the picture that you want, there are a number of things that you can do. You can rip the text directly from the image and copy it onto your clipboard, or convert it into a PDF or JPEG.
You can easily adjust images that you've taken before turning them into documents as well. If the colors seem off you can tweak them in various filters, and if there are any creases or marks you want removed, Adobe Scan also features a smart cleanup tool to help you on your way.
Download: Adobe Scan for Android | iOS (Free, subscription available)
Next on this list is Microsoft Office Lens. This app integrates into the Microsoft Office Suite more directly than most other CamScanner alternatives, so if you use a lot of Microsoft Office apps, then this might be a good pick for you.
Microsoft Office Lens behaves about how you might expect. You scan an image, touch it up, then export it. Microsoft Office Lens does support automatic boundary detection and a couple of different scanning modes, as well.
You have the option to save the scan as an image or a PDF if you want, but the main draw to Microsoft Office Lens is that you can save your scans directly to Microsoft Office format.
If you want to add the scan to a OneNote notebook, to your OneDrive Cloud, as a Word document (this will only extract the text, mind you), or to a PowerPoint, then this is the best way to do it.
Download: Microsoft Lens for Android | iOS (Free)
You can get a lot done with Google Drive if you know the right tips and tricks for it, so if you're more into Google Docs than Microsoft Word, here's one more. Google Drive comes with in-built document scanning functionality.
All you need to do to get started is open the Google Drive app on your phone. In the bottom right, there's a plus you can tap on to get to the scanning menu.
The system here's a little different from some other entries on the list. Google Drive does come with automatic boundary detection, but it doesn't show you the process as you're trying to take this picture.
This means that you're more likely to end up with images that have strange or incorrect borders, since you have no feedback until after you take your photo.
Once you're done, you can save the image or series of images as a PDF directly to your Google Drive.
Download: Google Drive for Android | iOS (Free)
Next up on this list comes TurboScan. If you're looking for free alternatives to CamScanner, then this certainly fits the bill, though it's worth noting that you'll be locked into a limited number of scans unless you purchase the app.
TurboScan functions much like any other CamScanner alternative. Where it excels, however, is in the range of options it gives you to adjust your image after you take it.
This is especially true if you want to convert a color image into black and white. All options have five different settings, so you can pick just how light or dark you want it, and you can choose between black and white, color, or photo-realistic.
Once created, you have the option to send the image to others if you so wish, or even email the page to yourself.
Download: TurboScan for Android | iOS (Free)
Download: TurboScan for Android ($5.99) | iOS ($9.99)
If you're looking for even greater control over the look of your images, then TapScanner is a good alternative. Where TurboScan lets you search through a range of five options to find the best fit for your image, TapScanner lets you customize the image entirely.
TapScanner comes with nine different filters for you to pick from and the ability to adjust the brightness and contrast down to the percent using a couple of handy sliders.
From there you can save your image and then export it as either a PDF or an image.
Download: TapScanner for Android | iOS (Free, subscription available)
Next up on this list comes Notebloc, a great option for any of you who want something straightforward or easy to use. Notebloc may not have all the bells and whistles that some of its alternatives have, but if you're less tech-savvy or feeling a little overwhelmed by some other options on this list, then Notebloc is an excellent choice.
Notebloc scans simply, automatically borders without being obtrusive, and lets you adjust your image to one of a couple of filters. You can export your scans as images or as PDFs as you so wish as well.
Download: Notebloc for Android | iOS (Free)
Hopefully, this list has helped you to sort through some of the many alternatives available for CamScanner available for both iOS and Android. No matter what phone you use, there are a range of options out there just waiting for you.
So, why not search for the best? There's no reason to settle for the first thing that you see. There's always more that you can uncover with such a wide selection of alternatives just waiting for you.
Jack has been passionate about writing and tech all his life. He has studied BAs in both Philosophy and Software Engineering from the University of Melbourne and RMIT, respectively. He has spent the last year writing at MakeUseOf, where he can bring his expertise of the internet to others.
Join our newsletter for tech tips, reviews, free ebooks, and exclusive deals!