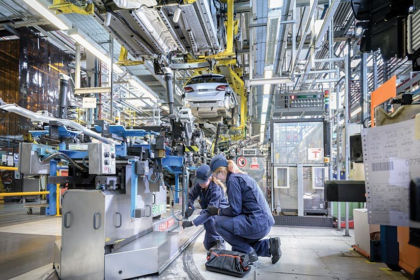 In the manufacturing realm, employees are often remotely located on a factory floor, a logistics or warehousing center, or in the field.
Document control is the cornerstone of quality, compliance, environmental health and safety (EHS) and process excellence. Quality process information, work instructions, job descriptions, and specifications must all be created, revised, distributed, tracked and "retired" with consistency and efficiency. While other elements of the corporation are working on various stages of automation and digital transformation, the quality department and the documents that fuel the organization remain mired in manual (or email-aided) processes.
This situation can be remedied with automation, too, but first it's important to consider the backdrop of what makes effective document control and how it can drive operational excellence. Let's look at ten elements to keep top of mind when considering deploying an automated document control system.
No two document types are alike, clearly. For instance, a job description has different review and approval process steps that involve different people and departments than does a work instruction or engineering specification.
A document control system designed around best practices will allow you to configure dedicated workflows for different document types and personalize the entire document cycle. A flexible solution lets you build the document control system around your processes, rather than having to adapt your processes to the requirements of a piece of software.
Another critical aspect of document control is the ability to segment metadata, or high-level information that describes each document. Examples of metadata include information on a document's:
Metadata is important for tasks like categorizing, reporting, searching and filtering documents. A system that lets you include metadata based on document type allows you to create unique fields, categories, keywords and more. These configurable forms are essential to optimizing your document control system to meet your organization's unique needs.
Word, Excel and PowerPoint are the standard for creating documents in most companies today. That's why you want to look for a document control system that works well with Microsoft Office. When these systems are integrated, any changes you make in a document control form will sync with the associated Office file (and vice versa) while preserving metadata. This linkage ensures consistency between files which eliminates costly and time-consuming version control errors.
A good document control system does far more than serve as a gatekeeper for checking documents in or out of a virtual library. You also need a controlled process for review, approval and distribution according to the workflow you've configured for the specific document type.
Flexible routing options are a necessity, as are intelligent business rules that eliminate inefficiencies and bottlenecks in the process. What specifically should you look for?
Critical to any automated document control system is the ability to train your workforce on any changes to documents, such as procedures and specifications. During document creation and revision, you should be able to specify the type of training associated with the document and link new requirements to the employee training system.
A flexible document control system integrated with employee training lets you automatically:
Some companies put documents in a holding pattern before releasing them, allowing employees to undergo training while documents are awaiting release. This process ensures employees are knowledgeable about the new document when it goes live. Some systems even allow you to create tests to verify that people understand the updated documents.
A good document control system does far more than serve as a gatekeeper for checking documents in or out of a virtual library.
Given the inevitable document changes that are routinely required, change request and revision control both need their own customized workflows. These processes are all about driving consistency, efficiency and control to ensure:
If your organization has a tremendous number of documents and associated data within its system, you need flexible tools that help you visualize, streamline and share that data.
The ability to filter documents based on metadata—as noted previously—is only one important capability. Built-in reporting engines that let you create ad-hoc or scheduled reports on the health of the document control system are also important. Not only does this keep people on track with overdue documents, it simplifies administrative tasks like reporting and record-keeping, so that quality professionals can focus on the strategic priorities that matter most to their organization.
Data and document security are fundamental to compliance and process excellence. You need to make sure that only appropriate levels of personnel can access, approve, review and revise key documents.
Your document control system should make it easy to configure viewing, edit and approval permissions for individual users or groups. By making documents available on a need-to-know basis, you can be sure that your team is working efficiently, safely and securely, even in multi-site organizations.
With the increased prevalence of mobile devices in the workplace, many QMS applications now offer mobile document control capabilities. In the manufacturing realm, employees are often remotely located on a factory floor, a logistics or warehousing center or in the field. In situations like this, a document control system that works the same way on the mobile device as it does on a workstation brings a tremendous advantage.
Once approved, most documents should not be altered without going through the defined change request process. By converting attachments from Word or Excel to PDF, you can reduce the likelihood that users will download an editable attachment and modify it on their own. Your document control system should also keep the original, editable attachments hidden and secure for your subject matter experts to easily access as part of the change request process.
The document control system is a central hub for the information that drives your quality system. It is the foundation for compliance and continuous improvement and provides a single source of truth for the policies, practices and regulations that drive your QMS and EHS initiatives.
An effective document control system:
Backed by an integrated QMS, these capabilities deliver a powerful platform for process excellence, unleashing new opportunities to drive your business forward.