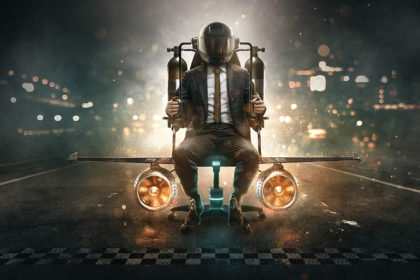 When the going gets tough, inspirational thinking comes to the fore. Small wonder that the past couple of years have spawned an exciting amount of tech-related reform in China's courts and arbitration institutions. Kevin Cheng reports
In October, the US government enacted sweeping restrictions over the export of technology, software and equipment used for producing advanced computing chips and supercomputers to China's semiconductor and hardware industry, which has seen a streak of encouraging growth over the years but still relies considerably on imported know-how.
This is perceived as a drastic escalation from the ongoing trade war between the world's two largest economies, which began in 2018, as well as a hefty roadblock to the global trade network, already plagued by geopolitical and macroeconomic impediments that seem to be popping up faster than they can be resolved.
Upon hearing the news, China-based entrepreneurs, overseas investors and legal professionals jotted down this unfortunate development onto their list of concerns, and promptly set out to schedule a top-down risk assessment of all existing and planned operations.
On that list, the new entry closely follows the recurring pandemic and potential lockdowns, the war in Ukraine and the Western world's sanctions against Russia, deteriorating geopolitical stability, interest rate hikes and the looming recession, and shortages across the global supply chain.
Tested during these trying times is not only the business acumen of corporate executives determined to sail beyond the national border, but also the expertise of their law practising convoys and the wisdom of China's evolving judicial system, dedicated to help maintain trade vitality when disputes are constantly one factor – beyond either party's reach – away.
"These adverse macroeconomic factors, along with a growing phenomenon of generalising 'national security', manifested as wanton decoupling and other acts of reverse globalisation, are making it difficult for the world economy to recuperate and grow," says David Jia, a Shenzhen-based senior partner at Long An Law Firm.
Referring to the "chip 4 alliance" advocated by the US to form a global semiconductor supply and co-ordination network comprising Japan, South Korea and Taiwan, Jia adds: "It not only concerns the interests of Chinese and American companies, but also how the chip industry chain will reform and develop on a global scale, which obviously will lead to more cross-border disputes."
Jia is not alone in his observation that a volatile and unpredictable international business environment begets a growing number of cross-border disputes and challenges long-held precedents in international trade.


According to Zhang Lixia, a founding partner of Huamao & Guigu Law Firm, more companies looking to consult or engage their services are claiming that due to the pandemic or the Sino-US trade breakdown, their contracts can no longer move ahead, or have met major obstacles, leaving lawsuits or arbitration their only recourse.
Likewise, Chen Xiaoshan, head of international arbitration at the Shanghai office of DLA Piper, sees an uptick in the frequency of cross-border disputes. "In the past year, due to covid-19, we have handled a large number of international trade disputes relating to the cross-border sale and purchase of personal protective equipment (PPE) and force majeure clause," he says. "In the meantime, disputes directly or indirectly relating to the Russia-Ukraine war, especially those arising out of international trade and transportation, have also significantly increased."
The trend is also reflected in the published statistics of leading arbitration venues, as with the 2021 work report of the China International Economic and Trade Arbitration Commission (CIETAC). According to the report, CIETAC handled a record high of 4,071 cases in 2021, a year-on-year increase of 12.6%, of which 636 were foreign-related (including those related to Hong Kong, Macau and Taiwan), representing a significant increase.
According to Cao Lijun, a partner at Zhong Lun Law Firm in Beijing, we have yet to see the peak of international disputes related to the Ukraine-Russia war or the pandemic. "Considering the hysteretic nature of disputes, the numbers are likely to continue climbing for some time," he predicts.
Chris Zhang, the senior partner of Jincheng Tongda & Neal based in the firm's Shanghai office, looks at macroeconomic factors from a dialectical perspective. "On one hand, as foreign trade is riddled with uncertainties during the pandemic, China's seen a decline in its total amount of cross-border business activities," she says, but on the other hand, also as a result of the pandemic, what foreign trade there is has become more likely to produce disputes.
"Due to the war in Ukraine, and the numerous Western sanctions against Russia's major exporters and their executives, Chinese businesses must sometimes breach their contracts with original partners to avoid being sanctioned by the EU and US," says Zhang. "This adds to the likelihood of cross-border disputes."
Even more damaging, the stagnation of the global supply chain has not only increased the volume of international disputes but also added to their complexity and difficulty.


During Shanghai's two-month lockdown earlier in the year, Shanghai Port suffered from labour shortages, overpacked warehouses and logistics chain paralysis, which halted the circulation of domestic and international goods in their tracks, leading to a series of discords.
Zhang says that while the Civil Code and other laws and judicial interpretations have made force majeure a viable defence for pandemic-induced defaults, these cross-border contracts may not be governed by Chinese law.
"In addition, exports of masks, medical gloves, antigen testing and other anti-pandemic supplies were restricted, as they were required to be first distributed to covid-affected regions in China," she observes. "Consequently, domestic vendors faced lawsuits and arbitrations from overseas buyers, and had to deal with a compromised reputation."
Zhang Guanglei, a partner at the Beijing head office of Jingtian & Gongcheng, believes that macro headwinds have made contract performance a challenge, and whether that is enough to trigger force majeure, or constitute a "change of situation", may become the focal point of cross-border disputes. "Furthermore, these adverse factors have made it difficult to obtain evidence in cross-border proceedings," he adds.
Ray Liu, a global partner at Dorsey and head of its Beijing office, believes the surge in disputes reflects, to a degree, China's rapid development in both traditional and new-tech sectors, contributing to their stronger presence on the international stage that has now fallen victim to macroeconomic uncertainty.
"Covid-19 cut down the opportunities for courts, clients and other parties to meet face to face, which makes it hard to regulate the procedure and for parties to negotiate in the same room," says Liu. "With uncertainties seeping into the global economy, many enterprises have seen a sharp decline in their revenue, leading to a series of contractual, labour and financing-related disputes."
Chris Zhang, of Jincheng Tongda & Neal, holds incompatibility between foreign and Chinese laws as one of the chief catalysts for cross-border strife, citing Cadence Design Systems v Syntronic (2022) as one such case.
The California Northern District Court ordered the defendant to send 24 computers from China to the US for inspection, to which the defensive lawyer argued that, as these computers contained the protected personal information of the employees, according to article 39 of the Personal Information Protection Law (PIPL), they can only be moved out of China with employees' individual consent.
However, the judge deemed that the exception under the clause – permission to transfer personal information "where necessary to fulfil statutory duties and responsibilities or statutory obligations" – should apply to foreign legal obligations, and persisted with his decision.
Cross-border transfer of data and personal information has in recent years quickly ascended to the highest tier of corporate legal concerns. The Cyberspace Administration of China promulgated the Measures for Security Assessment for Outbound Data Transfer in July 2022, and is currently seeking public comment on the amendment to China's five-year-old Cybersecurity Law. The rise of the compliance threshold is matched by the challenge in transferring evidence to overseas courts.
"With the strict discovery rules in the US, Chinese companies may be required to collect and provide relevant evidence as a party to the case, or a third party, and failure to follow such rules may incur adverse consequences" says Ray Liu at Dorsey. "On the other hand, with China building up its own data security governance and privacy protection systems, transfer of data overseas is subject to an unprecedented level of requirements and restrictions."
Similarly, Cao at Zhong Lun cautions that compliance matters related to cross-border transfer of data may significantly affect document disclosure in international arbitration. "Lawyers in international arbitration must take data compliance into prudent consideration when disclosing documents," he says.
While it seems more likely than ever that engaging in foreign-related dealings will end in unpleasant lawsuits, legal risks can usually be avoided, or at least abated, with shrewd safety mechanisms and meticulous planning.
"Most mature enterprises in China have gained sufficient understanding of the risks in overseas investments and how to address them," notes Xiao Jin, a Beijing-based partner at King & Wood Mallesons. "But in view of the complicated international situation, outbound assets further face multiple levels of regulatory and political risks, for which enterprises must remain vigilant.
"Bilateral investment treaties [BITs] may be the last valid defence for protecting investors' overseas interests," says Xiao. "Outbound investors should make good use of these treaties to ward off regulatory and political pitfalls."


Regarding BITs as a protective shield for outbound investors, as well as an important basis for relief, Cao adds: "If China has not entered into a BIT with the investment home country, or the BIT is insufficient, companies may consider setting up a special purpose vehicle [SPV] in a third country with whom China has a valid BIT, which in turn would grant investment protection."
Zou Wen, who recently joined the Shenzhen office of Fangda Partners as a partner, advises outbound enterprises to not only engage a local law firm that provides high-quality legal services, but also to choose an experienced Chinese law firm as a long-term ally and consultant. "This is a tried and true practice among foreign enterprises," says Zou. "When multiple overseas lawsuits are happening across many jurisdictions, foreign enterprises often engage a single legal adviser to oversee litigations across the globe, and help select local law firms. This helps the companies manage litigation costs and better co-ordinate with services provided by overseas lawyers."
Chen Xiaoshan, of DLA Piper, cautions against potential political pitfalls. "Given the cross-border nature of these disputes, we would recommend that, instead of looking at the whole case solely from the PRC law perspective, clients should have an in-depth understanding about how one legal issue works under different rules in different jurisdictions," he says. "In the meantime, given the sensitivity, some disputes are no longer relating to pure legal issues only."
Chen says that Chinese companies should pay more attention to internal document management. "It is my experience that when it comes to the stage of discovery in foreign legal proceedings, Chinese companies always face a lot of difficulties due to a lack of internal policies on the management and retention of internal documents, which may lead the courts and arbitral tribunals to draw an adverse inference."


Mishandling of documents appears to be a widespread but understated pain point among Chinese companies, one liable to cause disproportionate legal hardships down the line.
"When handling disputes related to funds, investments, insurance and construction, I have encountered many enterprises that had trouble producing evidence, simply because they improperly managed internal personnel transfer, evidence preservation and filing," says Zhang Lixia, of Huamao & Guigu. "It is my belief that standardisation of file management in terms of contracts, transaction logs and performance records is vital for companies to address potential disputes."
Fortune favours the prepared. For Chinese enterprises operating at an international level, or planning to do so, it is vital that they remain up to date about legal, political and economic situations, as well as business practices, most pertinent to the other side of the negotiation table.
David Jia, of Long An, urges Chinese companies to closely follow global developments, especially legal and policy updates, as well as trends in jurisdictions relevant to the industry in which they operate. "Diligently develop compliance of the company, and remember to put 'compliance interests' above general commercial interests," he advises.
In times of uncertainties, Ray Liu at Dorsey cautions outbound enterprises in China to take great care with risk prevention, explicitly distinguish contractual parties' rights, obligations and sharing of risks, and to the greatest extent possible avoid disputes arising from unclear contractual stipulations, or different understandings of contract terms. "In times of dispute, it is vital to comprehend the rules of the game, and to make full use of pre-action negotiation and mediation, so as to save unnecessary costs," he says.
"Lastly, outbound enterprises should be more proactive in resorting to legal means to protect their rights and interests when they are violated," he concludes.


On a positive note, Xiao Jin, of King & Wood Mallesons, observes that with restrictive foreign investment policies sprouting up around the world, Chinese companies have visibly raised their awareness of rights protection, and quickly learned to defend their overseas legal rights.
"With the global situation being ever unpredictable and trade protectionism on the rise, more disputes are going beyond simple commercial disagreements between companies, but have instead become hybrid conflicts mixed with the actions of local governments," says Xiao, stressing the importance to accurately judge the nature of a cross-border dispute and identify legal remedies beyond litigation and arbitration, while cautioning that such remedies may be mutually exclusive.
With the world changing at an almost dazzling pace, laws and rule books are under increasingly intense scrutiny for their continuing suitability. In China, court and arbitration practices are becoming more internationally aligned, industry-specific and tech savvy.
Amendments to the Civil Procedure Law (CPL), which came into effect on 1 January 2022, reflect these directions. They have broadened the application of the sole-judge panel to include ordinary and second-instance hearings, improving judicial efficiency, and have optimised the standards of small claim procedure.
"With the amendment, cases involving small claims are more specific, their applicable standards more reasonable, and the procedures further expedited," says Chris Zhang, of Jincheng Tongda & Neal. "Besides further reducing litigation costs, these measures promote the separation of complex and simple cases, which represents another step towards the true democratisation of the justice system."
Furthermore, for the first time in China, the amended CPL officially recognised online proceedings as equally valid as the offline version. It also allowed for electronic delivery of judicial documents, and shortened the term for service of process by public announcement from 60 to 30 days.
Zhang Lixia points out that content related to judicial reviews in foreign-related business dealings and arbitration, in the Minutes of the Symposium on the Trial of Foreign-related Commercial Cases by Courts Nationwide issued by the Supreme People's Court (SPC) in January 2022, have a great impact on commercial arbitration, while demonstrating a comprehensive support to develop arbitration as a means of dispute resolution. "The minutes represent a swift attitude change toward 'arbitration before litigation' clauses," she says.
"Courts used to make independent decisions on whether contracts containing such a clause should go through arbitration or litigation, but now the SPC treats the 'arbitration before litigation' arrangements as valid arbitration agreements, as in only the agreement on litigation is deemed invalid, without affecting the validity of arbitration agreement."
Judicial bodies and adjudicators have innovated by opening other fronts to make dispute resolution overall more pragmatic and cost-efficient. Ray Liu, of Dorsey, is especially impressed with the SPC's "one stop" diversified resolution platform for international commercial disputes.
"The platform allows for information sharing and connection between the litigation, mediation and arbitration mechanisms of the China International Commercial Court," he says. "Since its inception, it has included numerous prominent international commercial arbitration and mediation institutions, and this year it connected with the Hong Kong International Arbitration Centre [HKIAC] for the first time.
"As a distinctive mechanism that organically connects litigation, mediation and arbitration with one another, it provides effective judicial support throughout international commercial disputes for Chinese and foreign parties alike, demonstrating the labours of China's 'smart court' development and its competitive edge in international dispute resolution."
Smart court, as mentioned by Liu, refers to the modernisation of China's court system and capacity with big data, cloud computing, artificial intelligence and other cutting-edge technologies. "By allowing online filing of cases and online court hearings, smart courts offer a lot of convenience to both lawyers and their clients," says Zhang Guanglei.
Similarly, China's burgeoning sector of arbitration is trail blazing on the digital front. Zhang Guanglei, of Jingtian & Gongcheng, cites the 2022 edition of arbitration rules of Shanghai Arbitration Commission (SHAC), enacted on 1 July, and the arbitration rules of the Shenzhen Court of International Arbitration (SCIA), amended in February 2022, as prime examples.


The SHAC rules provide that "unless the parties agreed to the contrary, arbitral tribunals may elect to conduct hearings on online video or video-conferencing platforms according to the needs of the case," while the SCIA rules provide that the arbitral institution or tribunal may require parties to submit documents, and arrange the case filing, service, hearing and cross-examination through the online arbitration service platform, unless they agreed to the contrary.
Besides developments towards "smart arbitration", SHIAC's new arbitration rules made other strides to match the international pace, including requiring the disclosure of third-party funding (TPF) and including international investment disputes into the jurisdiction of arbitration.
Forming a clear pattern, the new arbitration rules of the Beijing Arbitration Commission (BAC), effective from 1 February 2022, recognised the validity of online hearings and electronic services. It further revamped rules on the composition of an arbitral tribunal by allowing two arbitrators to jointly elect a presiding arbitrator, in the event that the parties failed to do so first.
"Diversification of how presiding arbitrators are produced has positive effects on the arbitral tribunal's independence and credibility of the institution," says Zhang Lixia.
Chen Xiaoshan, of DLA Piper, reserves particular praise for the HKIAC's Case Digest system launched at the end of 2021. "This database includes anonymised and summarised procedural decisions made by the HKIAC under various procedural rules," he says. "It offers parties and their representatives insight into the procedural decision-making of the HKIAC's proceeding committee and the appointments committee. It also helps parties and their representatives better understand the relevant HKIAC rules."
Starting from 1 June 2022, CIETAC enacted its Special Relief Arrangements on Arbitration Fees Responding to the Covid-19 Pandemic, which set out scenarios where arbitration fees may be reduced or returned if the parties are affected by the pandemic. "By alleviating the cost concerns of parties, especially for SMEs, it is undoubtedly a welcome policy for those seeking legal relief to defend their lawful rights," says Cao.
Furthermore, the China Marine Law Association (CMLA) and China Maritime Arbitration Commission (CMAC) jointly published the CMLA Ad Hoc Arbitration Rules and CMAC Rules as Appointing Authority in Arbitration on 18 March 2022.
Ad hoc arbitration, conducted without recourse to institutional arbitration rules and without the oversight of an arbitral institution, is often seen as a less costly, more flexible option. Previously, it had been elusive in China's relevant legislations, although overseas ad hoc arbitral awards may be recognised and enforced, according to the SPC's interpretations to the CPL.
"These are the first ad hoc arbitration rules formulated and promulgated in China, as an important step to match with international practice," says Zhang Lixia. "The debut of domestic ad hoc arbitration rules is a bold, innovative move that will set valuable precedents to the amendments of the Arbitration Law." The addition of "ad hoc arbitral tribunal" in last year's draft of the amended Arbitration Law was perceived as the first sign of importing the practice at long last.
Between the amended CPL affirming the validity of online litigation, and its top arbitration venues revising their rules to facilitate online hearings, it is safe to conclude that online dispute resolution (ODR) continues to thrive in China. But where does it go from here?


Since the outbreak of covid-19, online alternatives to in-person events, formerly considered to be relatively niche, quickly entered mainstream and in many cases became pillars that supported their forms of activity through the toughest times.
However, some would argue that the toughest times are behind us. Offline events have made a resounding comeback in 2022, especially in countries and regions where gathering and travel restrictions have been eased. According to a recent Bloomberg analysis, many billionaires who found their fortunes exponentially increase due to covid-induced market restructurings have now watched the same numbers plummet by as much as 80% as the needs for their products recede.
These include the chairman and CEO of Zoom, operator of the popular video-conferencing software; the co-founder of Carvana, an e-commerce platform for used cars; and the founder of Coupang, often referred to as the "Amazon of South Korea".
These trends seem to indicate that, while the value and popularity of virtual events cannot be denied, they may have been somewhat expanded by the extraordinary circumstances of the past few years. But is that the case for ODR?
"Personally, I believe the need for ODR will decline after the pandemic, but not necessarily to the pre-covid level," says Cao, who proposes to base the form of hearings on the specific type of dispute. "For certain complicated disputes, especially tech-related ones, offline hearings allow arbitration attorneys to better state the case, and for the tribunal to better sort out the convoluted facts," he says.
By comparison, disputes involving relatively small amounts or less complex circumstances benefit little from physical proceedings," he adds. "Parties may opt for online or hybrid hearing in order to conserve both costs and time."
Zhang Guanglei agrees that the demand for ODR will remain above pre-covid levels even with the pandemic coming under control and offline events mounting a robust return. "While online hearings still risk being incompatible with highly specialised or technical cases, it can still subsist as a viable option with technological improvements, or the adoption of an 'online plus offline' mode," he says.
"Just in the first half of 2022, we have conducted a number of hybrid arbitration hearings, where arbitrators or attorneys sometimes patch in via online access, which to a large degree prevented delays caused by incompatible time arrangements between all participants."
Ray Liu points out that the innate advantages of ODR will endure even with the resumption of physical hearings. "To lawyers, ODR is expedient, efficient and fast, free from spacial constraints; while for clients, especially SMEs, ODR saves costs in transportation and printing, while also consuming less time."
On the other hand, he does not believe that ODR is on a path to completely overtake the more traditional format. "ODR makes it difficult to verify party identities, give testimonies and present evidence, and is especially limited when the cases are complex or the parties suffer from bad internet connection," he points out.


"I believe that ODR is at its most useful and efficient in small claim cases such as cross-border e-commerce disputes or domain name infringements, while traditional offline procedures are more suitable to complicated cases involving a lot of witnesses and physical evidence."
Apart from practicality, ODR's post-covid rise to prominence may have irrevocably altered the general habit of legal professionals. To Ji Xuefeng, the director of Tianjin office of Anli Partners, ODR exceeded her expectations in terms of efficiency and ease of use. "I believe that in the future, even when the pandemic is a distant memory and life has resumed a normal pace, ODR will still enjoy a significant presence," she says, "especially as it makes long-distance proceedings so much more efficient by taking traffic time out of the equation."
Zhou Zhiming, a Shanghai-based partner at Guantao Law Firm, acknowledges that social perception of ODR has changed, and that the pandemic helped its spread and development by allowing its strengths and value to shine. He says that in prior surveys he conducted in his capacity as the director of the civil and commercial litigation committee of the Shanghai Bar Association, many lawyers reported that due to technical constraints and inconsistent ODR capacity at each court and arbitration venue, the ODR experience overall fell short of its offline counterpart.
Nevertheless, Zhou is optimistic about the long-term applicability and accessibility of ODR. "To parties or lawyers participating in online lawsuits or arbitrations, my advice is to explore the option of submitting in-trial comments to the court or tribunal beforehand," he says. "During the trial, it is important to keep expressions concise and accurate. In addition, pre-hearing preparations should cover not only the case itself, but also the internet connection, equipment and environment, and make any necessary adjustments."
In many ways, China's explorations of technology-based judicial proceeding have gone beyond the use of video-conferencing and the digitisation of evidence. In 2017, the first internet court in the world was inaugurated in Hangzhou. Beijing and Guangzhou soon followed suit.
"Internet courts, incorporated with technologies related to identity authentication, electronic data input, online evidence presentation and electronic delivery, are fully online unless parties applied to conduct certain procedures offline," says Chris Zhang.
As internet courts are designed to handle internet and technology-related cases such as disputes over online service contracts, domain names, blockchain, cryptocurrency and non-fungible tokens (NFTs), they form a unique ecosystem to use technologies to resolve tech-related disputes, giving rise to a series of valuable legal precedents.
"The Hangzhou Internet Court gave online judgments to China's first unfair competition case involving big data products, the first case to confirm the legal review method of blockchain electronic certificates, the first Bitcoin 'mining machine' dispute, and the first NFT infringement," says Ray Liu. "Evidently, internet courts are innovative not only in its procedures, but also in terms of the types and nature of the disputes."
In July 2020, the Hangzhou Internet Court officially launched its cross-border trade tribunal, being the first in China to specialise in cross-border digital trade disputes. The first case it heard, a lawsuit filed by a Singaporean user against Tmall, China's biggest B2C e-commerce platform, was broadcast live across dozens of media and watched by 8 million viewers.
"I believe that AI, blockchain and such technologies will profoundly transform ODR and internet courts, and fundamentally affect the procedural, or even substantive, rules of court proceedings, including how services are delivered and how evidence is presented," says Liu.
!function(e,i,n,s){var t="InfogramEmbeds",d=e.getElementsByTagName("script")[0];if(window[t]&&window[t].initialized)window[t].process&&window[t].process();else if(!e.getElementById(n)){var o=e.createElement("script");o.async=1,o.id=n,o.src="https://e.infogram.com/js/dist/embed-loader-min.js",d.parentNode.insertBefore(o,d)}}(document,0,"infogram-async");
China Business Law Journal reveals the law firms that have excelled in the past year
We asked some of our elite A-list lawyers to provide us with keywords that others might use to rise to the top of their game
After months of intensive market surveys and research, China Business Law Journal's editorial team unveils our In-house Counsel Award winners
Top arbitration institutions examine the evolution of the sector in China
General counsel hold the keys to unlocking sound investment opportunities in troubled times
Join our mailing list for legal news and alerts