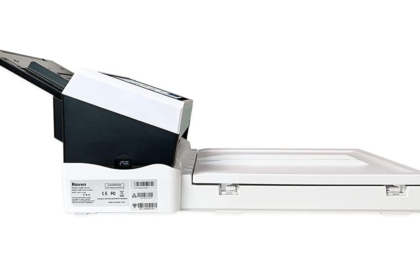 Ignoring those built into all-in-one printers and the occasional (but not very well-endowed) standalone model such as 2017's Epson DS-1630 or 2019's Xerox Duplex Combo Scanner, we haven't seen many flatbed document scanners lately. (Nearly all, nowadays, are sheetfed designs.) And the flatbeds on the market aren't updated frequently; HP, for instance, just recently refreshed its family of ScanJet Pro models from early 2016. That makes the Raven Pro Max Document Scanner ($999.85) seen here doubly interesting. A flatbed with the DNA of our recent Editors' Choice award winner for sheetfeds (the Raven Pro Document Scanner), the Pro Max is much more robust and feature-rich than the lower-end scanners mentioned above. It easily earns its own Editors' Choice trophy as our favorite midrange to high-volume flatbed document scanner.
Technically, the Pro Max is not an all-new machine. Instead of designing and building a whole new device, Raven designed a flatbed add-on and put the Raven Pro Document Scanner on top of it, as you see in the image below.
Most if not all other flatbed document scanners are simply flatbeds with automatic document feeders (ADF), as seen atop legions of all-in-one printer/copier/scanners.
A drawback to most flatbeds is that they take a fixed, fairly large amount of desk space, unlike most sheetfed scanners with paper trays that can fold up to about a third of their operational size when not in use. The Raven Pro Max is particularly lengthy because of the sheetfed scanner positioned next to the flatbed mechanism.
As you can see in the Raven diagram below, its footprint dimensions are 10.5 by 12.5 by 22.5 inches (HWD), compared to the Pro model's 7 by 12.4 by 8.2 inches. On the positive side, it's difficult to find flatbed models as potent as this Raven in terms of speed and capacity.
Some of its current competitors include the abovementioned Xerox and Epson models as well as the circa-2016 HP ScanJet Pro 3500 f1 and 2500 f1 (whose 3600 f1 and 2600 f1 replacements I'll be reviewing soon). Among flatbed scanners, the seven-year-old Fujitsu fi-7260 is closest in capability to the Raven Pro Max, but it too has been recently replaced with the fi-8270. That scanner is also on tap at PC Labs for review shortly, and I suspect it'll easily keep up with this Raven.
Like the Raven Pro and the Raven Original, the Pro Max has a control panel built around an 8-inch, Android-powered touch screen. The tablet-like interface not only helps you set up and execute scans, but it offers some basic document-management features such as saving documents to multiple destinations. To get a more complete archiving solution (with the ability to create and manage workflow profiles), you'll need to use the bundled software, which we'll discuss momentarily.
As for the flatbed itself, it's straightforward and easy to operate. You simply lift the cover, place your content on the glass or platen, and let 'er rip. Like most flatbeds, the Pro Max scans only one page side at a time; you must remove and replace content after each scan. To scan multiple pages, two-sided or otherwise, you'll rely on the 100-sheet automatic document feeder (ADF). Like the Raven Pro, the Pro Max has a daily duty cycle of 6,000 pages.
None of the other machines mentioned here matches that capacity. The ScanJet Pro 2500, for instance, holds only 50 sheets, and the Xerox Combo's ADF only 35. The Fujitsu fi-7280's feeder holds 80 sheets, though the forthcoming fi-8270 holds 100. Except for the two Fujitsus, the other scanners cited are rated at well under 5,000 pages per day.
Between this Raven's Ethernet, 802.11ac Wi-Fi support, and USB interfaces, it should connect to most types of computing devices. Ethernet is, of course, a wired networking protocol; Wi-Fi supports wireless office networking and also lets you connect to most mobile devices including Android and iOS phones and tablets. With USB, you can connect a single computer to the scanner; a second USB port allows scanning to thumb drives or other USB storage devices.
The other mobile options comprise a huge list, including Raven Cloud, Google Drive, Clio, DevonThink, Dropbox, Box, Evernote, SharePoint, OneDrive, OneNote, NeatFiles, NeatBooks, QuickBooks Online, email, fax, SMB network share folder, or FTP—in single or multiple simultaneous destinations.
You can set up and execute your scans from the control panel or select a workflow profile. Profiles typically contain all the configuration (resolution, file format, type, and so on) and destination properties (local drive, cloud site, FTP, email) of a scan job. To get the most in terms of document management and archiving, you should rely on the supplied Raven Desktop application.
The NeatFiles and NeatBooks formats, of course, export files compatible with Neat, a financial document-management program. NeatFiles is a small-business cloud-storage solution for archiving financial documents, and NeatBooks is a bookkeeping application along the lines of QuickBooks. You can also export to both image and searchable PDF, Microsoft Word and Excel, plain text, and a few other useful formats.
I should also point out that the scanner's Raven Cloud online subscription is not only complimentary but also unlimited.
Since the Raven Pro Max is essentially the Raven Pro perched atop a flatbed apparatus, the two machines' scanning speeds are all but identical. Both are rated at 60 one-sided pages per minute (ppm) and 120 two-sided images per minute (ipm, where each page side counts as an image). For comparison, the HP ScanJet Pro 2500 and 3500 are rated at 20ppm/40ipm and 25ppm/50ipm respectively. The Xerox Combo and Epson DS-1630 are rated at 25ppm and 50ipm, as well.
I tested the Pro Max over a USB connection to our standard Intel Core i5 testbed running Windows 10 Pro and Raven Desktop. (I also performed several scans from the control panel, with similar results.) First, I clocked the Pro Max and Raven Desktop as they scanned our 25-page one-sided and 25-page two-sided (50 sides) documents and saved them as image PDFs.
The device scanned, converted, and saved the single-sided document at an average of 62.5ppm, and it scanned and processed our two-sided document at 124.2ipm. Only the Raven Pro came close to this speed, with the Epson and Xerox less than half as fast. (The two HP ScanJet Pros and the Fujitsu fi-7260 were reviewed long ago under different benchmark routines and test documents, making direct comparisons impossible.)
Next, I timed the Pro Max as it scanned and saved our two-sided 25-page document to the much more versatile searchable PDF format. The job took 24 seconds, matching the Raven Pro and coming in, again, at least twice as fast as the Xerox and Epson scanners.
As for accuracy, I'll start by saying that it's been quite some time since I've had to report poor optical text recognition (OCR) from a document scanner. Like its Pro sibling, the Raven Pro Max converted our Arial font pages to editable text without errors down to 5-point type and our Times New Roman pages down to 6 points. Both the Xerox and Epson flatbeds were mistake-free down to 6 points for Arial and 8 points for Times New Roman, which is more than acceptable (and I'm confident that software updates have boosted both products since our reviews).
I also scanned a couple of stacks of business cards and financial documents to see how well the Pro Max and its software captured, gleaned, and populated the proper fields with accurate data. As expected, the Neat financial software handled receipts, invoices, and the like with grace, and Raven Desktop did an impressive job of scanning and sorting business contact data.
To be sure, the Raven Pro Max costs more than most of the flatbed document scanners you'll find for sale, but it's at least twice as fast as its lower-priced rivals. The Fujitsu fi-7260 and its replacement match the Raven's robustness, but they cost considerably more. (In fact, Fujitsu recently released three flatbed scanners, all of which cost at least twice as much as this one.)
Getting a flatbed with a sheetfed portion that holds 100 pages and scans at 60ppm/120ipm for a thousand bucks is a bargain. So the Raven Pro Max's value and strong performance are more than enough to position it as our new favorite midrange to high-volume flatbed/sheetfed document scanner. 
PCMag.com is a leading authority on technology, delivering lab-based, independent reviews of the latest products and services. Our expert industry analysis and practical solutions help you make better buying decisions and get more from technology.
PCMag is obsessed with culture and tech, offering smart, spirited coverage of the products and innovations that shape our connected lives and the digital trends that keep us talking.