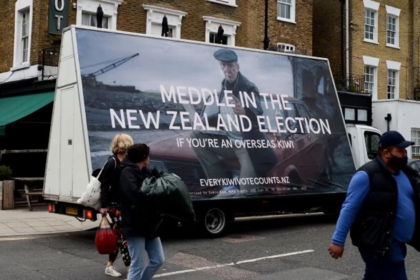 The two agencies both achieved second-place rankings in Warc's ranking of the most-awarded agencies. Work from Special Group and Grey Dhaka made the top five among most-awarded campaigns.
Ogilvy Sydney is the second most-awarded creative agency globally for marketing effectiveness, with Special Auckland (fourth), Ogilvy Mumbai (fifth) and Colenso BBDO Auckland (sixth) also making the top 10. The ranking was released Thursday (March 17) as part of the 2022 Warc Effective 100 rankings, which are based on points accumulated from wins in select awards shows.
DDB Aotearoa Auckland just missed the top 10 at 11th place.
The Effective 100 also includes rankings of the most awarded media agencies and specialist digital agencies when it comes to marketing effectiveness. PHD Auckland finished in second place on the media-agency ranking, and the top 10 also includes MediaCom Sydney (fourth), Wavemaker Mumbai (fifth) and Mindshare Shanghai (seventh). BlueFocus Digital Beijing and Symmetry Digital Karachi made the top 10 in the digital-agency ranking, at eighth and ninth, respectively.
Meanwhile, campaigns from Special Auckland and Grey Dhaka appear at third and fifth place, respectively, in a list of the world's 100 most awarded campaigns for marketing effectiveness.
Work from five additional APAC agencies made the top 20 in that list: Ogilvy Mumbai (12th), Special Auckland (14th), TBWA Hong Kong (15th), Ogilvy Shanghai (18th) and Colenso BBDO Auckland (two campaigns tied for 19th).
The full list of APAC campaigns among the 100 most-awarded campaigns for marketing effectiveness follows.
Globally, the top-ranked campaigns and agencies are as follows:
The lists are available on the Warc website. This concludes a trio of announcements from Warc, which released the Creative 100 Tuesday (March 15) and the Media 100 Wednesday (March 16).
Top news, insights and analysis every weekday
Sign up for Campaign Bulletins
Campaign understands that Wei will return to Edelman, where she last held the position of director for head of consumer practice.
This is the Singapore-headquartered PR firm's second acquisition, following the purchase of Hong Kong's Creative Consulting Group in early 2022.
PepsiCo's APAC chief marketing officer and chief sustainability officer on why innovation is the mark of great marketers.
Unilever's first global marketer to be based in APAC has helped the brand navigate the pandemic and find fresh purpose coming out of it.
Terms & Conditions / Contact Us

© Haymarket Media Group Ltd.