A legal industry report released today by the sibling legal technology companies LawPay and MyCase provides unique insights into the technology tools that matter most to smaller law firms in the post-pandemic era.
While the report finds that law firms have largely recovered from pandemic-related declines in revenues, it concludes that, with regard to technology, the pandemic "drastically impacted" its use by law firms.
"Law firms' investment in technology — especially technology that enabled remote work — occurred at rates never before seen," the report says. "Many experts have suggested that the pandemic's effects may have accelerated technology adoption by as much as a decade."
In reaching this conclusion, the report drills down into the types of software that smaller firms are using and consider important, demonstrating that the majority of firms have moved to the cloud and are committed to technologies that facilitate remote working.
The 2022 Legal Industry Report was compiled by the electronic payments company LawPay and the law practice management company MyCase, both of which are owned by AffiniPay, based on a survey of more than 2,300 legal professionals during August and September.
It also builds on a three-part Benchmark Report series that MyCase published earlier this year, using anonymized data from MyCase customers, including data showing credit card and ACH payments processed by law firms since 2019.
Of the survey respondents, 42% were from firms with 2-5 lawyers, 45% were solos, 7% were from firms with 6-10 lawyers, 3% were from firms with 11-20 lawyers, 1% were from firms with 21-50 lawyers, and 2% were from firms with more than 51 attorneys.
The report was written by Nicole Black, lawyer and senior director of SME and external education at AffiniPay (and a panelist on our Legaltech Week podcast).
With regard to adoption of cloud-based software, overall use of cloud software rose from 73% before the pandemic to 80% today. While that, alone, may not seem like a dramatic change, consider that 57% of respondents reported that their firms invested in cloud computing tools during the past year because of the effects of the pandemic.
As for which types of cloud software law firms have in place, the most popular is law practice management software, used by 87% of respondents, followed by electronic payment software, used by 50% of respondents.
Other types of cloud software used by firms:
An interesting finding with regard to several of these categories of software is that firms are using generic consumer products to a greater extend than they are legal-specific products. For example, when asked how their firms handle accounting, half said they use consumer accounting software. Just 18% use accounting features built into their practice management system and just 4% use legal-specific accounting software (which I assume means standalone products).
Similarly, for document storage, 50% use consumer products such as Dropbox or Google Docs, while only 6% use legal-specific products such as NetDocuments or iManage.
For document automation, only 7% use legal-specific document automation software, while 41% used consumer software (a category in which the survey includes HotDocs), and 27% use no document automation software at all.
While the list above indicates that 11% of firms are using cloud-based CRM software, the survey found that only 2% use standalone, legal-specific lead-intake software, and that 44% of firms use no lead-intake software of any kind.
A key focus of the report is on law firms' adoption of remote-work software. The survey found that 47% of respondents said that their firms added new remote working technologies to their IT stack within the past year as a direct result of the pandemic. Additionally, 70% of respondents said that remote working tools were part of their firm's long-term business continuity strategy.
In a version of this survey that MyCase conducted in 2021, it found that firms had already increased their usage of remote-working tools, But this year, the survey found, firms made even greater investments in remote-working tools. The chart below shows some of the most popular options that saw a significant increase in adoption.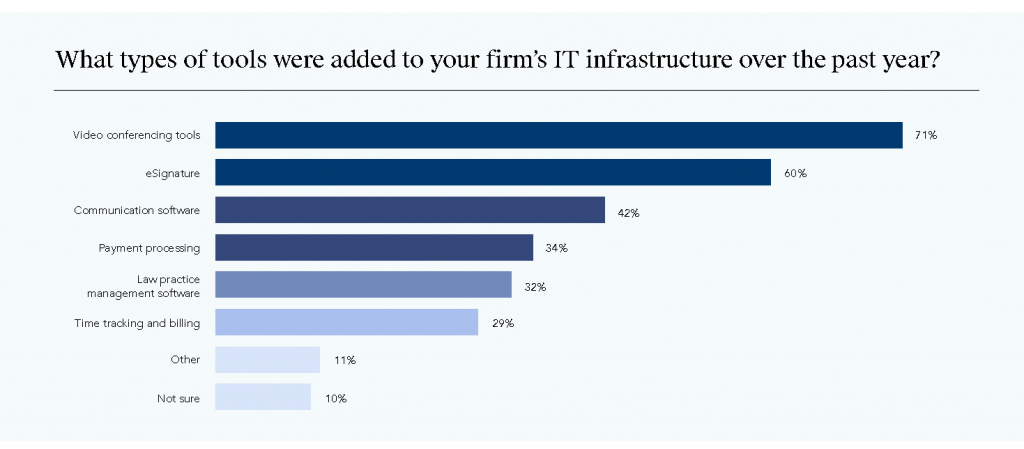 "These trends indicate that law firms have moved on from piecemeal adoption and are now implementing robust, long-term remote working solutions into their law firms," the report says. "Doing so ensures efficiency in the here and now and provides predictability and business resiliency in times of future uncertainty."
Consistent with other industry surveys, this report concludes that one of the top categories of software that saw an increase due to the pandemic was online payments.


According to the survey, "the vast majority of firms (84%) now accept credit cards and ACH payments from clients using online payment tools."
In addition, the majority of firms (75%) use legal-specific payment tools, with 39% using standalone software, 35% using payment processing software built into their practice management systems, and 7% using payment processing software built into a legal billing platform.
At a time when clients are increasingly seeking flexible payment options, firms are responding in kind, the survey finds. It finds that 15% of respondents reported that their firms offer clients the option of paying legal fees using loans. Another 34% said they do not yet provide that option but were open to the idea. More common is offering clients payment plays, which 61% of respondents' law firms do.
The survey also finds that firms saw tangible benefits from accepting online payments. Sixty-one percent of respondents said that their firms collected more money because of online payments, with 25% saying they collected "significantly more money." In addition, the survey found that firms that accept online payments had their invoices paid 32% faster than firms that do not.
One topic this survey explored that I have not seen before in other surveys is the impact of mergers and acquisitions among legal technology companies. Anyone who reads this blog knows that there has been substantial M&A activity in legal tech over the past few years, and particularly in the area of law practice management.



In fact, it was just this year that LawPay parent AffiniPay's acquisition of MyCase brought the two companies together that produced this survey report. And that was just one of several acquisitions involving law practice management companies.
But the majority of small firm lawyers were largely unaware of all this M&A activity and unsure of its impact on them.
Only 31% of respondents said that they knew about all the recent legal technology consolidation that had occurred since 2020. Nearly half were unsure whether the effects of consolidation would be positive or negative, while 38% viewed them favorably and 17% negatively.
I encourage you to download and read the full report, which goes into a number of other areas than I have covered here, including email marketing, reception services, e-filing, integrations, and outsourcing.
Thanks to technology adoption, firms are now better situated to withstand uncertain times, the report concludes.
"They have laid the foundation for business success by implementing key technology functionalities that will drive efficiency and growth in their firms in the long term."
Bob is a lawyer, veteran legal journalist, and award-winning blogger and podcaster. In 2011, he was named to the inaugural Fastcase 50, honoring "the law's smartest, most courageous innovators, techies, visionaries and leaders." Earlier in his career, he was editor-in-chief of several legal publications, including The National Law Journal, and editorial director of ALM's Litigation Services Division.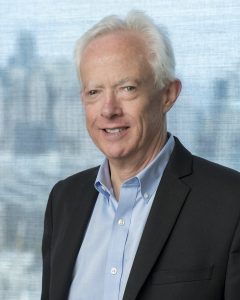 Bob Ambrogi is a lawyer and journalist who has been writing and speaking about legal technology and innovation for more than two decades. He writes the award-winning blog LawSites, is a columnist for Above the Law, hosts the podcast about legal innovation, LawNext, and hosts the weekly legal tech journalists' roundtable, Legaltech Week.


Receive a weekly digest of all new content.
You have successfully joined our subscriber list.

ABOUT LAW SITES
LawSites is a blog covering legal technology and innovation. It is written by Robert Ambrogi, a lawyer and journalist who has been writing and speaking about legal technology, legal practice and legal ethics for more than two decades.