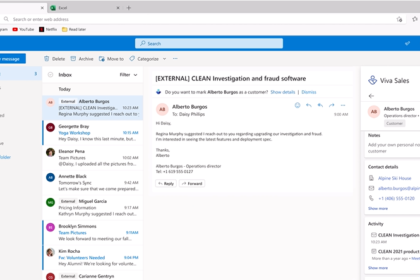 June 16 2022
Microsoft has unveiled Viva Sales, the first role-based module in the Viva lineup. Viva Sales is a sales experience tool that looks at data and relationships across CRM, Office 365 apps and content, and Teams to assist sellers with advice and context.
"Viva Sales is a companion of any CRM system," said Emily He, CVP of Microsoft Business Applications, in a statement. The product "captures valuable customer engagement data, intelligently automates data collection, delivers real-time insights to customer interactions, and recommends next-best actions all the way to closing the deal. It also gives sales management a more holistic view of what's happening in each account, so they can better manage and forecast their sales results," she added.
Microsoft plans to launch Viva Sales in Q4 2022. It will integrate with Dynamics 365 Sales as well as other CRMs, according to Microsoft. 
See also:
According to Microsoft, the new module of Viva aims to address pain points like data entry, gathering customer engagement data stored in documents, and reducing administrative work.
As the editor of MSDynamicsWorld.com, Jason oversees all editorial content on the site and at our events, as well as providing site management and strategy. He can be reached at jgumpert@msdynamicsworld.com.
Prior to co-founding MSDynamicsWorld.com, Jason was a Principal Software Consultant at Parametric Technology Corporation (PTC), where he implemented solutions, trained customers, managed software development, and spent some time in the pre-sales engineering organization. He has also held consulting positions at CSC Consulting and Monitor Group.

As the editor of MSDynamicsWorld.com, Jason oversees all editorial content on the site and at our events, as well as providing site management and strategy. He can be reached at jgumpert@msdynamicsworld.com.
Prior to co-founding MSDynamicsWorld.com, Jason was a Principal Software Consultant at Parametric Technology Corporation (PTC), where he implemented solutions, trained customers, managed software development, and spent some time in the pre-sales engineering organization. He has also held consulting positions at CSC Consulting and Monitor Group.
More about Jason Gumpert