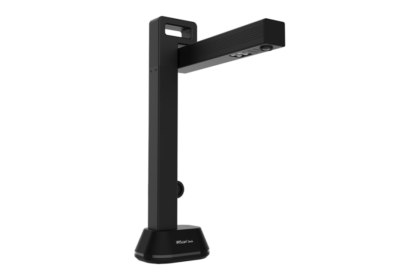 Scanning from above is just the start
I focus on printer and scanner technology and reviews. I have been writing about computer technology since well before the advent of the internet. I have authored or co-authored 20 books—including titles in the popular Bible, Secrets, and For Dummies series—on digital design and desktop publishing software applications. My published expertise in those areas includes Adobe Acrobat, Adobe Photoshop, and QuarkXPress, as well as prepress imaging technology. (Over my long career, though, I have covered many aspects of IT.)
The IRIScan 6 Pro, more than just an overhead book scanner, packs several handy features that facilitate teaching, presenting, and online meetings.
We just hung an Editors' Choice award ribbon on the IRIScan Desk 6 Business as our new favorite overhead or book scanner. The company's Desk 6 Pro is a step down from that device, and its $349 price is $100 less. But it's still a lot more scanner than the Desk 5 Pro we praised in 2019. Its lower-resolution lens and less robust feature list keep the Desk 6 Pro from challenging its sibling for top honors, but it's a more-than-capable aide for teachers, presenters, and videoconference chairs.
As we noted in our Desk 6 Business review, IRIScan's sixth-generation overhead-scanner family includes three models, up from the previous lineup's two—the Desk 6, Desk 6 Pro, and Desk 6 Business, in ascending order. Each step up brings a $100 price increase and enhanced hardware. The Desk 6 Pro, for instance, employs a 21-megapixel camera illuminated by four LEDs, compared to the Business model's 32 megapixels and six LEDs. (The base Desk 6 model has a 12-megapixel sensor.)
Both the Pro and Business scanners support pages up to A3 (tabloid) size or 11 by 17 inches. Both come with a desktop button that lets you execute scans from the scanner itself as an alternative to using a PC with IRIScan software. The Pro lacks the Business model's foot pedal that frees both hands for arranging content on the scanning base or turning book or magazine pages.
The Desk 6 Pro measures 5.5 by 4.7 by 11.1 inches (HWD) and weighs 2.5 pounds. That's slightly smaller and lighter than the Desk 6 Business and significantly smaller and almost a pound lighter than its immediate competitor the CZUR ET16 Plus (a February 2018 PCMag favorite).
Overhead scanners work more like cameras, snapping a picture of content on the scanning base instead of passing a page over the scanner's sensors as a sheet-fed document scanner does (or passing the sensors over the content as a handheld scanner does).
Not only is the Desk 6 Pro's 21-megapixel CMOS sensor capable of snapping stills of your content, but it can also capture video at up to 30 frames per second with audio via a built-in microphone. This lets you use the scanner as an overhead projector for presentations, online learning, and Zoom meetings and other videoconferences.
Feature- and capacity-wise, the Desk 6 Pro and Desk 6 Business are fairly similar. Both offer auto focus, bar code scanning, and business card scanning via the company's Cardiris software. (More on the software bundle in a moment.)
Like the Business model, the Pro unit offers a self-timer that automatically shoots at predefined intervals, giving you a chance to, say, turn the page or swap out the medium. The scanner provides automatic document detection and automatic de-skewing and cropping, along with what IRIS calls artificial intelligence features such as page-turn detection, flattening the curve of a book image, erasing fingers that intrude into the image, front and back cover detection, and automatic edge filling of damaged documents.
Connectivity and power come via a USB 2.0 cable. (The Business model adds an AC adapter.) The scanner's two USB ports (the second for scanning to flash drives) are located at the base of the upright beam as shown below.
Finally, like the Desk 6 Business, the Desk 6 Pro has a recommended daily duty cycle of up to 5,000 pages (10 times as many as its predecessor). Its resolution of 300 dots per inch (dpi) tops the CZUR scanner's 220dpi (though we expect an upgrade to the latter any day now).
Most scanners require some type of interface and document management software to convert scanned pages to searchable or editable text. The Desk 6 Pro uses IRIScan Desk to scan, convert, and save scanned text in the format you desire. Supported output formats include image, text, and searchable PDF; Microsoft Word and Excel; EPUB for ebooks; plain text; JPG; MP3; and WAV.
The software's automatic edge detection straightens the content after scanning, so you don't have to be precise when placing a book or magazine on the scanning base. You can use the Desk 6 Pro with your webcam to create multi-camera videos: Video and sound from both the scanner and the webcam record simultaneously and are combined in one video file played back on a single screen.
Although the Desk 6 Pro ships with the company's Cardiris in addition to IRIScan Desk, if business card scanning and contact archiving is your primary application, you'd probably be better off with a less costly handheld or wand scanner like the IRIScan Book 5 Wi-Fi.
For more sophisticated applications, such as capturing MRZ codes and exporting metadata to XLS or structured XML files, you can add IRISPowerscan. Another software package, Readiris Corporate, saves your videos in high-definition AVI, MP4, FLV, and WMV video formats. However, the two apps together cost over $1,000, and there's considerable feature overlap between them and IRIScan Desk.
IRIS rates the Desk 6 Pro's scanning speed at 1 page per second or 60 pages per minute (ppm). While it does indeed snap a picture in less than a second, that doesn't include the time you spend moving content on and off the scanning base and turning book or magazine pages, nor the software's converting the text to desired formats and saving files.
As with the Business model, I never got close to 60ppm of throughput in my tests. Using the IRIScan Desk software on our Intel Core i5-based Windows 10 Pro testbed with a USB connection, I was able to digitize pages in about 3 seconds apiece, or 20ppm. When scanning to searchable PDF rather than image PDF format, the scanner itself doesn't really work any harder, but the software does. IRIScan Desk managed to produce and save searchable PDF files at a rate of about 18ppm, not much slower than its image PDF performance.
As for accuracy, the Desk 6 Pro tied its Business sibling at font sizes down to 6 points error-free with both Arial and Times New Roman. Nowadays, that score is about average. The CZUR EZ16 Plus managed 6 points with Arial and a ho-hum 10 points with Times New Roman, but even 10 points without mistakes is more than adequate for most office applications.
I also scanned a bunch of business cards into Cardiris. As usual, the software worked fine, as long as I stuck to plain white or lightly colored cards with common serif and sans-serif typefaces. For fancily designed or dark business cards, you'll probably want to type in the data yourself.
The biggest attraction of the IRIScan Desk 6 Pro scanner is that it costs $100 less than the Desk 6 Business model. To be sure, the Business flagship's higher-resolution camera and few extra convenience features, especially its foot pedal, are attractive, but the Pro model is more than enough machine for all but the most taxing applications. If your small office or workgroup doesn't need the ultimate overhead scanner, the Desk 6 Pro is a first-class alternative.
The IRIScan 6 Pro, more than just an overhead book scanner, packs several handy features that facilitate teaching, presenting, and online meetings.
Sign up for Lab Report to get the latest reviews and top product advice delivered right to your inbox.
This newsletter may contain advertising, deals, or affiliate links. Subscribing to a newsletter indicates your consent to our Terms of Use and Privacy Policy. You may unsubscribe from the newsletters at any time.
Your subscription has been confirmed. Keep an eye on your inbox!
Advertisement
I focus on printer and scanner technology and reviews. I have been writing about computer technology since well before the advent of the internet. I have authored or co-authored 20 books—including titles in the popular Bible, Secrets, and For Dummies series—on digital design and desktop publishing software applications. My published expertise in those areas includes Adobe Acrobat, Adobe Photoshop, and QuarkXPress, as well as prepress imaging technology. (Over my long career, though, I have covered many aspects of IT.)
In addition to writing hundreds of articles for PCMag, over the years I have also written for many other computer and business publications, among them Computer Shopper, Digital Trends, MacUser, PC World, The Wirecutter, and Windows Magazine. I also served as the Printers and Scanners Expert at About.com (now Lifewire).