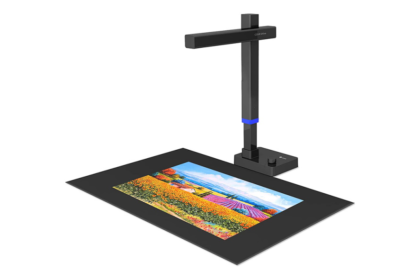 Sharing is caring!
Digitization is the process of transforming information into computer-readable (digital) format. With digitization, you can convert a document, an object, sound, or image into a computer-readable format. Digitizing thick documents gives you a softcopy version of the documents, enabling you to edit and share them with anyone you like.
You can digitize documents using;
Each of these methods has varying levels of efficiency in digitizing thick documents. In this article, we will discuss the three methods and recommend Shine Ultra Pro as the best document scanner to digitize thick documents. Read on to know how each method works.
You can digitize thick documents in various ways. Below, we'll discuss three efficient methods to digitize these documents.
If you don't have a physical scanner nearby and want to scan some documents urgently, your phone could do the magic. If you are an iOS user, you can scan thick documents using your iPhone or iPad.
This is made possible with the Notes app in just a few taps. Apply the steps below to scan your document on your iPhone:
#Advantages
#Disadvantages
You can obtain a digital scan of thick documents using a software tool like CamScanner. You'll need to download and install this application on your phone if you don't have one. With the help of your phone camera, CamScanner enables you to digitize documents like:
The application uses auto-enhancing and smart cropping features to maintain the clarity of the graphics and texts scanned on thick documents. It also provides clear and sharp digital document representations. You can get started with CamScanner in the following steps:
#Advantages
#Disadvantages
The best way to digitize thick documents is using CZUR Shine Ultra Pro. This scanning tool assures you of reliable performance at an affordable price coupled with an excellent scanning speed of one second per scan.
Shine Ultra Pro is more productive since it takes little time to scan large documents that would have taken more time with a regular scanner. The tool also assures you of photo quality since it has an ultra-high-definition (ultra HD) image sensor with 13-24MP.
It captures still images up to 5695 x 4272 pixels, assuring you of astounding clarity and remarkable details. The main features of Shine Ultra Pro include the following:
#Shine Ultra Pro Advantages:
#Shine Ultra Pro Disadvantages:
Digitizing thick documents helps you to save and share them in different formats. You can digitize thick documents using a mobile phone, software, or Shine Ultra Pro. If using an iPhone, you can digitize your documents using the Notes app.
The best software to help you digitize thick documents on your phone is CamScanner. This software tool helps generate clear and high-resolution images. The most recommended tool to scan multiple thick documents is Shine Ultra Pro.
Compared to using a camera or software, Shine Ultra Pro is of more advantage since it allows you to scan curled pages without losing clarity. Also, unlike software or camera, CZUR Shine Ultra Pro scanner takes only 1s to scan one page of the document.
Another advantage of this scanner compared to using a camera or software is that it uses an OCR function that enables you to convert scanned images into different formats like PDF, Word, Excel, Text, etc.