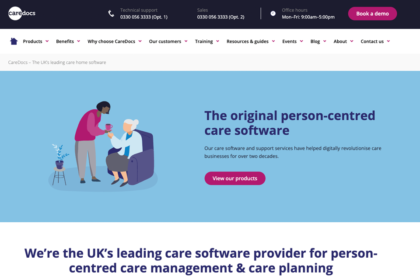 Richard Stuart-Turner
Wednesday, January 18, 2023
Grafenia has taken another step away from print after acquiring Care Management Systems (CMS), a provider of care home management software and systems, on a debt free/cash free basis.
The total consideration of £3.5m for the Bristol-based business will be satisfied in cash. The acquisition, which was announced today (18 January), is expected to be cash flow generative and earnings enhancing in the first year after the acquisition.
The initial consideration comprises cash of £2.975m to be paid on completion, together with deferred consideration of £525,000 to be paid on the first anniversary.
CMS' care home management software, CareDocs, was initially developed by brothers Jonathan and Kristopher Ann in 2004 as an in-house platform for use in a care home owned by family members.
After realising the commercial potential for CareDocs, CMS was founded in 2008 and now licenses its products and services to over 800 hundred care homes around the UK. Approximately 95% of CMS' revenues arise from annual recurring fees.
CMS has an established management team and currently employs 27 staff. Jonathan and Kristopher Ann resigned on completion of the transaction, with Jonathan remaining on a part-time consultancy basis for three months to oversee the handover and completion of certain projects.
The unaudited financial statements for CMS for the year ended 28 February 2022 reported revenue of £2.45m, EBIT of £120,000 and closing net assets of £1.3m.
Grafenia said CMS met its acquisition criteria by being a software business and having a prominent position in its vertical market.
Gavin Cockerill, acting CEO of Grafenia, said: "The acquisition of CMS is our third this financial year. It marks another step forwards in our transformation plan. Becoming a serial acquirer of vertical market software businesses. We're thrilled to add CMS and welcome its team to Grafenia's growing portfolio."
Jonathan Ann added: "When Kristopher and I set about developing the CareDocs solution we didn't envisage growing a company that would establish itself as a leading supplier to care homes in the UK. We're delighted to hand over the reins to the CMS management team and look forward to seeing the business develop under Grafenia's ownership."
Grafenia acquired document management software firm Watermark Technologies in December. It also issued an additional £3.2m of new bonds to support its acquisition strategy last month.
Grafenia's share price was up by nearly 9% in early trading today to 7.75p, a 52-week high.
Printweek welcomes informed debate, but all comments must comply with our house rules which can be read here: A-Z of using the Printweek forums
Grafenia has issued an additional £3.2m of new bonds to support its acquisition strategy.
Grafenia has acquired another small software business and has ambitions to expand its reach.
Grafenia has posted its first results that reflect the sale of its manufacturing operations.
Grafenia is planning to raise £4.25m for software buys, with an agreement already in place to…
© MA Business Limited 2023. Published by MA Business Limited, St Jude's Church, Dulwich Road, London, SE24 0PB, a company registered in England and Wales no. 06779864. MA Business is part of the Mark Allen Group .