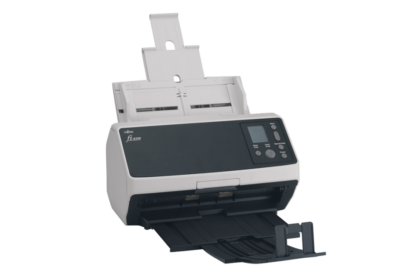 The state of the document-scanning art
I focus on printer and scanner technology and reviews. I have been writing about computer technology since well before the advent of the internet. I have authored or co-authored 20 books—including titles in the popular Bible, Secrets, and For Dummies series—on digital design and desktop publishing software applications. My published expertise in those areas includes Adobe Acrobat, Adobe Photoshop, and QuarkXPress, as well as prepress imaging technology. (Over my long career, though, I have covered many aspects of IT.)
The Fujitsu fi-8170 is a fast and accurate desktop document scanner that's ideal as a front end for high-powered document archiving applications.
It's been more than seven years since Fujitsu updated the flagship model in its series of midrange to high-volume sheetfed desktop document scanners. The fi-8170 ($1,195) reviewed here replaces the fi-7160 we tested back in February 2015. It's superior to that machine in every way—speed, capacity, volume, and accuracy—and it even tops two of our favorites, last year's Raven Pro Document Scanner and 2018's Alaris S2060w.
Like all the Fujitsu models we've reviewed over the past few years, the fi-8170 is fast and accurate, and it comes with terrific software for scanning and saving your documents in a variety of popular formats. I'm not thrilled with the price (though it should come down relatively soon), but this is a first-class product that, if it's like other Fujitsu scanners, should last on the market for a long time. Let's get into the host of reasons to make the fi-8170 our latest Editors' Choice winner for document scanning and archiving in busy offices and workgroups.
In document imaging and management technology, seven years is a very long shelf life, perhaps as many as two or three generations. As I said a moment ago, everything about this new model improves on its fi-7160 predecessor, and as you can see below, the fi-8170 looks nothing like the 2015 version.
Even so, the two scanners measure an identical 6.4 by 11.8 by 6.7 inches (HWD) with their trays closed, and the newer device is only half a pound heavier, at 9.8 pounds. Like comparable document scanners, the fi-8170 increases its depth more than threefold when its trays are open for business.
You don't, however, need to extend the scanner's trays all the way—the device is designed to work with the trays in various stages of extension. The scanner can be configured for smaller loads that eject onto the desktop, saving all kinds of space.
Most high-volume document scanners like this one, including but not limited to the Epson DS-970 and DS-870 workgroup scanners, the abovementioned Raven Pro and Alaris S2060w, and Canon's ImageFormula DR-M260, are relatively close in size and girth. Like them, the fi-8170 supports basic scan setup and execution, as well as selecting predefined workflow profiles, from an onboard control panel. The latter consists of a series of buttons—Stop/Clear, Scan/Error, Menu, Manual Feed, and Power—anchored by a small rectangular display.
From here, you can manage individual scan jobs or select a profile that executes scans according to predefined instructions. A profile typically contains all aspects of a scan job including resolution; file format (image or searchable PDF, Word, Excel, plain text, and so on); and destination (an application, local drive, or one of several cloud sites). The profiles and other document management features rely on the bundled software, which we'll talk more about in a moment.
Oddly, the Fujitsu's connectivity is limited to USB (versions 2.0 and 3.x) and 10Mbps through 1,000Mbps Ethernet. In other words, you get no Wi-Fi or other wireless support, pretty much eliminating using the scanner with phones, tablets, or other handheld devices.
As for paper handling, the fi-8170's automatic document feeder (ADF) holds up to 100 sheets varying in size from 2 by 2 inches to legal (8.5 by 14 inches), plus a long document mode that supports sheets up to 20 feet long. Its 10,000-scan daily duty cycle is the highest among the machines mentioned here so far, though it's matched by two Visioneer scanners we tested in 2017, the Patriot H60 and Patriot H80, that boast 120-sheet ADFs.
The Epson DS-870 and DS-970 also have 100-sheet automatic document feeders, though their maximum daily duty cycles are 7,000 and 9,000 scans respectively. The Alaris S2060w and Canon DR-M260 each hold up to 80 sheets, with respective daily limits of 7,000 and 7,500 scans. The Raven Pro has a 100-sheet ADF, but its recommended daily limit is only 6,000 scans.
Fujitsu reps have told me more than once that their higher-end scanners like the fi-8170 operate under the assumption that the machine is likely to be deployed in an existing, high-end document management solution. But if not—if you're preparing to roll out a new document archiving application—between Fujitsu's bundled programs and available add-ons, you can create and maintain a basic solution, a sophisticated one, or anything in between.
The fi-8170 comes with a long list of apps and utilities: PaperStream IP Driver (Twain x32/x64/ISIS), WIA Driver, Image Scanner Driver for macOS, Image Scanner Driver for Linux, PaperStream Capture, PaperStream ClickScan, Software Operation Panel, Error Recovery Guide, ABBYY FineReader for ScanSnap, and Scanner Central Admin. For larger, enterprise-level document management, you can upgrade to PaperStream Capture Pro and PaperStream NX Manager.
The standard Twain and ISIS drivers let you use the scanner with the many third-party applications (such as Adobe Photoshop and Acrobat, Microsoft Word and Excel, and hundreds of others) that support scanning into them directly, as do the drivers for macOS and Linux. PaperStream Capture is a capable front-end scanning utility. If you need more, according to Fujitsu, the $470-per-seat upgrade to PaperStream Capture Pro "benefits organizations and departments that require an efficient yet easy way to convert paper documents into digital files for high-level data indexing and extraction," improving records management processes.
Fujitsu's PaperStream NX Manager provides built-in server software to easily integrate centralized client-server document management systems—basically, fleet management software on steroids.
Fujitsu rates the fi-8170 at 70 simplex (one-sided) pages per minute (ppm) and 140 two-sided (duplex) images per minute (ipm, where each page side is counted as an image). Of the machines mentioned here so far, only the Epson DS-970 tops that, at 85ppm and 170ipm respectively. Fujitsu's older fi-7160 is rated at 60ppm and 120ipm, as are the Alaris S2060w, the Canon DR-M260, and the Raven Pro. The Epson DS-870, at 65ppm and 130ipm, lands in the middle.
To see for myself, I tested the scanner using PaperStream ClickScan over a USB connection to our Intel Core i5 testbed running Windows 10 Pro. First, I clocked the fi-8170 as it scanned our 25-page single-sided and double-sided (50 images) text documents, and I continued timing while the bundled ABBYY FineReader optical character recognition (OCR) software converted and saved the scanned text to an image PDF.
The fi-8170 scanned the document at 72.9ppm and 149ipm, slightly faster than its rated speeds. Only the DS-970 posted a faster score (78.9ppm and 176.2ipm), with the DS-870 not far behind at 69ppm and 139ipm. All the others managed between 55ppm and 65ppm for single-sided pages and 110ipm to 140ipm for double-sided docs.
Next, I clocked the Fujitsu as it scanned, converted, and saved the double-sided (50 images) document to searchable rather than image PDF, a much more versatile format used, among many things, to create document archiving systems. The new scanner performed the entire routine in 25 seconds, more than three times faster than its fi-7160 predecessor.
Completing this task in 25 seconds may sound fast, and it is, but it's also about average for scanners at this level. The Epson DS-970 may be considerably quicker, but it was tested with an earlier version of our benchmark software using different documents, making comparisons potentially misleading. The DS-870 and Raven Pro did the same job in 24 seconds, while the Alaris S2060w took a leisurely 58 seconds.
Without question, these high-volume desktop document scanners are fast enough to handle all but the most formidable volume levels. If your office or workgroup requires more than 10,000 scans per day, the next step up is an industrial-strength sheetfed document scanner such as, say, Xerox's $6,500 DocuMate 6710, with its duty cycle of 35,000 scans daily.
It doesn't, however, take many errors to spoil the fastest scan job—the more time you or a team member must spend correcting conversion errors, the less point in using a scanner. Fortunately, most scanners nowadays—whether under-$100 manual-fed portables or mighty machines like the Xerox 6710—are highly accurate. And with error-free results at sizes down to 5 points in both our serif (Times New Roman) and sans-serif (Arial) font tests, the Fujitsu fi-8170 is one of the most accurate document scanners we've seen lately.
For the record, the Epson DS-870 and Raven Pro scanners tied the Fujitsu's accuracy; the Canon DR-M260 managed 5 points error-free with Arial and 6 points with Times New Roman, while the Alaris turned in a highly respectable 6 points with both. (Again, direct comparisons with the Epson DS-970 weren't practical.) It's important to note that all these scores are better than acceptable.
Aside from its steep price and lack of support for Wi-Fi and mobile devices, there's little to dislike about the Fujitsu fi-8170. There are several desktop document scanners with 100-sheet ADFs and impressive speed and OCR accuracy to choose from, and for the most part they all perform fine, with no paper jams or trying to feed more than one sheet at a time. It's been seven years since the last major upgrade to this product line, and the fi-8170 is a good example of the progression of desktop document scanning technology over that time. It's also our newest favorite high-volume document management solution.
The Fujitsu fi-8170 is a fast and accurate desktop document scanner that's ideal as a front end for high-powered document archiving applications.
Sign up for Lab Report to get the latest reviews and top product advice delivered right to your inbox.
This newsletter may contain advertising, deals, or affiliate links. Subscribing to a newsletter indicates your consent to our Terms of Use and Privacy Policy. You may unsubscribe from the newsletters at any time.
Your subscription has been confirmed. Keep an eye on your inbox!
Advertisement
I focus on printer and scanner technology and reviews. I have been writing about computer technology since well before the advent of the internet. I have authored or co-authored 20 books—including titles in the popular Bible, Secrets, and For Dummies series—on digital design and desktop publishing software applications. My published expertise in those areas includes Adobe Acrobat, Adobe Photoshop, and QuarkXPress, as well as prepress imaging technology. (Over my long career, though, I have covered many aspects of IT.)
In addition to writing hundreds of articles for PCMag, over the years I have also written for many other computer and business publications, among them Computer Shopper, Digital Trends, MacUser, PC World, The Wirecutter, and Windows Magazine. I also served as the Printers and Scanners Expert at About.com (now Lifewire).
Read William's full bio
PCMag.com is a leading authority on technology, delivering lab-based, independent reviews of the latest products and services. Our expert industry analysis and practical solutions help you make better buying decisions and get more from technology.
© 1996-2022 Ziff Davis. PCMag Digital Group
PCMag, PCMag.com and PC Magazine are among the federally registered trademarks of Ziff Davis and may not be used by third parties without explicit permission. The display of third-party trademarks and trade names on this site does not necessarily indicate any affiliation or the endorsement of PCMag. If you click an affiliate link and buy a product or service, we may be paid a fee by that merchant.