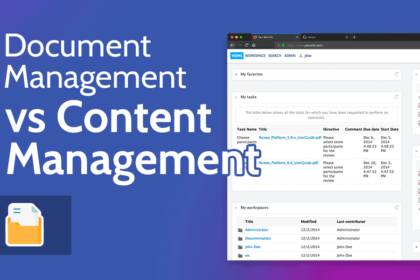 People often confuse document management vs content management systems. In this article, we'll explore both DMS and CMS, what the similarities are and how their differences dictate which platform is the best for your business.
Document management and content management are closely related. On the surface, they appear to be the same thing, but when you begin to analyze document management vs content management, you begin to see the differences.
If your business is looking to implement a document management system (DMS) or a content management system (CMS), you may be left wondering which one is right for you.
The best document management software and content management systems can come with a hefty price tag, so it's best to learn what you're investing your money in and which platform will best serve your needs.
We're here to help ease confusion and answer some common questions, which will put you in a better position to select which type of software you need to use.
Document management software is specifically designed to hold business documents that multiple users can organize, create, edit and access. A content management system applies to several content types like text, video and images, all of which are published publicly through a website.
Technically yes, you can use a CMS to create and store text-based documents. However, we wouldn't advise using a CMS for document management as it doesn't provide the same organization and creation tools as dedicated document management software.
Microsoft SharePoint is a document management system that also includes some traditional CMS features. For example, you can create private web pages and share content with other users in your business.
To help you learn more about document management systems and content management systems, we're going to explore each platform separately, then look at some of the core differences and similarities.
A document management system is a piece of software that allows companies to manage documents throughout their business. See it as somewhat of a digital filing cabinet, where a range of documents exist and various users are able to access them.
However, unlike a physical filing cabinet, which is only capable of holding documents, an electronic document management system offers much more.
For example, certain document management software allows you to send out internal communications that help keep everyone up to date on critical business processes. You can also collaborate on documents, access older versions and allow multiple users to edit them.
The most common types of document management systems are on-premise and cloud-based. On-premise document management software gives you total control over your internal servers and allows you to establish security for your documents.
The cloud-based option means your documents exist on a third-party company's servers. Cloud solutions make it easier to access documents on multiple devices, as well as collaborate on documents with others.
Among other things, good document management software enables you to create and store document types such as invoices, employee contracts, spreadsheets, training materials and almost any other business document you can imagine.
The very best also have tools that offer scanning capabilities so you can transfer paper documents to your electronic DMS. Scanning tools include optical character recognition, which lets you edit paper documents that you have migrated to electronic documents.
If you would like more information on what a DMS can do, check out our document management basics article. We also have a document management best practices guide, that outlines how to choose a DMS and make the most of its features.
A content management system is a space that allows you to upload various types of content such as text, images and video. Through various software options, a content management system lets you easily publish content publicly on the web without needing to know how to code it from scratch.
Whether you're a blogger or a large online publication, you'll need a content management system in order to create, schedule and publish content. A leading CMS, like WordPress, also offers templates for your website, and gives you the ability to create a unique design.
Most content management systems let you add multiple users to one centralized content stream. You can give users permission to create, edit and publish content. Other users, such as editors, can also access content and edit where appropriate.
After your website goes live, you can access your content management system and create new web pages within your website. You can also modify content even after you publish it online, and all of this can be done without the need for a web developer. This makes it simple for even inexperienced CMS users.
Now that you have a better understanding of what a DMS and a CMS are, let's take a closer look at some of the core differences and similarities.
A DMS tends to handle what's called structured data; it's a space that allows you to easily categorize, search and share data within one centralized platform.
By contrast, a CMS is a place for unstructured data, where content does not have a defined data model and isn't organized in a defined manner.
Structured data includes easily searchable data, such as names, addresses, charts, documents and PDF files; whereas unstructured data involves data that's not easy to search, for example video files and audio files.
The platforms share similarities in that they offer a centralized space to upload, create, retrieve and share content. That's really where the common ground ends, as the type of content created and shared is vastly different.
By now, you should be able to ascertain which platform is the best for your business. If you're still unsure, here are some things to consider.
Two other terms you're likely to come across are enterprise content management (ECM) and enterprise document management (EDM). Despite the different terms, not much separates an enterprise content management system from a standard CMS, and the same is true with a DMS. The main difference is scalability.
ECM software allows you to add and manage more users, while also giving them the ability to access content and documents from multiple devices in different locations.
Due to the size of each platform, it's common to see more tools for automation that allow you to provide fluid updates on business processes and content. This makes enterprise-level management systems ideal for large businesses.
While the foundations of a DMS and CMS are similar, you can clearly see that each software type is built for different purposes. Both of them will certainly help you manage content and work with others on different content and document types; a defined objective will help choose which platform you need.
Which DMS do you use? What's your favorite CMS? Do you utilize enterprise content management? How do you keep track of your business' digital assets? Is there something you wish we explained in the article? Let us know in the comments. Thanks for reading.
document.getElementById( "ak_js_1" ).setAttribute( "value", ( new Date() ).getTime() );
Also interesting
Most popular on Cloudwards
© 2007-2023 Cloudwards.net – We are a professional review site that receives compensation from the companies whose products we review. We test each product thoroughly and give high marks to only the very best. We are independently owned and the opinions expressed here are our own.
Because the Cloudwards.net team is committed to delivering accurate content, we implemented an additional fact-checking step to our editorial process. Each article that we fact check is analyzed for inaccuracies so that the published content is as accurate as possible.
You can tell that an article is fact checked with the Facts checked by symbol, and you can also see which Cloudwards.net team member personally verified the facts within the article. However, providers frequently change aspects of their services, so if you see an inaccuracy in a fact-checked article, please email us at feedback[at]cloudwards[dot]net. We strive to eventually have every article on the site fact checked. Thank you.