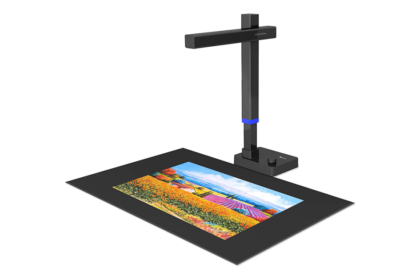 Book and magazine pages have met their match
I focus on printer and scanner technology and reviews. I have been writing about computer technology since well before the advent of the internet. I have authored or co-authored 20 books—including titles in the popular Bible, Secrets, and For Dummies series—on digital design and desktop publishing software applications. My published expertise in those areas includes Adobe Acrobat, Adobe Photoshop, and QuarkXPress, as well as prepress imaging technology. (Over my long career, though, I have covered many aspects of IT.)
The CZUR Shine Ultra Pro overhead book scanner captures and digitizes just about everything and offers several features designed to facilitate teaching, presenting, and online meetings.
The CZUR Shine Ultra Pro ($299) is the flagship model of the CZUR Shine series of overhead (a.k.a. book) scanners, as well as a sibling to the CZUR ET16 Plus that won an Editors' Choice award in February 2018. It's also a direct competitor to our more recent Editors' Choice winner the IRIScan Desk 6 Pro Scanner and its own relative the Desk 6 Business. Like the two IRIScan models, the Shine Ultra Pro supports document pages up to tabloid size (A3 or 11 by 17 inches). What's different is that it's adjustable, folding up for storage and travel. And though it performs well with most types of media, the Ultra Pro isn't, according to the company, the strongest book scanner in the CZUR stable—it's a personal or consumer overhead scanner, while the ET16 Plus and ET18 Pro are professional-grade devices. Still, in my tests it capably scanned everything I threw at it, and it works well as a remote teaching and learning tool and for online conferences and presentations in small offices, workgroups, and classrooms.
Equipped with a 24-megapixel CMOS sensor, the Shine Ultra Pro is at the head of its class above the 13-megapixel Shine Ultra. (We'll be reviewing the soon-to-be-released CZUR ET24 Pro shortly.) As I said, overhead scanners are often referred to as book scanners, but the company's marketing material states that the Shine Pro scans books using CZUR's curve-flattening algorithm while the Aura and ET models are recommended for superior book scanning or handling of the curved page view caused by a book's binding.
As for the scanner itself, it comes in two parts, the main unit or elevated scanning head and the black work mat or pad on which you place materials to be scanned.
The pad, as mentioned, is big enough to hold tabloid-size pages with a little extra around the edges. The scanning unit sits on your desktop at the upper edge of the mat as shown in the image below.
Not only does the scanning unit fold for storage or transport, but the upright beam is also adjustable, allowing you to set the height of the 11.6-inch horizontal beam holding the lights and scanning sensor (or, more accurately, the camera). As you can see below, you can adjust the height to either 13.2 or 16.1 inches. The scanner's base is 6.2 inches wide and 4.6 inches deep.
The horizontal beam houses a pair of LEDs, speakers, a microphone, and a 24-megapixel autofocus camera with 5,696-by-4,272-pixel resolution (maximum MP4 resolution 1,920 by 1,080). It captures A4 (letter-size) pages at 440 dots per inch (dpi) and A3 (tabloid-size) sheets at 320dpi. You can save your documents as image or searchable PDF files, Microsoft Word or Excel documents, and TIFF images in up to 180 languages.
While scanning, you can adjust the brightness of the LEDs with a small knob located on the base of the unit.
Like many overhead scanners, the Shine Ultra Pro comes with a foot pedal for initiating scans (or, technically, snapping pictures). IRIScan's Desk 6 Business uses a button that sits beside the scanner, while the IRIScan Desk Pro ships with both a foot pedal and a desktop button.
Typically, scanners work by moving the content over their sensors or vice versa. Overhead scanners, by contrast, snap a picture of a whole page, capturing the image almost instantly (in about a second). Then the scanner and its accompanying software convert the image to the desired format and save it.
The Ultra Pro's only connectivity option is USB 2.0, restricting usage to Windows and macOS machines equipped with the bundled CZUR Shine software. You can't use it with your smartphone or tablet. None of the other overhead scanners we've tested recently supports wireless or network connections, either. The CZUR Shine program includes, among other features, tilt adjustment; auto-cropping; auto-scan with page-turning detection; punch-hole filling; bar code and QR code recognition; scanning and splitting multiple business cards; combining two-sided pages; repairing damaged pages; adding watermarks; and generating PDFs in a batch.
These, of course, are scanning features. You can also combine the microphone and speakers with the camera to perform overhead presentations and learning sessions, as well as recording videos.
Since this and all overhead scanners shoot pictures instead of physically scanning pages, they all take about a second to capture each image. But that doesn't include the time required to send the scans to your computer and process them; some formats, such as searchable (or editable) PDFs and Word and Excel docs, take a little longer than others. Nowadays, however, optical character recognition (OCR) converts scanned pages to editable text very fluently—unless, of course, you have an old or slow computer.
I ran my tests over a USB connection on our Intel Core i5 testbed running Windows 10 Pro and CZUR Shine. As expected, the Shine Ultra Pro snapped whatever I put on the pad in about a second, but the software took a few seconds to process each scan—but not really any longer than most current OCR and document management programs.
The most time-consuming part of the process is placing and removing content from the pad. As with most book scanners, I wasn't able to process loose documents at more than about 15 to 20 pages per minute (ppm). When I scanned book pages using the timer, I was able to bump that up to about 28ppm. (These are about the same results I got while testing the two IRIScan overheads.) If you're looking for a reasonably fast text document scanner, an overhead model may not be your best pick.
Frankly, conversions to both image and searchable PDF would have been much quicker if not for the time consumed loading and unloading the scanner. In any case, I didn't encounter any real problems while scanning book pages, so I'm not sure why CZUR suggests you stick with presenting and teaching and choose another model for book scanning. (The forthcoming ET24 Pro boasts laser curve-flattening hardware instead of a software algorithm.) The software also supports scanning and managing business-card and financial data.
I should underscore that, even though I've griped about its modest throughput, the Ultra Pro was two to three times faster than the CZUR ET16 reviewed here back in 2018. Also, I scanned several color photos and magazine pages and was impressed with image quality, detail, and color accuracy, though I had to fiddle with the lighting knob a few times for the best results.
As with other desktop scanners these days, the Shine Ultra Pro's OCR accuracy is excellent. Like the IRIScan book scanners, the CZUR converted both our Arial and Times New Roman font test pages error-free down to 6 points. Few books or documents contain text anywhere near that small. Image quality was as exceptional as you'd expect a 24-megapixel camera's to be.
There's a lot to like about the CZUR Shine Ultra Pro, especially its 24MP CMOS sensor (compared to the IRIScan Desk 6 Pro's 21MP and Desk 6 Business's 16MP). CZUR may call this a personal scanner, but it's not short on professional-grade features, though it is smaller, lighter, and more portable than its comparably priced competitors. All this makes the Shine Ultra Pro a fine alternative to the Desk 6 Pro, our current favorite book scanner.
The CZUR Shine Ultra Pro overhead book scanner captures and digitizes just about everything and offers several features designed to facilitate teaching, presenting, and online meetings.
Sign up for Lab Report to get the latest reviews and top product advice delivered right to your inbox.
This newsletter may contain advertising, deals, or affiliate links. Subscribing to a newsletter indicates your consent to our Terms of Use and Privacy Policy. You may unsubscribe from the newsletters at any time.
Your subscription has been confirmed. Keep an eye on your inbox!
Advertisement
I focus on printer and scanner technology and reviews. I have been writing about computer technology since well before the advent of the internet. I have authored or co-authored 20 books—including titles in the popular Bible, Secrets, and For Dummies series—on digital design and desktop publishing software applications. My published expertise in those areas includes Adobe Acrobat, Adobe Photoshop, and QuarkXPress, as well as prepress imaging technology. (Over my long career, though, I have covered many aspects of IT.)
In addition to writing hundreds of articles for PCMag, over the years I have also written for many other computer and business publications, among them Computer Shopper, Digital Trends, MacUser, PC World, The Wirecutter, and Windows Magazine. I also served as the Printers and Scanners Expert at About.com (now Lifewire).
Read William's full bio
PCMag.com is a leading authority on technology, delivering lab-based, independent reviews of the latest products and services. Our expert industry analysis and practical solutions help you make better buying decisions and get more from technology.
© 1996-2022 Ziff Davis. PCMag Digital Group
PCMag, PCMag.com and PC Magazine are among the federally registered trademarks of Ziff Davis and may not be used by third parties without explicit permission. The display of third-party trademarks and trade names on this site does not necessarily indicate any affiliation or the endorsement of PCMag. If you click an affiliate link and buy a product or service, we may be paid a fee by that merchant.