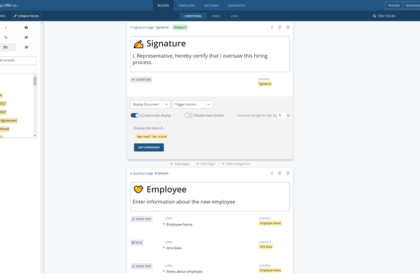 Last November, the document management company NetDocuments acquired Afterpattern, a no-code toolkit that law firms and legal teams can use to build apps and automate legal documents and workflows, promising at the time that it would be natively integrated into the NetDocuments platform.
Today, that promise comes to fruition, as NetDocuments releases PatternBuilder, a document and workflow automation tool that enables law firms, legal teams, and the public sector to automate their expertise and processes so they can be repeated predictably.
While PatternBuilder's functionality is much the same as the Afterpattern product, the significant difference is that it is native to the NetDocuments platform, meaning that it is directly available for NetDocuments' customers to use directly within the platform in which they are already working.
PatternBuilder's App Builder provides several built Page Blocks to choose from, making it easier to build apps while also enabling users to create the complex interactions needed in legal document automation such as looping and iterations.
"Built directly into the NetDocuments platform, organizations of all sizes will be able to leverage this new capability while inheriting all of the security, governance and accessibility benefits of being in the cloud," said Josh Baxter, NetDocuments CEO.
The core use case for PatternBuilder is to enable legal professionals to replicate and automate their unique templates and processes so that they are done consistently every time.
With the product built natively into NetDocuments, it enables firms to embed document assembly directly within the document management system, populating user inputs into Word and PDF documents and then automatically saving those documents into the folder or workspace the user chooses.
PatternBuilder Global Apps Page enables apps to be run from within the NetDocuments browser interface. All menu options shown are rights dependent and fully configurable at a granular level.
NetDocuments says that PatternBuilder has several unique features that make it easy for its customers to get started with automation:
"Being able to automate both simple and complex documents and tasks, as well as manage and implement these new applications, is critical for legal professionals and their support teams," said Dan Hauck, NetDocuments chief product officer. "PatternBuilder gives organizations the ability to scale their expertise and consistently deliver their best work."
PatternBuilder is officially launching today in the United States and will be rolled out to other regions during September, the company said.
It is being sold as an add-on product with the NetDocuments' DELIVER solution, which consists of tools and features designed to enable legal organizations to safely organize, package and share content with clients, customers, outside counsel, and other internal and external groups.
NetDocuments says it plans to continue to enhance and add features to PatternBuilder. Over the next few months, it said, it will release the ability for users to:
Current Afterpattern customers will be able to continue using the product. However, Afterpattern will no longer accept new customers.

Bob is a lawyer, veteran legal journalist, and award-winning blogger and podcaster. In 2011, he was named to the inaugural Fastcase 50, honoring "the law's smartest, most courageous innovators, techies, visionaries and leaders." Earlier in his career, he was editor-in-chief of several legal publications, including The National Law Journal, and editorial director of ALM's Litigation Services Division.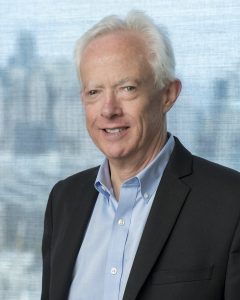 Bob Ambrogi is a lawyer and journalist who has been writing and speaking about legal technology and innovation for more than two decades. He writes the award-winning blog LawSites, is a columnist for Above the Law, hosts the podcast about legal innovation, LawNext, and hosts the weekly legal tech journalists' roundtable, Legaltech Week.


Receive a weekly digest of all new content.
You have successfully joined our subscriber list.

ABOUT LAW SITES
LawSites is a blog covering legal technology and innovation. It is written by Robert Ambrogi, a lawyer and journalist who has been writing and speaking about legal technology, legal practice and legal ethics for more than two decades.