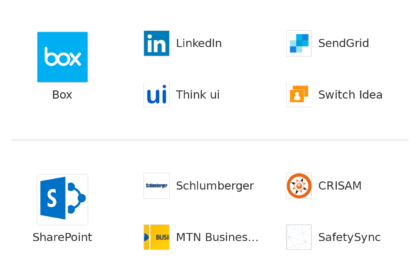 If you're on a Galaxy Fold, consider unfolding your phone or viewing it in full screen to best optimize your experience.
Credit Cards
Banks
Brokers
Crypto
Mortgages
Insurances
Loans
Small Business
Knowledge
Office 365 must be purchased first
SMB plans start at $5/user/month, including 1 TB of storage
Free plan: 10 GB limit
Starter: $5/month for 3-10 users, 100 GB limit
Business: $15/month per user, unlimited storage
Business Plus: $25/month per user, unlimited storage, additional collaboration features
Enterprise: $35/month per user, unlimited storage, features tailored to your specific needs
File sharing and co-authoring
Offline file sync
Customizable interface
Sync files between devices
Offline access to files
Automated workflows
Secure permissions
24-hour support
Extensive online FAQs and tutorials
Free tier offers standard support during business hours
Lower paid tiers offer dedicated support representatives
Higher paid tiers add additional training and customized support
Setup and installation can be challenging
Workflows often have extraneous steps
Intuitive workflows
Streamlined interface
Toolbars put most-used tasks front and center
For business document management, security and ease of adaptability are top concerns. Top software choices Box and Microsoft SharePoint lead the pack in document management.
So, if you're wondering who comes out on top when it comes to Box versus Sharepoint, from features to integrations and usability, you're in the right place.
Document retention software has two big names: Box and Microsoft Sharepoint. Both are widely used by many paperless businesses because of their name recognition, features, enhanced security, and flexibility to scale.
Box is an excellent choice for businesses that are upgrading their sharing and file storage. You can create multiple logins, customize security, and organize documents for a price that accommodates a small business budget.
It's similar to SharePoint on just about every level, with the differences found in the details.
Like Box, Microsoft SharePoint is also made for small and medium-sized businesses and takes security seriously. It works with your existing framework and doesn't require specialized knowledge to get set up.
A good document management software excels at document storage and sharing and builds upon that with an expanded set of offerings. Its core functions cover more than just document uploads and make each software more than the sum of its parts.
Beyond acting as an e-filing tool, Box lets you do more than upload and manage documents. You can create and track workflows and set up rules to automate tasks, including reminders to review documents or approve contracts right in the app.
You can also easily share documents in-app, download items, and create secure direct links. By adjusting viewing permissions, you can let a recipient download documents or allow full editing capabilities.
The sharing permissions also heighten security. You can require logins, email verification, or passwords to share documents externally. Internally, you're able to monitor user activity from the admin dashboard.
Downloading, sharing, and editing is easy to do in Box. Image source: Author
Microsoft SharePoint implements document management best practices by having features for productivity and ease of use. You can co-author and share files within your team, live editing all at once. It's also pretty customizable, so you can design the system to fit your needs and match your business.
Sharing files externally allows people outside of your organization to view and edit documents with ease. You can let them collaborate on just one piece, or grant them access to a full folder, keeping sensitive information, such as contracts or LLC documents, secure.
External users can have a number of permissions, set on a detailed level. Image source: Author
Though Box's features are robust, Microsoft SharePoint has too many features to compete with, and it wins this round.
It's one thing to use the system on your own, but when you run into problems, you need the right resources and the right people to talk to and help you solve issues.
Box has three tiers of support options. Standard support comes with all Box accounts and covers assistance during business hours. Premier Services gives you access to growth specialists and includes dedicated account representatives for support.
Platinum Services are available to the highest level, offering training and support tailored to your business, plus yearly onsite training and a dedicated support channel.
As part of the Microsoft family, SharePoint gives you top-tier resources, videos, and tutorials as part of your Office 365 package, so you know they are high quality.
SharePoint also has support associates available 24 hours a day who can help with all kinds of questions. Microsoft has a vast library of resources and a fleet of experts.
Because it's a part of Microsoft, SharePoint naturally has more and better support available. While Box's support is pretty good, it just can't compete with Microsoft.
Whether you're tech-savvy or still a newbie, everyone craves a system that's easy to use. For efficiency and accuracy, a user-friendly setup is a must.
Box is fairly intuitive with a learning curve that's easy to manage. The toolbars are easy to understand, and the navigation options aren't overwhelming.
You can upload complete files, archive documents, edit files online, or create entirely new documents from scratch.
Designed to work with Google Docs and Office 365, editing is simple thanks to the familiar word processor setup.
On the other hand, Microsoft Sharepoint is a bit less intuitive. It's not a crazy-complicated coding system or a logistical nightmare; still, it lacks the streamlined efficiency of Box and can get bogged down in itself.
Setup takes a great deal more effort, and adoption involves more steps on the user end. Though Microsoft is continuously working to make installation easier, customizing the solution is still time-consuming; the results sometimes don't feel worth the effort.
Once it's up and running, SharePoint works perfectly fine, but it requires more steps to do just about everything (search, download, edit) than are necessary, making it somewhat cumbersome. It organizes itself well, though, and categories are easy to grasp.
Box is the clear winner here, with its easy setup, integration with Microsoft 365, and intuitive nature.
No matter how much you like a product, there's always the question of price. What are you willing and able to pay for software like SharePoint or Box?
Box stands out thanks to a long-term free option — aka, the Individual account. There is a 10 GB storage cap, and features are more menial, but it's enough for solo users.
Paid plans start at $5/month per user for their starter option, allowing for three to 10 users, with enhanced features and a maximum 100 GB storage capacity.
The Business plan, at $15/month per user, has unlimited storage and stores up to 50 saved versions of a file, plus it displays enhanced analytics and reporting. Box Business Plus goes up to $25/month per user. It allows for external collaboration, complete activity tracking, creation of templates, and much more.
Box Enterprise pricing goes up to $35/month per user and lets you work with a team to build Box around your business's needs.
Box pricing offers discounts for annual payments over monthly ones. Image source: Author
Microsoft SharePoint is a bit pricier. It requires an Office 365 subscription, even if you don't plan on activating other software options.
After that, SharePoint starts at $5/month per user and goes up to $20/month per user. Base plans, though, do come with a full TB of storage.
Between the option of a long-term free plan and not needing to subscribe to any other software fleet, Box sets itself apart as the winner.
Especially for HR document management, you need a system that plays well with others so you can import and share files with minimal disruptions.
Box is easy to sync with existing apps, having built-in integrations for both Google and Microsoft Office right off the bat. Your Google account can be linked to your Box account at setup, too, for added simplicity.
Microsoft SharePoint works pretty seamlessly with Microsoft office. Your One Drive and Outlook can link directly to SharePoint for easy access. You can also opt to pair it with other tools, such as Google Drive or Gmail, almost as easily.
Both software options do very well here, making file sharing and uploading across tools simple. It's a tie.
When working offline, the ability to sync makes using the software more intuitive and cuts down on the potential for lost data.
Box comes with a desktop app called Box sync that you can use offline to upload and download documents without logging in to Box via a browser. Changes made to documents on your desktop are automatically carried over to Box online as soon as it's connected to the internet without you needing to do anything manually.
Microsoft SharePoint's offline sync helps ensure that work done offline is transferred into the internal cloud database. Though there can be a bit of a lag time sometimes, it's an overall convenient system for working on files on your desktop without going to the SharePoint site.
Both tools to sync documents work very well. Still, there can be some lag when updating entire team documents with Sharepoint, giving Box a slight edge.
Despite the name recognition of Microsoft, SharePoint simply isn't as streamlined or intuitive as Box, making Box the overall winner. With a simple set up, a minimal-step approach to using it, and very affordable pricing, Box is going to be the best choice overall.
However, if your team is already deeply entrenched in a Microsoft workspace, or you need more customization and flexibility, SharePoint may be a better choice in the long run.
Rose Wheeler is a seasoned writer and content manager with more than 15 years of experience. She specializes in content related to digital marketing, small business, personal finance, and CMS. Her work has appeared on sites such as Selz, The Cheat Sheet, and Swaay. When she's not working with her awesome clients, Rose enjoys cooking, playing games and curling up with a good book.
We're firm believers in the Golden Rule, which is why editorial opinions are ours alone and have not been previously reviewed, approved, or endorsed by included advertisers. The Ascent does not cover all offers on the market. Editorial content from The Ascent is separate from The Motley Fool editorial content and is created by a different analyst team. The Motley Fool has a Disclosure Policy. The Author and/or The Motley Fool may have an interest in companies mentioned.
The Ascent is a Motley Fool service that rates and reviews essential products for your everyday money matters.
Copyright © 2018 – 2022 The Ascent. All rights reserved.