Thursday, 26 January 2023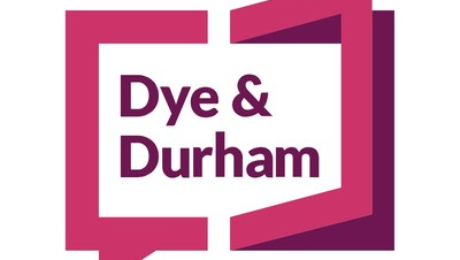 TORONTO, Dec. 19, 2022 /CNW/ – Dye & Durham Limited (TSX: DND) ("Dye & Durham" or the "Company"), a leading provider of cloud-based legal practice management software, today announced a significant expansion of its software product offering in Canada with the addition of a comprehensive suite of litigation workflow solutions.
Effective immediately, Dye & Durham customers can access an automated document generation platform, known as ACL, that lets lawyers quickly and easily generate court forms and documents in civil litigation and small claim matters, saving time and minimizing the risk of error.
ACL also offers a comprehensive library of more than 3,500 court forms, precedents and other legal content. The platform's workflow capability enables lawyers to ensure all critical dates and tasks are met, with instant visibility across all matters. In addition, Dye & Durham customers will be able to use xchangedocs, a new cloud-based electronic document exchange that lets lawyers share documents securely or serve them electronically.
"Dye & Durham is one of the world's largest providers of cloud-based legal practice management software that makes managing a law firm, organizing cases, and collaborating with clients easy," said Jack Mead, Vice-President of Product, Canada at Dye & Durham. "This expansion will soon enable us to significantly enhance the litigation workflow in our flagship practice management application, Unity, embedding Dye & Durham further into lawyers' workflow processes and making us even more strongly positioned as a technology partner to Canada's legal community."
New and existing customers who want to learn more about Dye & Durham's new civil litigation product suite can contact Bryce Szela at Bryce.Szela@dyedurham.com.
About Dye & Durham
Dye & Durham Limited is one of the world's largest providers of cloud-based legal practice management software. Dye & Durham also provides critical information services and workflows, which customers use to manage their non-discretionary information, regulatory and due diligence requirements. The company has operations in Canada, the United Kingdom, Ireland, and Australia.
Additional information can be found at www.dyedurham.com
SOURCE Dye & Durham Limited
View original content to download multimedia: http://www.newswire.ca/en/releases/archive/December2022/19/c4020.html
Related Quotes
Extending their midweek slide, shares of Plug Power (NASDAQ: PLUG) are continuing to tumble lower today, to the chagrin of fuel cell and hydrogen investors. While anticipation of the company's business update contributed to the stock's sell-off yesterday, investors are reacting today to the actual details of the update, in addition to pessimistic opinions echoing on Wall Street. As of 11:07 a.m. ET, shares of Plug Power are down 7.2%.
Jefferies Managing Director Global Autos Research Philippe Houchois joins Yahoo Finance Live to discuss Tesla earnings, uncertainty for the EV maker, Model 3 and Y price cuts, the expectations for Tesla moving forward, and the outlook for the auto industry.
Yahoo Finance's Ines Ferre joins the Live show to discuss the White House's take on Chevron's buyback program.
As the U.S. and its allies start sending Abrams, Leopards and other tanks to help Ukraine, those vehicles are set to change the dynamics of the war along the front lines. WSJ examines how the tanks that Ukraine will receive from the West compare with Russia's vehicles. Illustration: Adam Adada
EV investors are nervous today, but one thing they need not worry about: Plug Power won't deliver bad news tonight.
In this article, we discuss 15 most undervalued quality stocks to buy according to hedge funds. If you want to see more stocks in this selection, 5 Most Undervalued Quality Stocks To Buy According To Hedge Funds. Quality stocks usually have little debt, steady earnings, regular growth in assets, and effective leadership. Investors can identify […]For Motley Fool contributor Jamie Louko, the case for owning Upstart (NASDAQ: UPST) comes down to just one metric. And so far, this AI-powered company is delivering. *Stock prices used were the midday prices of Jan.
My wife and I are 70 years old. We've paid off everything, including the house. Between my pension of $29,000 and Social Security, we're getting a gross of $99,000 a year in income, which is more than enough. Our current … Continue reading → The post Ask an Advisor: We Are 70 Years Old, Have $99K in Retirement Income, a $1.4M IRA and Other Investments. Is It Too Late to Convert to a Roth? appeared first on SmartAsset Blog.
In this article, we will discuss the 10 stocks recently downgraded by analysts. If you want to see more such stocks on the list, you can directly visit Analysts Are Downgrading These 5 Stocks. Microsoft Corporation (NASDAQ:MSFT) is in the news after the company posted fiscal Q2 results. The company's revenue outlook for the March […]Today we will run through one way of estimating the intrinsic value of ZIM Integrated Shipping Services Ltd. ( NYSE:ZIM…
Nikola Corp. is creating a new brand to represent its growing hydrogen business, months after the Phoenix automaker bought land in the West Valley to build a hydrogen hub.
Right now, the average price for a loaf of bread is, approximately, $1.87. Under a new law proposed by House Republicans, that price would go up to more than $2.50. This would be the result of the Fair Tax Act, … Continue reading → The post Congress to Vote on Whether to Abolish the IRS and Introduce One National Tax Rate appeared first on SmartAsset Blog.
Yahoo Finance's Seana Smith and Dave Briggs break down why Shopify stock is soaring, Boeing's quarterly loss, and why investors are cheering AT&T stock following the company's latest earnings report.
The partnership marks latest iteration of yearslong relationship between digital publisher and social-media giant.
After being shunned for most of 2022, the mortgage real estate investment trust (REIT) sector regained some popularity as investors sensed the Federal Reserve's tightening cycle is wrapping up, which will remove a major headwind for the sector. The two biggest mortgage REITs, AGNC Investment (NASDAQ: AGNC) and Annaly Capital Management (NYSE: NLY), have mounted quite the rally over the past several months. The idea is that rental income will cover the interest costs on the debt the REIT used to finance the property.
Berkshire Hathaway CEO Warren Buffett is widely considered one of the best stock pickers of all time, and for good reason. Here are three top Buffett stocks that could make you richer in 2023 and beyond. Ally Financial (NYSE: ALLY) is an automotive-oriented online bank.
Gerber Kawasaki Wealth & Investment Management CEO Ross Gerber joins Yahoo Finance Live to discuss Elon Musk's Tesla Q4 earnings call, investing in Tesla stock, and the outlook for Twitter and Tesla.
If the sky-high forward dividend yield of 8.6% is making you consider a purchase of Medical Properties Trust (NYSE: MPW) stock, you aren't alone. The future of this hospital real estate business seems quite certain; it'll keep doing what has worked in the past, namely buying and then renting out healthcare spaces.
Yahoo Finance Live anchors discuss the latest companies to announce job cuts as SAP and IBM join tech giants in laying off workers.
Higher alliance revenues from Eliquis, higher sales of Prevnar vaccines and drugs like Vyndaqel/Vyndamax are likely to have contributed to Pfizer's (PFE) sales growth in Q4.