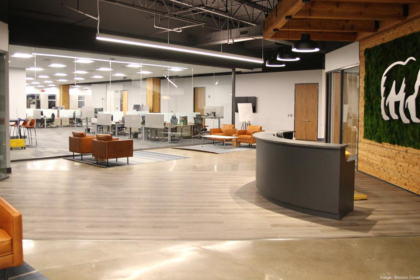 A Dublin software maker won city incentives for its move to a new headquarters twice the size of its former office and its plan to create 190 jobs.
Northwoods Consulting Partners Inc. bought 5200 Rings Road for $4 million and a few months later celebrated the move-in.
The date? February 2020 – right before Northwoods and office employers around the country sent workers home.
The pandemic's impact on Northwoods' clients, largely county social service agencies using its electronic document management software, caused wide swings in revenue that have continued into this year.
But a strong balance sheet and recent acqui-hire to diversify its business are key to resuming the company's long-term plan to grow to $200 million in revenue, said Brian LaMee, Northwoods chief marketing and revenue officer.
"We have a lot of work to do to get back on track with those growth numbers," LaMee said. "We're able to survive a pandemic, a hiring crisis (among clients) and a potential recession – and we're in a financial position we won't have to lay anyone off because of those dips."
Northwoods revenue topped $50 million for a few years pre-pandemic. Then it plummeted to $30 million in 2020 – and doubled to $65 million last year when counties were spending federal coronavirus relief funds on IT modernization.
But now there's a severe labor shortage of licensed social workers, so counties have pulled back again, LaMee said. That means another 2020-like year for Northwoods.
Northwoods will stay true to its roots of specializing in document software that meets the complex regulatory needs in social services, LaMee said. But it can diversify its products and target clients within that milieu, so it doesn't face this type of risk from a single type of client again.
The company has 152 employees, reflecting attrition since 2019, when it had 170 workers (including about 50 remote) and was awarded the city tax break to grow to 360 by 2025.
Federal Paycheck Protection Program funds allowed it to avoid layoffs, LaMee said, and the company was careful not to over-hire. HQ renovations by Grove City-based Brocon Construction Inc. helped the company adopt a hybrid of home and in-office work.
Despite the disruption to its growth, Northwoods had cash on hand to make a six-figure acquisition last month that takes it to a new client base.
Connect a Voice, also based in Dublin, is a mobile app used by direct care providers for people with developmental disabilities to digitize the legally required documentation of each home visit.
A Northwoods employee who previously helped develop the app made the introduction. Connect a Voice founder Tom Shovelton wanted to ensure the app's mission would be protected as he started planning for retirement. He and another employee joined Northwoods with the sale.
"We saw the need for what their software does," LaMee said. "This absolutely broke us into a market that Northwoods did not have a solution for previously."
Northwoods largely has worked with county agencies that manage Medicaid, cash benefits and food aid, as well as child protective services. Working county by county had led it to larger contracts with entire states; Ohio adopted Northwoods' electronic document management for all 88 counties five years ago.
New opportunities are more products for developmental disability and aging services, LaMee said.
Governmental and private agencies still are awash in paper, and LaMee said selling them on digitization still is a slow process.
"It is a massive culture shift for these groups and agencies because it's the way they've always managed it," he said. "They're too busy chopping down the tree to talk to the chainsaw salesman."
But generational shifts are changing that, he said. Social workers fresh out of college aren't pleased when they're handed a box full of paper.
Keeping documents that way can lead to harmful or fatal incidents – for example if the new case worker hasn't dug through every page of a file to find out there's a warning against allowing a child to be alone with a particular relative.
Going digital also allows a worker to obtain electronic consent and release of a child's medical records instead of driving documents to the parent and then the hospital.
Northwoods competes with giants like IBM, Deloitte and Accenture for state projects, but not at the county level, LaMee said.
"We go where the elephant isn't going to step," he said. Then the biggest challenge is helping county agencies find grants or other funding sources to pay for the digital transformation.
"We're not the typical tech company looking for investors, growing the thing at a ridiculous rate, because that doesn't serve the customers we need to serve," LaMee said. "We're not making risky bets that put the company and mission in jeopardy."
The mission along with work-life balance has helped Northwoods recruit in a tight tech labor market.
"More than half of all the employees here at Northwoods are former social workers or have experience in social work," he said. "We look at success by the number of families we help."
Want to stay ahead of who & what is next? The national Inno newsletter is your definitive first-look at the people, companies & ideas shaping and driving the U.S. innovation economy.