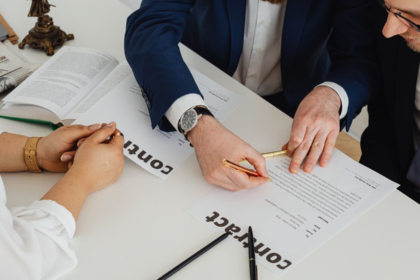 Contract management software provides a way for organizations to keep contracts organized and updated. Here are some benefits of using it.
The typical way of manual contract management is to sign a piece of paper and store it in a file cabinet. The manual process is slow and less efficient in monitoring and tracking remote employees.
With remote work becoming the new "normal" for many companies, it's never been more important to ensure that contracts and management processes run smoothly.
The good thing is that you can use contract management software to automate the entire contract lifecycle from creation through negotiation, signing, and renewal. There are many benefits of contract management software. Here are the top six.
One of the challenges with managing contracts manually is that it relies heavily on paper. The problem with physical documents is that they are more prone to damage and loss. While remote working risks data breaches, leaks, and hacking, contract management software eliminates these risks by allowing you to back up all your documents.
Contract management software allows you to store documents in the cloud, helping reduce the chances of them getting lost or damaged. The software also protects sensitive contract information from unauthorized access. The management tool includes contracts and agreements with different access levels, allowing you to dictate who can access, edit, and share particular documents.
For example, system administrators can configure permission-based rules, deciding who can access what information, whether they are physically located in the office or working remotely anywhere in the world. In addition, some programs protect documents using two-factor authentication and the latest encryption technologies.
Managing contracts manually is a slow and time-consuming process. It often involves face-to-face conversations, signing paper copies, mailing back and forth, scanning, and uploading the documents to share. Also, you'll need to repeat the entire process anytime you modify the contract.
With contract management software, there's little wait time to get contracts anywhere in the world. Software like Zapendo's Standard option allows you to leverage its e-signature to save hours on contracts and agreements.
For some companies, the delays start during contract creation. In this case, some software avail pre-approved templates to kickstart the draft, as well as standardized terms and clauses for specific use cases.
Remote workers without access to contract documents tend to request answers to questions answered in the contract. This can make it difficult for the in-house team to maintain control over their workload.
Contract management software stores all versions of a contract in an organized format. This way, remote workers can access the latest version and find answers to their questions. Time-consuming processes that can be automated include sign-offs, renewals, and unscheduled contract management actions.
Businesses within a remote working environment can consult and collaborate with team members working from home or working on the go while traveling.
Cloud-based contract management software gives authorized users real-time access to the information they need. It allows you to log in, pull up a contract, and collaborate with colleagues from anywhere in the world.
The software also has collaboration and communication tools like commenting and document chatting, making it easy to negotiate and update terms in real-time. These tools allow remote teams to input data, helping create an autonomous workforce in a controlled environment.
Issues like unapproved terms and missed obligations can put an organization at risk. Thankfully, contract management software can help reduce risks using pre-approved clauses and contract audit tools.
Using contract management software, the management team can verify that the results of each contract meet the expectations and that remote employees are adhering to the contract with the auditing tools.
The software allows you to track and audit every step of a contract milestone from anywhere, allowing you to hold all employees, including remote workers, accountable for their actions. This helps improve efficiency while protecting your company from non-compliance.
The tool also includes audit trails that let you view the entire contract history with just a few clicks. Authorized users can view which stage an agreement is at and its status (active, pending, expired, etc.), improving accountability and compliance.
You can also use the software to analyze the health of your business relationships. Contract management software includes reports that help you assess third parties' level of compliance with policies and regulations.
Better employee communication and allowing company-wide access to internal policies breed a sense of inclusion, enabling greater compliance. This is especially true for employees who work from home.
Working with remote teams increases the chances of missing deadlines and opportunities. Thankfully, contract management software can capture key contract dates and deliverables and send notifications to the responsible party.
Contract management software is one of the best tools to streamline remote work processes. For instance, you can configure the software's notifications tool to alert managers about contracts that should be canceled or renewed, keeping your financial interests safe.
Remote workers can be notified and start working on the assignments early, giving you more control over projects. You can also send notifications to all remote employees regarding policy changes or the need for policy review.
Trigger notifications are a crucial feature of contact management software and can alert you when an important part of a contract has been signed. Plus, some software let you set automatic recurring alarms that don't reset until the assigned team takes the expected action.
A common issue with using manual contract management is finding a misplaced contract. With contract management software, you don't have to rely on messy cabinets that make it difficult to search for crucial documents quickly.
Cloud-based CMS resolves the issues by providing a searchable, central repository. The centralized document hub includes search and filter tools to ensure team members, including remote workers, access critical information anytime, anywhere.
Storing all documents in a centralized, virtual repository increases contract visibility. It also gives you control over access to the contract documents and creates a single source of truth. Some companies allow team members to view ongoing obligations, deliverables, upcoming projects and renewal dates, and contract spending.
Managing contracts remotely isn't one of the most glamorous tasks in an organization. Monitoring and tracking remote employees is even more challenging when managing contracts manually.
Manual and paper-based techniques make the contract management process slower and less efficient. But with reliable contract management software, companies can easily handle contracts, even when working with remote teams.
Denis is a technology writer with a focus on security. The environmental science graduate started freelance writing in 2016, while still working as a loan officer. He mostly writes on topics related to cybersecurity threats, security vulnerabilities, and cloud security best practices. In his spare time, he enjoys reading, watching movies, and listening to music.
Join our newsletter for tech tips, reviews, free ebooks, and exclusive deals!