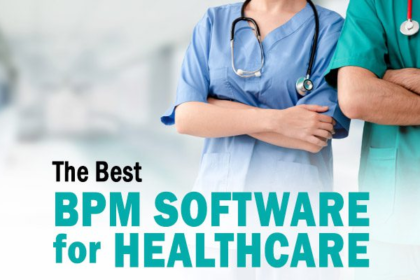 The editors at Solutions Review have compiled the following list to spotlight some of the best BPM software for healthcare companies to consider working with.
Healthcare professionals need access to consistent, dependable technology systems capable of managing facilities, documentation, strategic planning, budgeting, employees, and patient experiences. However, not every healthcare solution is created equal, so professionals in the industry must find and implement the best technology system for their needs. The Business Process Management (BPM) software marketplace has grown especially valuable to the healthcare industry for precisely this reason.
Organizations across the healthcare industry interact with countless people and systems, and managing all of the data and processes involved in those interactions is no simple task. These organizations need a solution capable of centralizing, standardizing, monitoring, and automating their processes. With that in mind, the editors at Solutions Review created this list, which profiles some of the best BPM software for healthcare professionals to consider.
Our editors selected these software solutions based on each provider's Authority Score, a meta-analysis of user sentiment through the web's most trusted business software review sites, and our proprietary five-point inclusion criteria. The list is organized alphabetically.


Description: Agliloft is a highly configurable BPM suite comprised of a flexible and robust data module. The module features a powerful workflow rules engine giving it the ability to map any business structure and automate complex business processes. The platform includes integrated applications for help desk, customer service, web self-service, knowledge management, and contract management. With its low-code Contract Management platform, healthcare organizations have a complete lifecycle solution they can use to ensure regulatory compliance, enhance the patient experience, mitigate risks, control spending, streamline contract management, and more.
Learn more about leading products with Solutions Review's
Free
Buyer's Guide for Business Process Management
.
Description: Appian BPM software is a model-driven app development platform that allows both experienced and citizen developers to build process-centric and case-centric applications with the ability to monitor and improve business processes in response to changing needs. Appian's low-code automation capabilities can help healthcare professionals improve how they deliver care to patients, streamline care coordination, expedite crucial decision-making processes, and encourage innovation. Specific features include clinician management, clinical care operations management, member services, governance, risk, and compliance tools.
Learn more about leading products with Solutions Review's
Free
Buyer's Guide for Business Process Management
.
Description: Bizagi is a leader in digital business process automation software. T
he vendor offers three tiers of solutions, including Bizagi Engine, Bizagi Studio, and Bizagi Modeler. Other tools cover process modeling, automation, business transformation, low-code app development, and case management. With Bizagi's BPM software for healthcare automation, users can mitigate risks, maintain regulatory compliance, modernize IT initiatives to improve patient experience, accelerate service provision, and identify new opportunities for improved efficiency. These healthcare automations can help streamline patient care, records, billing, and onboarding management.
Learn more about leading products with Solutions Review's
Free
Buyer's Guide for Business Process Management
.
Description: Bonitasoft
 develops BPM software for developers to build business applications that adapt to real-time changes, UI updates, and more. With 
Bonitasoft
, users can automate, model, and monitor business processes to streamline operations. The software automatically checks for errors and highlights them before users save their business model. Bonitasoft also offers digital process automation capabilities for healthcare and pharmaceutical organizations. These tools can help professionals improve coordination with service providers, comply with regulatory standards, follow legal guidelines, centralize patient data, and deliver quality patient care.
Learn more about leading products with Solutions Review's
Free
Buyer's Guide for Business Process Management
.

Description: BP Logix's Process Director is a complete BPM solution with workflow software, case management software, and business process automation. These features enable both IT and business users to create robust business process management and workflow solutions to address various business challenges. BP Logix offers healthcare workflow automation, document workflow management, and GRC solutions for healthcare professionals. These will help healthcare entities bring improved visibility, standardization, and simplicity to their organizational processes.

Learn more about leading products with Solutions Review's
Free
Buyer's Guide for Business Process Management
.
Description: FlowForma
 offers no-code workflow automation tools that provide business experts with low entry costs and rapid process development. An award-winning Microsoft Office 365® app, 
FlowForma
® Process Automation, revolutionizes the traditional BPM space, enabling business users to quickly implement HR onboarding processes, new product development, and clinical trials to increase organizational efficiency and productivity.
Healthcare organizations can use the FlowForma Process Automation solution to improve their digital transformation initiatives, streamline processes with digital process automation tools, maximize ROI, and increase visibility, productivity, and efficiency across departments.
Learn more about leading products with Solutions Review's
Free
Buyer's Guide for Business Process Management
.
Description: The 
iGrafx
Business Transformation Platform enables transformation by connecting strategy to execution. Its cloud-based platform enables healthcare businesses to meet challenges by executing a strategic vision, optimizing the customer experience, operationalizing Governance, Risk, and Compliance (GRC), and delivering holistic Quality Management (QMS). Additionally, the
iGrafx's
Business Transformation Platform allows healthcare enterprises to visualize and understand how their processes align with overall objectives, making it easier to manage patient demographics and meet changing regulatory requirements.
Learn more about leading products with Solutions Review's
Free
Buyer's Guide for Business Process Management
.

Description: Itransition is a global software development company that offers consulting and development services to companies of all sizes. Its healthcare expertise extends to various organizations, practitioners, nursing homes, research centers, medical SIVs, assisted living facilities, and device manufacturers. Capabilities for healthcare use cases include digital patient management, clinical application development, and medical workflow management functionalities for medical billing, CRM, insurance claims management, procurement, and equipment tracking.


Description: Newgen Software Technologies Ltd. is a global provider of Business Process Management (BPM), Enterprise Content Management (ECM), and Customer Communication Management (CCM) solutions with a footprint in over 60 countries. Its digital process automation capabilities can help healthcare payers future-proof their processes, maintain compliance, enable contextual member engagement, and address operational inefficiencies. These capabilities include seamless system integrations, automated data capture, document management, document archival, contact creation, case routing, automatic document generation, 360-degree case visibility, and more.

Description: Nintex offers IPA solutions that strip business inefficiencies and replace them with seamless, sophisticated processes. The easy-to-use, no-code platform, Nintex Workflow Cloud®, allows users to connect with all content repositories, systems of record, and people. Nintex offers advanced workflow, document generation, data collection and dissemination forms, integration with leading cognitive services, process mapping, monitoring, and reporting, whether on-premise or cloud. The company also helps pharmaceutical companies, healthcare providers, and medical device manufacturers reduce costs, save time, maintain compliance, stay competitive, and deliver better patient outcomes with automated capabilities. 

Description: Pegas offers a Business Process Management tool developed on Java and OOP concepts. The platform allows users to quickly assemble an executable business application using visual tools. Pega has an extensive history of developing applications that offer support services to carry out daily sales, marketing, and services. The company's healthcare and life sciences solutions can help clients reduce costs, remove operational barriers, connect systems, expedite R&D with automation tools, digitize clinical trials, personalize patient engagement, use self-service functionalities to empower users, and develop patient-centric experiences that improve outcomes.

Description: ProcessMaker is a low-code BPM and enterprise digital process automation platform. Its BPM offerings are known for their ease of use and customizability and offer a collection of features for designing, running, improving, and reporting on company processes. Features include a process modeler, form builder, dashboards for monitoring operations, Business Activity Monitoring (BAM), and a suite of third-party systems to help extend legacy systems and improve processes with additional functionalities. Healthcare users can leverage ProcessMaker's platform to automate operational processes, maximize productivity, deliver personalized care, increase patient engagement, and more.

Description: TIBCO offers a flexible, all-in-one platform offering complete visibility and resource management, so businesses are in total control of their operations. TIBCO can react to business events in real-time, meeting all process needs. The platform offers Intelligent Work and Resource Management dashboards that allow users to work with process details for greater business insight. Its connected intelligence capabilities can help healthcare organizations improve their patient data management, maintain a 360-degree view of a patient's healthcare history, uncover new insights, provide a better experience at the point of care, and incorporate social determinants of health (SDoH) into patient care.

Description: TrackVia is a user-friendly offering often viewed as an alternative to many traditional BPM platforms. TrackVia's low-code platform allows users to quickly assemble applications to match their unique business processes without extensive IT assistance or coding knowledge. TrackVia provides real-time reports, interactive charts, intelligent charts, intelligent automation, and user permissions. Healthcare companies can use its no-code app builder to create tools for optimizing operations, improving patient care with real-time reporting, and driving operational change.

Description: Zoho Creator is an online application builder designed to help organizations manage their business processes. Using an intuitive drag-and-drop interface, users can develop custom applications without the hassle of coding. Zoho Creator offers a massive array of tools and a feature-rich development platform. With its HIPAA-compliant low-code platform, Zoho Creator can help users create a custom healthcare management solution from scratch or use Zoho's pre-built applications to get started. Features include rapid development, end-to-end data security, legacy modernization, and employee, time, project, and inventory management tools.