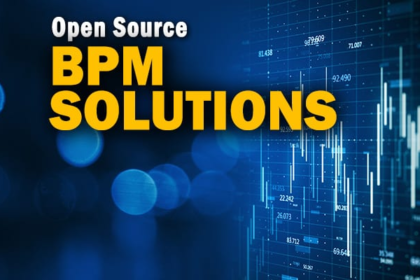 The editors at Solutions Review have compiled this list to spotlight some of the top-rated open-source and free BPM software solutions to consider.
Searching for BPM software (BPMS) can be a daunting (and expensive) process, one that requires long hours of research and deep pockets. The most popular BPM systems often provide more than what's necessary for non-enterprise organizations, with advanced functionality relevant to only technically savvy users.
Thankfully, there are many free and open-source process management solutions out there. Some of these solutions are offered by vendors looking to eventually sell you on their enterprise product. Others are maintained and operated by a community of developers looking to democratize BPM.
This article will examine free and open-source BPM software by providing a brief overview of what to expect from each of the currently available options in the space. This is the most complete and up-to-date directory on the web.
Free BPM software refers to products offered commercially free by the solution provider. These offerings are usually trimmed-down versions of the expert or enterprise editions, offering basic functionality that enables users to generate reports or data visualizations.
Commercially free BPMS tools typically provide less functionality than their open-source counterparts. Still, they are often a great way to gain more than a free trial if it's a product you were already considering.
You May Also Like
Open-source software has a source code that anyone can inspect, modify or enhance. These tools are publicly accessible and are commonly managed and maintained by organizations with a specific mission in mind. The open-source BPM solutions included in this list are surprisingly full-featured, offering various users an expansive list of capabilities.
It's important to remember that some of the open-source solutions included in this list require some development skills, making them less than ideal fits for your use case. We recommend reading each tool's FAQ to see how much coding is needed to utilize the software. The open-source tools usually do an excellent job of explaining the requirements for use on the download pages.


Description: Activiti is a java-centric, lightweight, and open-source BPMN engine that supports real-world process automation needs. Its business automation platform offers users a suite of cloud-native building blocks, including ones for audit services, cloud connectors, an application aggregation layer, extensible query services, and process and decision runtimes designed to integrate with cloud-native infrastructures.
Learn more and compare products with Solutions Review's
Free
Buyer's Guide for Business Process Management
.

Description: Alfresco is a leading open-source content management and solutions provider that targets its software at information-rich enterprises. With Alfresco Process Services, businesses and developers can utilize an open-source business process engine based on Activiti with the scalability and flexibility they need to handle a variety of critical processes. Alfresco, a Hyland solution, offers a Community Edition, which is 100% free and provides a suite of capabilities for non-critical business processes and content needs. The company's open-source Enterprise Content Management software can handle any content, making it easy for users to share and collaborate on their projects.

Learn more and compare products with Solutions Review's
Free
Buyer's Guide for Business Process Management
.

Description: ARIS Community, by Software AG, is a BPM community where industry professionals can network with their peers, learn new approaches to process management, and download the free ARIS Express software to kickstart their business process management efforts. ARIS Express is a free, lightweight business process modeling tool by Software AG for occasional or beginner-level BPM users. Its functionalities include an intuitive user interface, free training materials, and models for organizational structures, company data, application systems, business processes.

Learn more and compare products with Solutions Review's
Free
Buyer's Guide for Business Process Management
.

Description: Bizagi Modeler is a free BPM tool designed to help single users create, optimize, and publish workflow diagrams that increase efficiencies and process governance efforts. With this collaborative business process mapping software, users can create and document business processes from a central cloud repository to identify opportunities and improve organizational productivity. Bizagi Modeler also allows users to review the process models anywhere on any device and provide real-time feedback. Bizagi Modeler users also can upgrade to the paid, enterprise-level version of the software.

Learn more and compare products with Solutions Review's
Free
Buyer's Guide for Business Process Management
.

Description: Bonitasoft provides companies with free tools for building, running, monitoring, and improving business apps.

The company's open-source business process management and digital process automation solutions can increase company visibility, visualize processes, identify bottlenecks, report on execution metrics, identify opportunities for process optimizations, and more

. With extensive customization, users can code freely and create their extensions. Furthermore,

Bonitasoft

can connect to almost any enterprise system, including CRMs, ERP systems, and databases.

 



Learn more and compare products with Solutions Review's
Free
Buyer's Guide for Business Process Management
.

Description: Camunda is an open-source software company providing process automation with a developer-friendly approach that is standards-based, highly scalable, and collaborative for business and IT. The vendor offers visibility into business operations and improves system resilience.

The provider's workflow and decision automation tools enable Camunda to build software applications flexibly, collaboratively, and efficiently, gaining the business agility, visibility, and scale needed to drive digital transformation.

Camunda offers an Open-Source Modeler solution and Open-Source Community Edition of its platform.
Learn more and compare products with Solutions Review's
Free
Buyer's Guide for Business Process Management
.
Description: 
jBPM is a free, open-source BPM software and workflow engine that bridges the gap between business analysts and developers. The software can function as a standalone service or can be embedded in custom formats. With jBPM, users have access to a business application capable of modeling business goals, improving visibility, outlining complex business logic, and more. The software can run on any java environment and be embedded easily for deployment into various applications.

Description: Joget is an open-source platform with no-code/low-code application development, business process automation, and workflow management capabilities. Features include drag-and-drop visual builders, reporting tools, app generators, seamless app installations, drag-and-drop workflow management, process automation, built-in application performance management, a decision rules engine, automatic Progressive Web Apps (PWA) compliance, DevOps support, and more. The platform can be implemented using Java Spring Framework and deployed on the Apache Tomcat server.

Description: jSonic is an open-source BPM system designed to empower process owners with process management, reporting dashboards, workflow management, collaboration tools, and data management. The process management module can help users manage business process development from design to testing and deployment. With its interactive, web-based, and user-friendly tool, users can design processes, define governing processes, and modify business logic without technical coding skills.

Description: Modelio is an open-source, extensible modeling environment that supports HTML, BPMN, UML, and other formats. The main features of Modelio's platform include UML modeling tools, HTML publisher module, Business Process Modeling Notation (BPMN), Java code generator, an XMI import/export functionality, scripting language support, and an extension module. Modelio is best suited for business architects, analysts, system architects, code developers, and software architects.

Description: The Red Hat Process Automation Manager is an application development platform for developers and business experts. It helps users develop cloud-native applications for automating business operations, modeling business processes, supporting BPMN, supporting complex event processing, and maintaining Decision Model and Notation (DMN) standards. Other features include process engines, case management, a resource optimization engine, cloud-native development, and an open-source, fully compatible design.

Description: RunaWFE is a free and open-source business process management system (BPMS) that can help users optimize and automate their business processes. Its low-code functionalities include a workflow engine, process designer, form builder, task notifications, flexible role assignments, bots for automatic task execution, and integrations with software solutions like Active Directory and Alfresco. The system is available for Windows, Linux, and Mac OS.